Most pet owners know that being in the presence of an animal is soothing and can bring much joy. But for people with dementia, the interaction with a pet means so much more.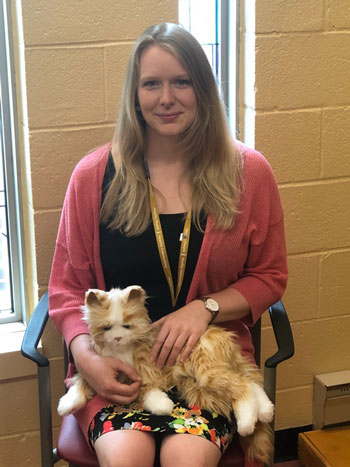 Stress Reducer
"At The Salvation Army's Glenbrook Lodge for Senior Citizens, a long-term care facility in St. John's, N.L., pet therapy is improving the quality of life for people who experience behavioural and psychological symptoms of dementia," says Nicole Butt, behaviour management specialist.
Whether it's a big, mellow dog or a robotics cat, the pets who visit Glenbrook Lodge are therapeutic for individuals living with dementia.
"Dementia is the shrinking of the brain and loss of connections," Nicole explains. "This disconnect can cause anxiety, depression, social isolation, physical and verbal aggression. These symptoms typically impact 90 percent of the dementia population."
Animal-assisted therapy is provided by trained, certified pets and their handlers and research shows that cuddling, stroking or playing with a pet significantly improves the mental, social, emotional and physical symptoms associated with dementia.
"I've witnessed people wandering the halls looking for parents who have passed; a resistance to nursing staff who provide personal care; and residents who hit people when they come close," says Nicole. "Holding, rocking and caring for a pet provides comfort and attachment that reduces anxiety and stress."
A Loving Facility
"We want to help individuals who struggle with dementia in a therapeutic way," continues Nicole. "With this in mind, we are moving away from using pharmacological approaches and, instead, using animals to provide a sense of purpose and emotional support that alleviates depression without medication."
The mission of Glenbrook Lodge is to provide a high standard of client-centred care for all residents and support for their families.
"When I walk through the doors of Glenbrook Lodge, there is a vibe I can't describe," says Nicole. "There is nothing institutional about this facility. It portrays a sense of belonging, safety and love."