Christmas is the most magical time of the year, as we celebrate the most beautiful story ever told—the story of a young couple and a miraculous baby, with guest appearances by shepherds, angels, very wise people and extravagant gifts. It's a story that can be shared even by people who profess no connection with the baby in a manger, so it's no wonder that this time of year inspires many other meaningful stories. And is there anything better than curling up on a winter's eve with children and a captivating story? That was a rhetorical question. The answer is no.
This Christmas season, while so much feels unsure, reading a familiar story with our children can bring a sense of peace and safety. There are so many good books to choose from—here are just a few ideas that stretch across time, nations and cultures. For more recommendations, talk to the experts at your local bookstore or library.
Listen, Said the Donkey by Jean Little
Canadian author Jean Little is so dear to my heart. Her books always speak truth and love in a gentle way. She lived her life without sight, yet she wrote me a note when I was in Grade 6 that changed the way I see the world.
This picture book will change the way you see the Christmas story. It's told from the perspective of the animals that might have been present that night. The donkey's perspective is probably my favourite. This book will open your heart to understand the Christmas story from those who felt both powerless and a great need to care for baby Jesus.



Tree of Cranes by Allen Say
A gentle story of a Japanese boy recovering from illness and experiencing his first Christmas. The illustrations are warm and inviting and the connection between the little boy and his mother is palpable. This picture book is a beautiful way to discover Christmas.

How the Crayons Saved Christmas by Monica Sweeney
From our favourite crayon series comes this tale of how easy it can be to lose our sense of wonder at Christmas. Like all good crayon books, this one does not disappoint. The determined crayons use their unique gifts and inspire Santa and children all over the world to have hope in the magic of Christmas. An encouraging and uplifting story for those of us who may struggle with Christmas spirit this year.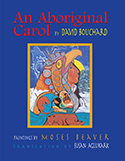 An Aboriginal Carol by David Bouchard
Métis author David Bouchard re-imagines The Huron Carol, one of Canada's oldest and most well-known carols. The illustrations by First Nations artist Moses Beaver are a stunning complement to his poetry. Originally written in the Huron/Wendat language, this version was written in French and Inuktituk and is also available in English.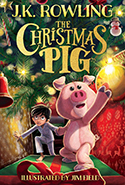 The Christmas Pig by J.K. Rowling
A children's novel from one of the most beloved authors of our time, this book teaches much about love and loss. Following Jack and his treasured pig, we learn that love is limitless and that there is space for both grief and joy in one's heart. The book acknowledges the complexities of families while staying true to a child's understanding and is a must-read for any family grieving the way things used to be.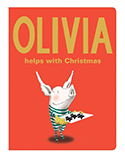 Olivia Helps with Christmas by Ian Falconer
It doesn't matter how many times I read this story with my eight-year-old, we are both laughing hard by the end. While this adorable read might lack the deep convictions of some of the other titles, it made this list because what it offers is pure joy. If you want to spend time laughing with your children, pick up this book. I have even read this story to teenagers and had them smiling.
How Winston Delivered Christmas by Alex T. Smith
Is this a book or an Advent calendar? Whatever you decide, this story will bring your entire family together. There's a chapter for every day from December 1 to 25. The book follows a delightful mouse named Winston and explores Christmas traditions around the world. Each chapter offers your family a doable activity every single day.
The Nativity, illustrated by Julie Vivas
This picture book has no listed author because the text is straight from the Gospel of Luke. It is a lovely way to read the biblical Christmas story and the illustrations are soft, modern and inviting. You will notice some interesting hair colours, and I am pretty sure the angel Gabriel is wearing Doc Martens boots. It's a great addition to any Christmas story collection.

But most importantly, read the original Christmas story with your family this year. Try reading different translations, including the International Children's Bible. Our family has a cube with a different part of the Christmas story on each side, such as the angels or shepherds. We toss the cube to see what part we will read each evening. There is nothing more amazing than sharing the most wonderful story ever told, at the most magical time of the year, with a child.
Erica Azak is the corps leader in Gitwinksihlkw, B.C.
Photo: Prostock-studio/stock.Adobe.com