On October 10, 2018, hurricane Michael, one of the most powerful storms to ever make landfall in the United States, ripped through the Florida Panhandle. Damage was catastrophic and as far as the eye could see. While residents coped with the aftermath, The Salvation Army offered hot meals, tarps, hygiene kits, cleaning supplies, and emotional and spiritual care.Linda Leigh was deployed to Panama City, Fla., with a team from the Army's emergency disaster services, to manage and assist with relief efforts. Throughout the two weeks of her deployment, she heard horrific accounts of riding out the storm and saw gut-wrenching scenes of what was lost. Here are just three:
1. Providing Normalcy
The extent of damage from hurricane Michael forced schools to close for a month. When children returned, life was different.
"Some children are living in shelters. Some are sleeping on couches with friends. Others have lost entire homes. In one way or another, they've all been traumatized," says Kevin McCoy, a pre-kindergarten teacher. To help his students move forward, Kevin contacted The Salvation Army for help with backpacks and school supplies.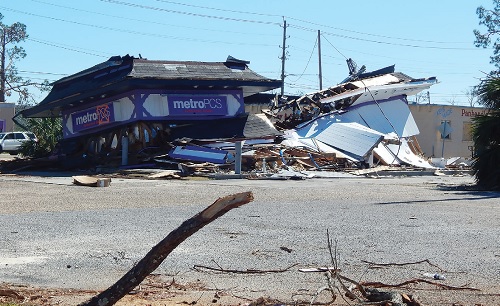 "Giving a backpack to a child who has been through an ordeal such as this is about more than pencils and crayons," says Kevin. "It's about stability, restoration and telling them they're not forgotten."
While Kevin provided comfort to his class, he was working through his own painful memories.
"The eye of the storm came over my house," says Kevin. "I used my body to barricade the front door. Meanwhile, a massive tree fell on my house. The roof caved in and there's water damage. I've lost 60 per cent of my possessions and am still cleaning out debris. It was scary and unlike anything I've ever seen.
"The backpacks are helping to provide normalcy," continues Kevin. "It's a war zone here. There isn't much left of this city."
2. Finding Her Way
"I have so much to worry about," says Jolynn. "Since the hurricane, my six-year-old daughter won't go to the washroom alone and screams when she hears the wind. We are trying to keep what's livable clean so we won't get sick. We've had to throw out water-wrecked furniture, mattresses and personal items. Our lives have been upended."
Jolynn and her family of seven hunkered down in a bathroom as winds ripped apart her house and property.
"When we heard the wind pull up the roof and drop it down many times, we thought we were going to die," says Jolynn. "We heard trees cracking. Then suddenly three quarters of the roof ripped away from the house. We were under one big skylight."
Jolynn received hot meals, hygiene kits and cleaning kits at The Salvation Army's canteen.
"I don't know what I'd do without the extra help from The Salvation Army," says Jolynn. "My heart is heavy and The Salvation Army makes things a little easier. When I'm at the canteen, I feel a bit better. We didn't just lose our homes. We lost our way."
3. A Day at a Time
Rick and Sherri were supposed to be in Hawaii for a delayed honeymoon. Instead, they were talking to insurance adjusters, cleaning out debris and living out of a camper in their driveway.
"Our neighbourhood looks like an atomic bomb was dropped on it," says Sherri. "When the eye of the storm came through, I held tight to my husband in a hallway. We felt the walls of our home breathe like lungs. A maple tree crashed down on the side of our house. We were trapped in our collapsing home, convinced we wouldn't get out alive."
Rick and Sherri's home has to be gutted due to roof, water and mould damage. When the tree fell, three bedrooms were torn away from the side of the home.
"We lost more than $100,000 in electronics, furniture, appliances and clothes," says Sherri. "We still don't know where to go. It could be up to 14 months before we receive insurance money. We don't know if it will be enough to rebuild. And we still have to make our mortgage payments.
"I haven't cried yet. I've gone from shock to sadness and now I'm angry," she says. "Help and answers are hard to get. We are taking it a day at a time, but we're grateful to The Salvation Army for the listening ear and a hot meal when all we could do was focus on cleanup."
"My Salvation Army colleagues and I were able to offer hope in the midst of immense destruction," concludes Linda. "There's no feeling quite like that."