Cyclone Idai made landfall in the late hours of March 14, 2019. With winds of more than 200 kilometres an hour, it tore inland across Mozambique, Zimbabwe and Malawi, leaving in its wake damage and loss of life—one of southern Africa's worst natural disasters.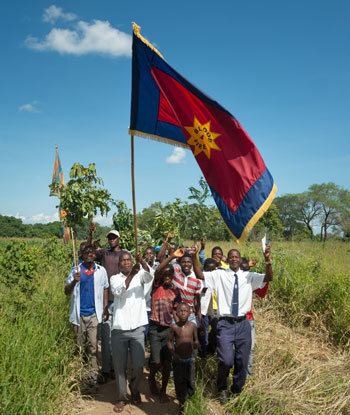 Knowledge is Power
Flooding from a week of heavy rainfall destroyed much of Malawi's grain supplies and left many at risk of hunger.
"The Salvation Army in Malawi provided local residents with emergency aid," says Lt-Colonel Brenda Murray, director of world missions. "With the support of the Canada and Bermuda Territory, basic staples of maize, beans and cooking oil were delivered to more than 400 families to meet their immediate needs."
For a country that is heavily dependent on agriculture—and regularly faces food shortages—the emergency aid from The Salvation Army not only provided families with sustenance but also has an ongoing and much further reaching societal impact. Young girls from households that have had their livelihoods affected by disaster are at high risk of childhood marriage. During periods of crisis, many parents may feel this is the only option to alleviate the economic hardship they are experiencing.
"The provision of aid is important, but so is building relationships in these communities to better understand the issues they face on a daily basis," continues Lt-Colonel Brenda.
Seeing is Believing
Members of The Salvation Army work diligently to train local farmers in conservation agriculture.
One such person is Ibrahim Thawani, project manager for The Salvation Army Malawi Territory. To chat with him, one would think he is shy and introverted. But when he stands in front of one of the many crowds of villagers that unite during one of the Army's visits, an outspoken person emerges, one who loves the people he serves and the work he performs.
Ibrahim is passionate about agriculture and ensuring that people have the ability to sustain themselves. But there are many people in the country who face hunger all year round, and it is difficult for them to trust that the techniques he teaches will work. So he commences with building a demonstration plot and involves the local farmers in the process whereby they grow their own food. When villagers see the success of this garden, in comparison with traditional methods used elsewhere, they are quick to follow his lead.
"Their lives will change," Ibrahim says. "I see them grow, from the position I found them in, to one that is much better off."
Moving Forward
It pleases Ibrahim that he makes a difference in the hard-to-reach and lesser-served communities in Malawi. Not only do Salvation Army programs teach sustainable agricultural methods, they take a holistic approach that addresses physical, social and emotional needs. They also provide communities with clean drinking water through the construction of bore holes, bush ambulances that help the sick and injured get to hospital from far distances, and mother-and-child health programs that provide education.
"All of these programs strengthen independence, restore dignity and renew hope," says Lt-Colonel Brenda.
With The Salvation Army's world missions team providing support and working hand-in-hand with partner territories such as Malawi, at-risk populations around the world are in a better position to recover and move forward with hope for a prosperous tomorrow.
Joel Johnson is part of The Salvation Army's communications team at territorial headquarters in Toronto. For the past several years, he has photographed for The Salvation Army in various parts of the world, but always feels at home in the remotest parts of Africa.