This past off-season, Houston and their NBA team scored huge when Chris Paul was traded to the Rockets in June.
USA Today
weighed in, saying of Chris, "The Rockets added one of the greatest point guards of the generation to a system built for great point guards."
That is true: Chris is 10th on the list of career assists leaders.
But this is also true: he is a giver not a taker, on and off the court.
Chris spent his NBA rookie year with the New Orleans Hornets in 2005, which was the year hurricane Katrina hit. That same year, he founded the Chris Paul Family Foundation to partner with various programs, including The Salvation Army Boys & Girls Club, to help those in need through their darkest hours.
This season, after a stint with the L.A. Clippers, Chris found himself traded to another city about to be hit by a hurricane—Houston.
Chris participated in a televised benefit in New York City this past September to raise money for the victims of hurricanes Harvey and Irma, giving $75,000 to that effort. And as president of the NBA Players Association, he stated that their union would match donations of up to $20,000 given by any NBA player.
"Giving back has nothing to do with what you have but everything to do with what you can give by lending your time to support others," he states.
Chris took time while relocating to Houston to answer a few questions for
Faith & Friends
:
Describe your experience of being in both New Orleans and Houston in the aftermath of their hurricanes. What was it like to witness such horrific devastation, but also to see up close and personal the resiliency and sacrificial giving of people?
There is no way to describe the devastation that people in New Orleans felt during Katrina and now in Houston with Harvey and Irma. Faith plays a strong role in surviving these situations, and I have seen that faith in action. My family and I have been blessed to be able to assist in the recovery of both of those cities. But the thing that stands out most for me is seeing organizations such as The Salvation Army roll up their sleeves and get into the heart of the community to help with both tangible things as well as much-needed spiritual support. This is one of the reasons why I'm proud to be able to work with their Boys & Girls Clubs in the cities where I have lived and played.
At a Salvation Army's Boys & Girls Club fundraising dinner a few years ago, you mentioned having to work hard at Wake Forest University because you were the smallest on the team and that, despite your success there, you had your doubts about making the NBA. What do you think is the difference between those who use tough circumstances as a cop-out and those who use them as a motivator?
It comes down to your foundation. My parents, together with the rest of our family, raised us to know we should pursue our dreams regardless of the sacrifice. I was shorter than most guys who aspire to be in the NBA, but I learned to have confidence in my ability to play. Both my parents were coaches for my teams as a teenager, and I was expected to work as hard, if not harder, than other players if I wanted to be the best I could be.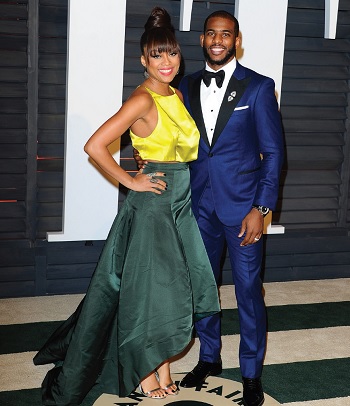 Recently on Twitter, you celebrated Jada, your wife of six years. What contributes to such a happy union?
Jada and I have grown together. We're both from North Carolina, and we understand and believe in the power of family. We are raising our kids, Chris Jr. and Camryn, with a lot of family support. People always hear me say, "Our family rolls deep." Members of both our families are in cities where I play regularly. We normally host 30 to 40 family members during the holidays, so our kids know and appreciate that they can depend on family for support.
What's the best thing about being a dad?
Watching my kids grow. I learn so much from them every day. I guess you could consider my wife and me "old school" parents who want our kids to have the same respect for people that we were taught. The bond my wife and I have makes it even more rewarding to be a dad because we are on the same page regarding our kids.
Do you have a favourite Bible verse that helps you live a life of faith?
Yes, the most famous Bible verses about what love really is—1 Corinthians 13:4-7. "Love is patient and kind; love does not envy or boast; it is not arrogant or rude. It does not insist on its own way; it is not irritable or resentful; it does not rejoice at wrongdoing, but rejoices with the truth. Love bears all things, believes all things, hopes all things, endures all things" (
English Standard Version
).
Describe one personal accomplishment, out of so many, that matters most to you.
One of my most important accomplishments is the work that our family foundation does together. We've done tech labs at numerous schools and Boys & Girls Clubs across the country. My wife hosts two annual prom dress giveaways in Winston-Salem and Los Angeles. When a young person comes up and thanks you not only for whatever the event is but also for taking time to show up, that is a memory that lasts forever.