It has been many years since Salvationists have gathered at the historic Massey Hall in Toronto for a Salvation Army event. Many will remember congresses past when the streets were closed and flooded with Salvationists in celebration and fellowship. "Congresses are part of the lifeblood of The Salvation Army. The first congress was held in 1886 in London, England," says Commissioner Tracey Tidd, territorial president of women's ministries. "William Booth was determined that congress would show the world that The Salvation Army was not just a 'passing wonder of the day.' "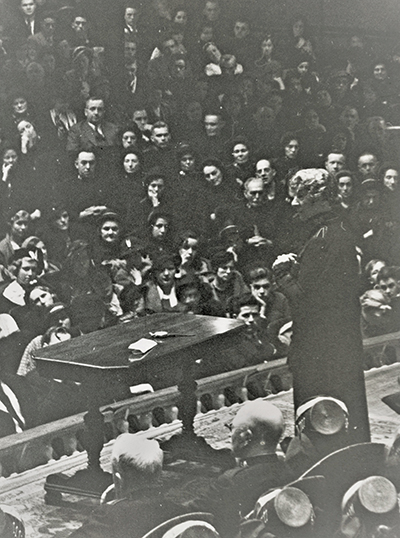 Massey Hall is a key site in Salvation Army history—a place where many have been called to officership, commissioned on the platform and sent out across the territory to serve suffering humanity. This June, the Canada and Bermuda Territory will return to Massey Hall for the INSPIRE Conference and Congress.
INSPIRE is an invitation to people across the territory to come home to The Salvation Army's territorial centre in Toronto, including Salvationists, friends, volunteers, employees, officers, international personnel and representatives from partner territories. The event will be two-fold, beginning with a weekday conference from June 26 to 29, and ending in congress and commissioning events over the weekend of June 30 to July 2.
"We gather to learn throughout the week, celebrate together, and on the Sunday morning we go back out into our communities refreshed, renewed and inspired for mission," says Lt-Colonel John Murray, territorial secretary for communications and congress planning chair.
"We have carefully selected the theme 'Inspire' as together we seek a fresh wind of God's Spirit blowing into The Salvation Army," says Commissioner Floyd Tidd, territorial commander. "We want this gathering to reignite our passion for mission—to mobilize each congregation to reach out to our communities, care for the vulnerable and share the love of Jesus."
The Conference
The four-day conference, to be held at the Westin Harbour Castle Hotel in downtown Toronto in the lead up to the weekend congress, is just one way INSPIRE is unique, compared to past congresses. Salvation Army personnel are invited to engage in plenary sessions by renowned guest speakers Reggie McNeal, Jeff Lockyer and Ann Voskamp (see box), and diverse workshops that encourage learning and personal, professional and spiritual development.
The conference will begin with a gala dinner on Monday night attended by Commissioners Tidd, who will set the stage for a week of inspirational teaching, learning and fellowship.
From Monday to Thursday, delegates can register for 94 different workshops in seven streams: business, children and youth, community engagement, corps health, ethics, Indigenous and international development, leadership, musical ministry, public relations and communications, social mission, and women's ministry. Each stream is open to anyone who wishes to participate, allowing delegates to explore areas of interest and choose sessions they believe will most effectively inspire them for ministry.
"We want people to go back into their communities fired up to do something new, more and better to build the kingdom and advance the mission in brand-new ways," says Major Doug Binner, executive assistant territorial secretary for mission.
In addition to keynote sessions and dedicated workshops, performances of Skeleton Army and intentional connection time will be woven into the conference schedule for those who have missed seeing friends, sessionmates and partners in ministry throughout the pandemic years. The conference will conclude with a gala event attended by international leaders General Brian Peddle and Commissioner Rosalie Peddle.
The Congress
This year's congress is inspired by Scripture and the movement of breath and fire of the Holy Spirit. Ezekiel 37:9-10, which describes the valley of the dry bones, reads: "This is what the Sovereign Lord says: Come, breath, from the four winds and breathe into these slain, that they may live," and as the breath of the Holy Spirit entered them, they came to life and stood up a vast army.
"We believe this is happening now as the Spirit is preparing us to come together for congress," says Major Corinne Cameron, assistant training principal and spiritual formation officer, College for Officer Training.
Congress is not just about celebrating The Salvation Army and its history—it is about celebrating who God is and how he works through The Salvation Army, encouraging his people to be transforming influences in communities across the world.
Beginning on Friday night, Salvationists and friends will gather for a large service at Massey Hall, reflecting on what God has done in our territory over the past 141 years. The service will include representatives from different music and creative arts expressions such as the Four Crest Dancers from the Nisga'a Nation of Gitwinksihlkw, B.C., and the North Street Citadel Lyrical Dancers from Hamilton, Bermuda.
The following morning, delegates are invited to witness the life-changing decisions of the Reflectors of Holiness as they are ordained and commissioned as Salvation Army officers. Then, reconvening for a Saturday evening service, attendees will celebrate the work of The Salvation Army overseas in partner territories, and through corps ministries and community-based ministries in Canada and Bermuda. A Sunday morning holiness service will be the official sending forth of Salvationists and mission partners back into their communities across the territory and the world.
"Congress is for Salvationists, but it is also a time to invite friends and family to come along and discover the life-giving, transforming, saving work of Jesus," says Major Cameron. "For those who have already made a commitment to Jesus, congress will provide inspiration to live out that commitment, and for people who do not yet know Jesus, it can be a way to introduce them to who Jesus is and the amazing relationship that he is waiting to have with every one of us."
A Place for Youth
"Our young people are a highlight and strength of our territory," says Captain Jason Dockeray, territorial children and youth secretary. "We have hundreds of young leaders who are invested in the mission of The Salvation Army, who are connected at the local level and who are passionate about ministry. I want people to see this and be inspired that we have an exciting future for young people in our Army."
To ensure that the youth of the territory have a place in this once-in-a-generation Salvation Army event, Canada and Bermuda Youth, the Youth Action Committee and youth leaders across the territory have united to create intentional programming for children, youth, young adults and those who lead youth in their communities. "Youth and children aren't an afterthought," says Captain Dockeray. "They've been at the forefront of our planning since day one."
The conference will offer a dedicated stream of workshops geared toward youth leaders and officers who work with children and youth, exploring topics such as child safety training, supporting children and youth in crisis, how to make use of the Orange curriculum in ministry, and ways to build youth programming from the ground up.
On Friday night after the service at Massey Hall, youth will be invited back to the Westin Harbour Castle Hotel for "Army Con," a night of fun activities such as a dodgeball tournament, SA Gaming tournament, photo booths, music and food. On Saturday, families can attend a carnival at Yonge-Dundas Square with inflatables, carnival games and food trucks, and in the evening, an outdoor concert. For young adults with an interest in pursuing ministry, a candidates luncheon with General Peddle will take place at the Westin Harbour Castle Hotel.
Those who have young children and wish to attend INSPIRE events can access childcare services through Improv Care, who will be available on site for children ages 12 and under during the conference week, and Grade 1 and younger during the congress weekend. Improv Care provides learning through play, which will be supplemented by daily biblical teachings.
"My hope is that our young people feel valued and supported by the organization, and they feel like The Salvation Army is a place for them," says Captain Dockeray. "This congress is for them, not just for their parents and grandparents."
Called to Inspire
The Salvation Army wishes to build and look toward the future. At the INSPIRE Conference and Congress, mission partners from every ministry in every division will come together to celebrate Jesus and what he is doing in and through The Salvation Army. It will be a watershed moment for the Canada and Bermuda Territory, featuring ministry in all its expressions—from music and artistry to prayer and fellowship.
"It's going to be unique, significant and empowering," says Lt-Colonel Murray. "As we leave Massey Hall, we will be encouraged and reminded that there is life in The Salvation Army. We are committed to the days and years ahead in the mission to which God has called us."
---
SAVE THE DATES
Monday, June 26 to Sunday, July 2, 2023
Western Harbour Castle Hotel and Massey Hall, Toronto
---
Keynote Speakers
Commissioners Floyd and Tracey Tidd were born and raised in Sudbury, Ont., where they began their journey with The Salvation Army. They have served as church leaders, church planters, youth leaders, and at divisional and territorial headquarters. Following six years of Salvation Army leadership in Australia, they returned to the Canada and Bermuda Territory to serve as the territorial commander and territorial president of women's ministries, respectively.
Reggie McNeal is a Christian thought leader, church health consultant and author of Kingdom Come. His session will explore the importance of realigning the church's mission with God's kingdom mission, and how our corps leaders can help lead the kingdom movement in their communities.
Jeff Lockyer leads a multi-site church in Ontario and has recently released his first book, Finding Our Way: Reclaiming the First-Century Church in the Twenty-First Century. Lockyer's session will discuss the integration of mission, compassion and justice in our church models and how The Salvation Army disciples people in their faith.
Ann Voskamp is a New York Times bestselling author of books such as The Broken Way and The Greatest Gift. She is well known for her writing and speaking, and has been named by Christianity Today as one of 50 women most shaping culture and the church today. Voskamp is passionate, genuine and powerful in her message.
---
40 Days of Prayer
Beginning on May 28, Pentecost Sunday, the territory will enter 40 days of prayer in the lead up to INSPIRE. "There is a unity that is formed when people dedicate their hearts and their minds together," says Major Corinne Cameron. "We recognize this is not something we are doing of our own strength, but something we are doing through the power of the Holy Spirit. For this incredible, inspirational weekend to happen, it is through the power and unity of prayer."
The 40 days of prayer will unfold across different platforms to ensure resources are accessible for all, no matter what media they engage with. Each person who is registered for the event will receive a daily email with a biblical passage, a prayer focus and a written prayer. This will also be available across social media and on a dedicated prayer section of the INSPIRE web page.
The final days of prayer will unfold after congress ends, with messages that focus on going home, remembering, prayer and action. "It takes the commitment we make throughout congress and gives it feet," says Major Cameron. "As we walk into our homes and our ministry units again, we will continue to be inspired by God and help other people come to know the inspiring God."
To learn more about the INSPIRE Conference and Congress, visit Salvationist.ca/Inspire.
This story is from: