"After 62 years of doing drugs and alcohol, it's hard to turn your life around," says Glen Mattinson. "It's because of this church that I'm staying on the straight and narrow."
Sharing his story in the sanctuary at Toronto's Cedarbrae Community Church, Mattinson is perfectly at home, at peace. He's been going to the church for about a year and a half now and volunteers at the food bank three or four days a week. It's a life Mattinson couldn't have imagined just a few years ago.
Harmful Habits
Born in Nova Scotia, Mattinson grew up in an environment of addiction—his father was an alcoholic and he quickly followed in his footsteps.
"When I was nine years old, my family split up and all the boys went to training school—a jail for juveniles—and the girls got foster homes," he shares.
"Growing up in the Cabbagetown area of Toronto, I saw a lot of drugs," Mattinson continues. "I started doing methamphetamines when I was 14 years old."
As drugs and alcohol took over his life, Mattinson turned to crime to support his habits.
"I've done about 30 years in jail," he says. "When you're in there, you get the opportunity to indulge in drugs, so my addiction got worse and worse. Every time I got out, the first thing I wanted was drugs."
Mattinson emerged from jail for the last time in July 2017. Still struggling with addiction to heroin, cocaine and alcohol, Mattinson needed a support group. His probation officer gave him two options, one of which was Homestead Addiction Services' day treatment program at Cedarbrae.
"I chose this one because it was closer to home and because it was The Salvation Army," he says. "Every Christmas that I was in jail, they used to bring around a little Sunshine Bag and a brass band. I appreciated that. You don't know how much that meant. It carried me along the way."
No Question
Mattinson started attending Home-stead—a satellite program of the Army's Harbour Light addiction treatment facility in downtown Toronto—twice a week and met Major Cecil Mitchell, corps officer at Cedarbrae, shortly after. Major Cecil makes a habit of popping by the Homestead group and building relationships with those involved.
"On this particular morning, Glen was there alone, sitting in a rocking chair, so I went in and greeted him," Major Cecil recalls. "We had a conversation and he shared a bit of his story."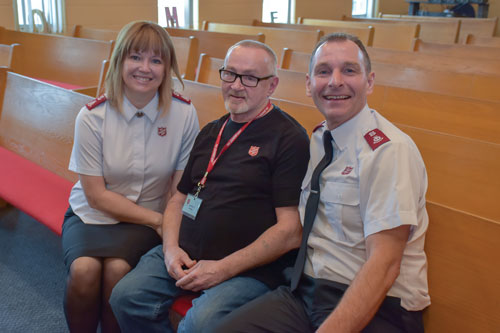 "I thought he was a nice guy right away," Mattinson remembers. "Major Cecil is different. He's friendly and outgoing. I just took to him and his wife, Major Tina."
After more conversations with Major Cecil, Mattinson decided to attend a Sunday meeting at Cedarbrae.
"I was nervous, but it's a very friendly environment," he says. "They're all excellent people and I appreciate that."
Though Mattinson did not grow up in a Christian home, he came to faith years ago while in jail. "Sometimes when you're in the hole, all you can get is the Bible," he says. "So I read it from cover to cover and did all these Bible courses."
Mattinson's faith faltered after he left jail and found himself returning to his previous life, but he has had a spiritual reawakening at Cedarbrae.
"I'm reading the Bible again now and trying to better myself—to walk the walk, as well as talk the talk," he says. "I believe in Jesus Christ now, whereas I questioned it before. I don't question it anymore. I believe that he died for our sins and that's it."
Team Player
Along with his involvement at the Cedarbrae church, Mattinson is also a dedicated volunteer.
"I asked him about getting involved at the food bank and with the kettles, and he said he'd like that because he needed that in his life at the time," Major Cecil says.
"With all the years the Army has been helping me, I wanted to do something for them," Mattinson explains.
During his first year on the kettle campaign, Mattinson did four or five shifts a week; this past year, he often did six.
"I put in quite a few hours," he acknowledges. "Sometimes people wouldn't show up so I'd stay there until they did. I didn't mind."
Mattinson also enjoys volunteering at the food bank.
"He's the type of person who if you ask him to be here at 8 a.m., he's probably here at 7:30," Major Cecil comments.
"He is very caring and compassionate with those in the food bank—it seems to come naturally with Glen," adds Major Tina, community ministries officer. "He takes initiative to help, but he doesn't impose himself. He's great at working with a team."
"Volunteering has been good," Mattinson says. "When I help somebody else, I feel better about myself. It's keeping me out of prison, too, so that's a bonus. I'm learning how to live the straight life."
Not Alone
Between Homestead, volunteering and attending the church, Mattinson has found the community he needed to grow spiritually and leave the life of addiction behind.
"The slogan for our ministry here is 'a place to call home,' " explains Major Tina. "There are a lot of single people here who don't have a nuclear family. Now that Glen is attending here, he feels a part of something bigger than himself, and he knows that when he struggles, when he comes to pray, he's not praying alone. Someone will come and support him."
Mattinson's relationship with the Mitchells has been particularly important as he's integrated with the Cedarbrae community. He even spent his first Christmas with them after he got out of jail. "They made up a nice Christmas dinner and we had a good time," he says. "I enjoy the company of Major Cecil and Major Tina."
"I keep in touch with Glen at least a couple of times a week," Major Cecil says. "I'll send him a note to see how he's doing."
As Mattinson admits, turning his life around after decades of addiction has not been easy, but Cedarbrae has made it possible.
"Being a part of the church and volunteering means a lot to me," Mattinson says. "I'm enjoying life better. I'm finally realizing that you can have a life without drugs and you can still have fun. The people here helped me turn my life around and I'm happy about it."
Photos: Kristin Ostensen