"I made the conscious decision in jail not to give up on my faith," says David. "I was sitting in a jail cell weighing out my options: continue using drugs or get some help."
After he was released from jail, David was put in contact with The Salvation Army and completed the Anchorage addiction program in Ottawa in 2018. He now lives at The Salvation Army Transitional House where he continues his recovery.
Self-Destructive Path
David, now 53, is one year clean. It's been a long hard road for him, starting at the young age of 12 when he began smoking pot. By the age of 13, he was using cocaine. By 14, David was living on the streets.
"I didn't have the best role models growing up," he says. "My mother was an escort and an alcoholic and my only memory of my father is of him being in a federal penitentiary."
David explains he suffered every type of abuse imaginable as a child from neglect, assault and sexual abuse.
"My siblings suffered, too," he says. "And then I made some really bad choices. We are all broken in our own way."
David says his first attempt at recovery began four years ago. He got clean because he was about to lose his family.
"I was one year clean but I was faking it, I was doing it for the wrong reason," he says.
"Before that, I held jobs and ran businesses, but I always went back to cocaine and being self-destructive," says David. "When I relapsed, I sold everything at home and committed crimes. I did some horrible things and hurt a lot of people along the way."
Reaching Out
David says it was during that time that he experienced what he describes as a divine intervention that changed his life.
"Something special happened and I started to believe that God existed," says David.
After being released from jail, David wanted to choose a Christian-based recovery program, and that is how he came to The Salvation Army.
"It was while I was in jail that I started to reach out to God on a more intimate basis. I was able to talk to Him about my experiences," he says.
Learning to Support
David still lives with PTSD and insomnia from the traumas he has lived through.
"I pray to God every morning, I pray at every meal and I ask Him to forgive me every night," he said. "My goals now are to be a real father and be a real man. I have two beautiful sons and an amazing, forgiving wife."
David is focusing on his recovery at The Salvation Army Transitional House, attending AA meetings and meeting with a psychologist.
"If it wasn't for The Salvation Army, trust me, I wouldn't be here today. I would be dead," says David. "I reach out to a staff member at the Anchorage program weekly, sometimes daily. She gives me new ideas and support, and she is very strong in her faith.
"The Salvation Army is an amazing place filled with honest and warm people. It saved me," says David. "If you put the work into your recovery and you follow their guidelines and stay true to yourself, it's going to work."
As for the future, David dreams of one day learning to support others who are suffering from addictions.
"I know it's going to be a big hurdle, but I would like to get into the field to give back," says David. "I owe The Salvation Army my life."
---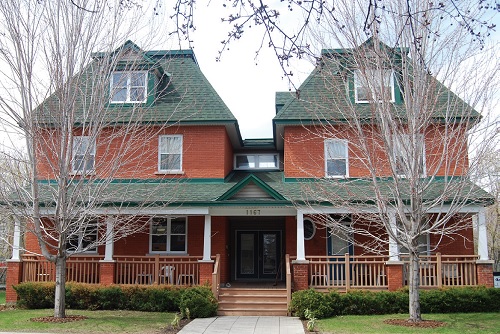 Place of Hope
The Salvation Army's Transitional House in Ottawa is a non-profit housing program that provides short-term affordable lodging with minimum support to 16 men, many with backgrounds that include homelessness, addictions, incarceration and mental illness. The facility offers a fresh start for men seeking to achieve a successful transition from the streets to community living. At Transitional House, the men pursue independent living, develop socialization skills and learn how to live within their means.
Feature photo: © LOUOATES/iStock.com