Captain Ricaurte Velasquez was only a child when he had his first encounter with the devastating effects of guerrilla warfare.
He was growing up in La Argelia, a small town in southwest Colombia, on a farm that belonged to his family—cousins, uncles and aunts all working together to make a living. Until that was no longer an option.
"Unfortunately, we had to leave because of the violence that erupted in Colombia in the 1960s," he says. "We had to leave everything behind and start over in a new town."
The ongoing violence in Colombia eventually forced Velasquez and his family to leave the country entirely and immigrate to Canada as refugees. But had they not made that move, they might never have met The Salvation Army.
Hard Times
Captain Velasquez and his wife, Captain Vilma Ramos, are now corps officers at Sherbrooke Community Church, Que., a long way from the agrarian life he led as a child.
"I was up at five every morning, picking coffee or sugar cane, or doing my chores at the farm," he recalls. "In the morning, we'd go to school and when we came back in the afternoon, we'd continue working at the farm."
This way of life continued until Velasquez finished high school and joined the military, as Colombia has compulsory military service for all men at 18 years of age. While serving, Velasquez confronted guerrilla warfare head on. He was sent on two missions to the jungles of Colombia to fight guerrillas—the first for three months, the second for two months—and spent six months as military police in the city of Neiva.
During that time, Velasquez says he often feared for his life. "I had many moments that were very hard for me, that stayed in my memory for years," he says. "Even now, more than 30 years later, there are still many things that I recall. But I try not to be tormented by those things. Instead, I try to recall the good moments that I had."
Refugees
After he completed his military service, Velasquez went to university where he studied business administration, earning a master's degree, and met and married Ramos. They had two sons and were living in Cali.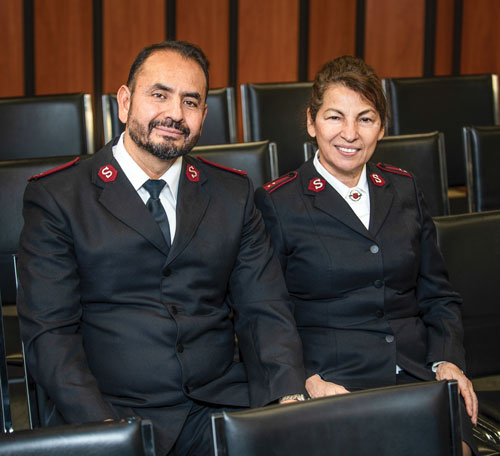 "We had a good life," says Velasquez, "but unfortunately, violence is something that affects too much in Colombia. When you grow up in that environment, everything seems normal. You think it's just the way it is. But when you live outside Colombia, you appreciate how different it is, the peace that we have here."
By 1998, two of Velasquez's brothers had moved to New York, and they suggested he immigrate as well. Velasquez took their advice and moved to Atlanta in November 1998. After settling in, the family applied for permanent residence, but were unsuccessful.
"When 9/11 happened, everything froze up—all documentation, everything that was pending at that time," Velasquez says. "Even three years after, we still hadn't received any response from the government."
Their precarious situation in the United States was concerning for Velasquez. "Our oldest son, Bryan, was finishing high school and getting ready to go to university, but if we didn't have the legal documents, he couldn't go."
In the meantime, Velasquez's mother and two sisters had immigrated to Canada as refugees, settling in London, Ont. He followed their lead and applied, and the family came to Canada as refugees in November 2006.
A Miracle
It was shortly before they arrived in Canada that Velasquez had his first encounter with The Salvation Army.
"The Army had a transition home in Buffalo called Vive la Casa," he says. "I went there because they were the liaison organization that would take your documents and present them to the Canadian border officers."
His second encounter would come two weeks after they moved to Canada, in the waiting room at a doctor's office in Mississauga, Ont. "We started chatting with a Colombian couple and they invited us to a place that they went every Friday night," Velasquez recalls. "They said, 'It's totally for you. It's a group of Spanish-speaking people who get together and have a good time.' "
He and Ramos accepted the invitation gladly and went that Friday night. "It was a nice group," Velasquez says. "The following Friday, I said to Vilma, 'Are we coming back?' And she said, 'Yes, let's go!' And from that moment on, we started coming every Friday."
This program, which took place at Mississauga Temple Community Church, was Celebrate Recovery, a Christ-centred 12-step program that helps people overcome their "hurts, habits and hang-ups." As it turned out, this program was exactly what Velasquez needed as he was struggling with alcoholism.
"When we lived in the States, I used to travel all the time," he shares. "I was living in a hotel during the week and I was lonely—it was not good for me. So I started drinking, and it became something I did every day."
"I fell in love with The Salvation Army the moment I joined. I love everything the Army does."
For the first month, Velasquez didn't realize he was attending a recovery program. "But after I understood what it was, and understood about God, things started changing," he says.
Though Velasquez grew up in a Catholic family, "it was more tradition than really faith," he says. "For me, God was a person who was way up in the sky, looking down at what I was doing wrong in order to punish me. It was not a relationship with God."
That changed at Celebrate Recovery. "One of the first things that the Holy Spirit did in our lives was bring us to repentance," Velasquez says. "I started feeling the need to make amends and quit my life of sin."
After several months of attending the program, Velasquez was ready to give his life to God. "I knelt down and prayed, 'God, if you remove this addiction from me, I will follow you and do whatever you need me to do.' "
The transformation was immediate. "The following day, after I had been struggling with alcohol addiction for many years, I felt a miracle," Velasquez says. "From that moment on, it was like I had never drunk in my life. I didn't even have withdrawal. People asked me what happened and I said, 'I was lost and now I am saved.' "
New Mission
Having given his life to God, Velasquez got involved with various ministries at the corps and went on three mission trips to Cuba that would change his future.
"It was shortly after I came back from the second trip, in 2009, that I felt the call to officership," he says.
"At the time, I was the leader of Celebrate Recovery, I was part of the mission board at Mississauga Temple and the multicultural ministry with Mario Tobon, and I was doing the Spanish Bible study. I think I was working more at the church than at my regular job!" he says with a laugh.
Looking back, Velasquez says this involvement, along with the mentorship he received from his corps officer at the time, Major David Allen, was good preparation for officership. "That was the assurance for me that this was what I would like to do with my life, and my wife felt the same," he says. "I fell in love with The Salvation Army the moment I joined. I love everything the Army does."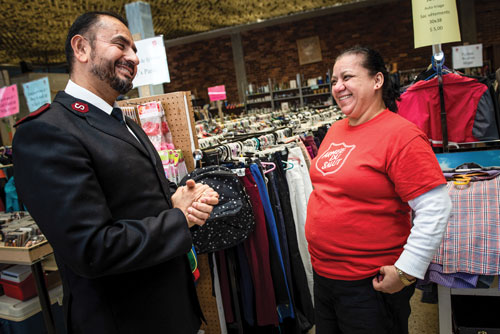 After Velasquez and Ramos were commissioned as lieutenants in 2013, their first appointment took them to Montreal Citadel, where they were assistant corps officers to Colonels Glen and Eleanor Shepherd. "With the Shepherds, I had the opportunity to learn and get hands-on experience of being an officer," Velasquez reflects. "We had many opportunities to grow, both spiritually and personally."
While assisting the Shepherds, they were also planting a corps in south Montreal, which was a good fit for the Colombian couple. "In the secular world, I had experience developing businesses, in both the States and Colombia," Velasquez says. "God used that—all that experience allowed me to put together the church."
Their experience as refugees was also helpful when they served and counselled new immigrants. "Montreal is a place with many newcomers, especially the South Shore, so we started family services at the Army thrift store in Brossard," Velasquez says. "Initially, they allowed us to be there one day, then two days, then three days. Eventually, we built an office within the thrift store, and five years later, we were serving 1,500 families."
Now in Sherbrooke, Captains Velasquez and Ramos have a busy ministry that includes the corps—with services, Bible studies, prayer meetings, a Spanish group and an afternoon meal program three days a week—family services and a thrift store.
"We open ourselves to God and let the Holy Spirit guide what we do every day," he says. "In my officership experience, God has always put the right people around me. He is showing me his love and compassion through the people I meet, and I try to be like a sponge, absorbing as much as I can."