Praised for its heartbreaking and realistic portrayal of a single mother struggling to escape a cycle of abuse and poverty, Maid was one of Netflix's most-watched miniseries in 2021. The series, based on Stephanie Land's bestselling memoir, evokes empathy for Alex, who dreams of a better life for her two-year-old daughter, only to face setbacks along the way.
As Alex begins to navigate her new reality, she meets Jody, a no-nonsense social service worker played by Amy Reid. The Squamish, B.C., actor admits the role wasn't much of a stretch.
"I almost laughed when I saw the description," she says. "I thought, There couldn't have been a part more written for me."
"A Million Interactions"
Amy worked as an outreach worker and caseworker at The Salvation Army Vancouver Harbour Light in the Downtown Eastside from 2011 to 2014.
"A friend was working at The Salvation Army and thought I'd be a good fit for a position. I met with them and it felt like putting on an old leather jacket you're comfortable in, you know, without ever knowing that was the role you were going to be in life. It felt like exactly where I needed to be."
Amy's tasks included helping people access services, treatment, detox, housing or whatever else they needed. She also assisted people through the food line in the mornings and helped to run the drop-in centre.
"What I loved about working at the Army was the sense of community among the people I worked with and for," she says. "Amid the struggle was a lot of humour and humanity, and when you see how the people in the Downtown Eastside support each other and when you hear their stories, you can understand why they are so proud."
She remembers a man who arrived without identification. He had lived in Canada since childhood but had been born in India. To get a Canadian ID, he had to provide a birth certificate, which had been difficult to obtain. Without an ID, he couldn't get a job, housing or social assistance, and had been relying on the Army to survive.
"He and I worked together for weeks, sleuthing out a way to prove his identity in Canada," says Amy. The man mentioned he had undergone brain surgery in Ontario years ago. Amy was able to track down his surgeon and, after matching his scar and medical records, they were able to obtain a new citizenship card for him. The man was then able to find work and a place to live.
"When we can find a tangible way to help someone with a roadblock, it feels pretty incredible," she says. "Having said that, lives do not change on a dime. It's not the action of one person or organization that changes lives, but a million, small, positive interactions that slowly evokes change."
A Helping Hand
An opportunity opened up for Amy to work closer to home as a manager at Helping Hands, an organization that provides food, shelter and services to individuals in need. From 2014 to 2020, she created programs to address Squamish's housing crisis and was part of a team that spearheaded a massive project called Under One Roof to put housing, services and medical support in one building. She resigned from her position when she got the part in Maid, but the fruits of her labour continue to be seen in the hundreds of people who are fed and housed each month.
Like many social service workers, Amy sometimes found herself bringing home from work the difficult stories she was involved with and had to learn to practise self-care.
"I realized in order to keep myself well, I had to step away a bit and do different kinds of work. Acting keeps me well."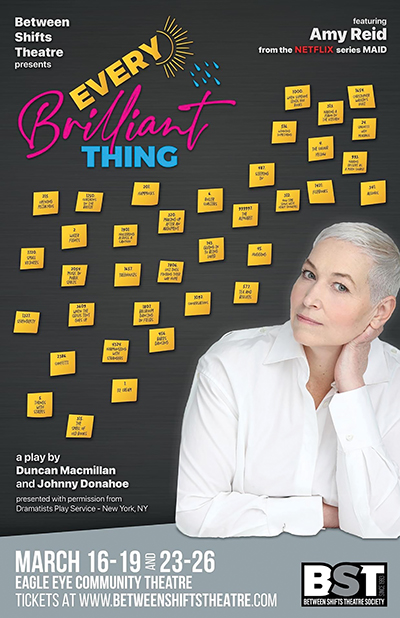 Both Sides of the Desk
The opening sequence of Amy's scene in Maid with Alex, played by Margaret Qualley, was filmed twice. Margaret had felt unsure about her performance and wanted to give it her best.
"I remember turning to her and saying, 'Look, I've sat across the desk from hundreds of people in your position. They're scared, they're humiliated, angry that they even have to ask for help and frustrated that services aren't being provided to them. And every one of them has the look in their eye that you have right now. You've got it.'
"It was surreal to read the story of Maid and understand how it felt to sit on both sides of the desk," Amy says.
Pursuing Passions
Amy's love for acting is something she has pursued from an early age.
"Whether it was in community theatre or parts in small films or TV shows, it's always been my passion," she says.
This month, Amy will be performing in a one-woman show titled Every Brilliant Thing, about a woman who grows up with a mother who battled depression. She makes lists of all the beautiful things in her life that are worth living for as she simultaneously battles her own mental-health challenges.
"Since Maid came out, what's been really cool is that I've learned how many people in my community are cheering me on," she says. "I'll run into people at the supermarket and they'll recognize me from the local theatre production, my volunteer work or something else, and they're all excited for me.
"I feel grateful."