(Above) Mjr Shirley King with Depoli at The Salvation Army's community development project in Old Dhaka, Bangladesh. Depoli now earns a fair wage and is able to support her family (Photo: April Foster)
I arrived in Dhaka, Bangladesh, late at night. As we manoeuvred through the busy capital, I was mesmerized by the sights and sounds. Throngs of people filled the streets and tuk-tuks, rickshaws and cars darted in every direction. To say I was excited to be making this trip is an understatement! For nearly four years, I had worked to build the Others—Trade for Hope program in the Canada and Bermuda Territory, through the women's ministries department.
And now I was here, with other members of the Others—Trade for Hope global council, to plan future strategies, visit the production centres and see the product line—but most of all, to meet the artisans and hear their stories of hope. Behind every beautiful, handcrafted Others product is a changed life.
I didn't want to miss a beat of this experience.
Help me be attentive to every person, every conversation and every opportunity to learn,
I prayed.
Help me encourage and—where possible—make a difference.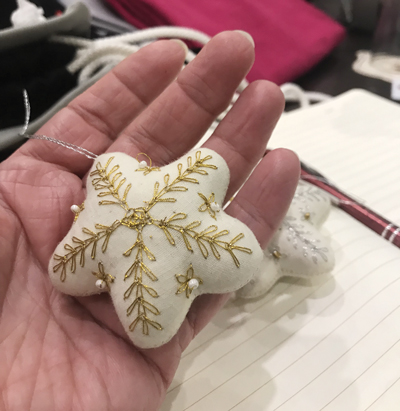 Transforming Lives
As a Salvation Army social enterprise, Others—Trade for Hope creates fairly compensated employment for people who would otherwise have limited opportunities. Products made in Bangladesh, Pakistan and Kenya are sold through Salvation Army distributors in Canada, the United States and Norway, and the proceeds go back into creating more jobs. In Bangladesh, there are 726 gifted artisans.
In many cases, production units are linked with Army community development projects. In Old Dhaka, we visited the Counselling and Development Centre and met the women who are part of the program. We were greeted with exuberant joy. We shared food and fellowship, and listened as they explained how the literacy classes, home league and sewing work for Others were transforming their lives.
Depoli came from a life of exploitation. She joined the job program and began making embroidered hearts for Others. The Salvation Army has become a haven where she hears the gospel, has learned a new skill, shares productive hours with other women and is earning a fair wage. From her income with Others, she opened a tea shop, and from her savings, purchased a rickshaw. Now she has three rickshaws, and is able to provide food, shelter, medicine and education for her children.
After seeing the Others project, we visited a slum area, with hundreds of makeshift shelters. We were invited into the home of one of the production workers. She lived in a one-room house with her husband and two children. There was a bed, a few plastic chairs and a kitchen nook with a basic stove. Dozens of people crowded into the narrow doorway to see these people from another country, so we went back out into the alley to finish our visit.
In the middle of the slum, with men, women and children standing around us, we offered prayer on their behalf. A place of extreme poverty became the richest place on earth as we came before God. It was a defining moment, a privilege to know the hope of a living, loving and powerful God in a broken world.
Hope for the Future
In Jashore, we visited a workshop where the clacking noise of a loom filled the air. In 2017, the Others—Trade for Hope global council partnered with New Yorkbased illustrator and designer Lily Qian to create a unique collection of scarves. Each scarf is hand-dyed, hand-woven and includes elements of hand-embroidery or hand-painting.
Qian travelled to Bangladesh to work directly with the artisans and develop the project. "My dream is for the women in Bangladesh to build confidence and hope for their future," she says.
And now here we were in Bangladesh, meeting the master weaver and watching the beautifully woven scarf being intricately turned out on the loom. Every thread is individually counted for quality design. The women and men at the Salvation Army workshop were so proud of all their work.
The Pain of Poverty
The Salvation Army project site in Jashore is directly across the road from a brothel area. A few of us took the short walk down an alley, where we observed men waiting in line. Standing in the centre of the brothel courtyard, surrounded by little children and women of all ages, was numbing. It was one of those times when I became aware of the Bible verse that says, when we don't know what to pray for, the Spirit intercedes for us (see Romans 8:26).
As we approached the women to have a conversation through an interpreter, we became aware that they recognized The Salvation Army and saw us as people who could and would help. "Please give us work," they implored, as they held on to our hands. "We don't want to live here. We want to work." We listened and prayed that somehow God would open doors for more work for these dear people.
Holy Ground
On one of our last days, we travelled to Shankarpur by plane, van, motorized raft and foot to meet members of the corps and community. We were greeted with dancing, given fresh flowers and petals were strewn in our path as we made our way to the small, corrugated-tin structure where the corps meets for worship. Members of the community, including those of Muslim and Hindu faiths, joined us.
As we approached the site, I became aware that others had removed their shoes and sandals before entering. Following the lead of my colleagues, I removed mine as well. I was reminded of the Lord's words to Moses: "The place where you are standing is holy ground" (Exodus 3:5). Indeed, it was—a beautiful picture of authentic unity, the community coming together to share in the gospel message, singing, conversation, encouragement and fellowship.
I must admit I felt a little uncomfortable when we were given the seats of honour on the slightly elevated platform, adorned with a neon cross hanging on the curtained wall, while our new friends sat on the tarp-covered ground. We were all seeking the same Saviour.
A World of Difference
As we visited each of the project sites, we were greeted with joy, respect and pride. As much as we heard people express gratitude for Others—Trade for Hope, we also heard their pleas as they implored us to create more employment opportunities for them. It was clear that each handcrafted item made by gifted artisans—an embroidered heart, a cloth bag, an apron, a tea towel, a designer scarf—represents the potential to change a life.
Never in my wildest dreams could I have imagined the doors that would open to me as I became involved in the Others—Trade for Hope initiative. The opportunities to meet resilient, creative, hospitable people, understand the processes of production and see the difference it makes as we partner with our brothers and sisters around the world, has been one of the most rewarding experiences of my officership. I would do it again, in a heartbeat!
Major Shirley King is the divisional secretary for women's ministries, divisional adult ministries secretary and divisional retired officers' secretary in the Ontario Central-East Division.

To purchase items from Others—Trade for Hope visit salvationist.ca/others.