Click here to read about the history of the Canadian Staff Band.
Steve Brown
Solo cornet
Scarborough Citadel, Toronto
Member since 1983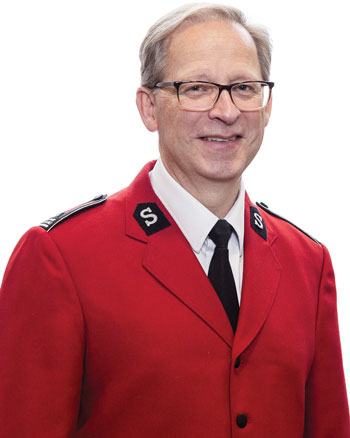 Are you the longest-serving member of the CSB?
I'm the longest currently serving member. I think [former bandmaster] Brian Burditt still has a few months on me at this point.
How did you get involved with the CSB?
I've been a fan of the staff band since it started. One of the band's early weekends was at my corps in Guelph, Ont. My mom's cousin was in the band, so that was a connection for me. I saw the band a number of times growing up, and like a lot of Salvation Army families in those days, we came home from church to Sunday dinner and a band record was put on—more often than not, it was a Canadian Staff Band record, so I grew up listening to that and idolizing Deryck Diffey. Eventually I got to join the band and sit in the section beside him, and eventually sit in his chair.
Looking back, what are some of your most meaningful experiences with the CSB?
There are big things like our 25th anniversary, which was an International Brass Spectacular, similar to the event we're doing this month. That was one of Brian Burditt's genius moments, because it was the first thing of its kind, bringing together four staff bands—us, Chicago, New York and the International Staff Band. It was a brilliant weekend. But the Sunday mornings at a corps are also meaningful to us. Even the smallest corps, when you see the wonder in their eyes because they've never heard a band like this before, or when young people are encouraged and inspired. That's how I see our role—we're tasked to be role models and encouragers.
---
Jennifer Vos
1st horn
London Citadel, Ont.
Member since 2012
What drew you to banding?
My dad [Rick Allington]. He's a horn player and he was always playing at home, so I joined the band because I wanted to be like him.
How did you get involved with the CSB?
I first sat in for a rehearsal with the band when I was in high school, but my dad has been in the band for 29 years. I'm the third generation in my family to join—my grandpa, Bram Allington, was also a horn player in the CSB—so it is exciting for me to be the next person to come in.
How has the CSB helped you grow personally?
Musically, you're surrounded by so many great players, so it's easier to grow because you're able to learn from everybody around you. Spiritually, you get to fellowship with people of all ages and walks of life. If you were a 20-something outside the Army, you wouldn't necessarily get that. The band is a huge support system. Whatever anybody's going through, there's always somebody there to pray with or to share your concerns with and that's good. You push each other to grow stronger.
What do you enjoy most about the CSB's ministry?
Any time we go away, especially to smaller corps that don't necessarily have a band or a music program. We were in Thunder Bay, Ont., last fall, where they didn't have any music program. We held a concert and shared in the Sunday morning meeting with them, and they started a band afterward. That's really neat. In general, it's nice to be an example to younger people—being that person in your corps who people look up to and say, "I want to be in the band because of that person."
---
Noel Samuels
Eb Bass
Khi—A Community Church of The Salvation Army, Milton, Ont.
Member since 1996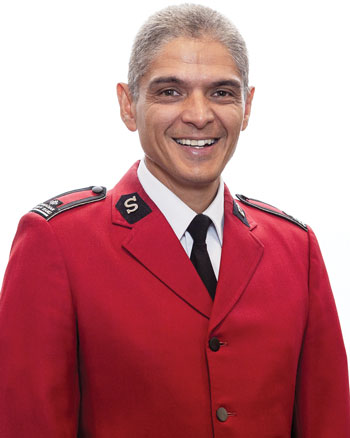 What was your first experience with the CSB?
I remember going to Toronto Temple when I was a young kid, hearing the staff band and thinking,
Wow, what a sound!
I never thought that I would actually be in it at some point.
How do you see the CSB's role in our territory?
Primarily, it's encouragement, motivation, inspiration. It's bringing those little glimpses of the kingdom of God. Whether it's a small corps or Roy Thomson Hall—every situation is unique. But no matter where you are, you get notes back from people later saying, "I was really moved by this experience." Those are great opportunities—when you meet someone who needed that at just the right time. Those experiences are God moments that are beyond any of us. It's amazing to be a part of that.
What would you like to see the CSB do in the future?
I'd like to do more mentoring. We're a big territory, so we don't often get to certain areas. Once in a while, we fly in for a weekend, but it would be wonderful if we could connect with people on a regular basis and be a resource to the territory.
For example, I met a guy when I was musical director at a junior music camp. He was one of the faculty helpers and was learning to play an instrument as an adult. He told me, "Sometimes, I can't figure out how a rhythm or a pitch goes," and I said, "Well, don't struggle at home with it. Send me your music, I'll play it for you, and send it back." So I'll make a recording for him, send him an MP3 and he'll practise with that, and it's making a difference to the way he plays.