In Regina, The Salvation Army Kate's Place offers a beacon of hope to women struggling to overcome addiction and transform their lives. This month, it celebrates its 10th anniversary.
There's a lot to celebrate—in 10 years, Kate's Place has housed 286 women and 107 children, and 57 percent of those women have successfully graduated from Regina's Drug Treatment Court (DTC) program and found independent housing, saving them from homelessness and addiction.
Kate's Place operates in partnership with the DTC to offer stable housing and support to women as they complete their addictions programming. Residents are provided 24-hour supervision, counselling, spiritual guidance and practical support to meet their physical and emotional needs.
Seeing Success
Kate's Place initially began as a pilot project with the goal of offering a supportive, stable apartment complex for participants of the DTC. The purpose of the project was to study the effect of providing housing to homeless women and how this would impact their ability to graduate from addictions programs and reduce recidivism. By attaching this housing component to the program, within two years, graduation rates went up 48 percent.
In addition to their partnership with the DTC, Kate's Place also partners with the Ministry of Justice to assist women coming out of Pine Grove Provincial Correctional Centre.
"We help to stabilize them when they get out," says Amanda Carlson, managing director of Kate's Place. "Housing people addicted to drugs in jail has zero effect on their ability to cope with life when they get out."
For seven years, Kate's Place has studied the impact of stable housing on women who face homelessness and drug addiction, as well as patterns of criminal thinking and behaviour. "With this particular group of women, we're seeing recovery success rates of 52 percent," says Carlson.
Becoming a Support System
In October 2021, Kate's Place moved to a new home in a safer neighbourhood with a larger facility, where they now offer 10 two-bedroom apartments rather than bachelor suites. "The goal is to focus more on family. There's more space here for the children," says Carlson. Residents can stay at Kate's Place for 12 to 18 months, depending on their needs.
Kate's Place outsources professional addictions programming to resources within Regina, and it supplements these programs within the facility in ways that support women every day, both personally and practically.
"We drive the women to their addictions programs and other appointments every day," says Carlson. "We also do a lot of supplementary programs, such as emotional and domestic violence counselling, grief and loss counselling, and trauma-informed support counselling."
Kate's Place also offers spiritual guidance as per the individual's needs, no matter who they are or how they practise faith. "We have a high rate of Indigenous clients we may refer to elders for spiritual guidance," notes Carlson. "We also have consistent chaplains that we rely on for spiritual programming."
The end goal of Kate's Place is to prepare these women for success outside of transitional housing by teaching them skills and providing them with the resources they will need when they leave. And even after they leave, Carlson notes that they are always welcome to stay connected to the support system they've built at Kate's Place.
"A small group of women get very connected to the staff here," she says. "We have Narcotics Anonymous meetings that we run for the alumni, and we have support groups and social activities to stay connected. We want to help them and stay in touch, but the goal is independence when they leave."
Candace and Tia
Candace first arrived at Kate's Place in 2016. She was 28 and struggling with addiction, but only lasted six months before moving out on her own. Then she fell back into issues with the justice system.
After finding herself in jail, Candace knew she needed to return to Kate's Place. "I was sitting there in jail and I'd had enough," says Candace. In August 2020, Candace arrived at Kate's Place for the second time, this time with new motivation—her daughter, Tia.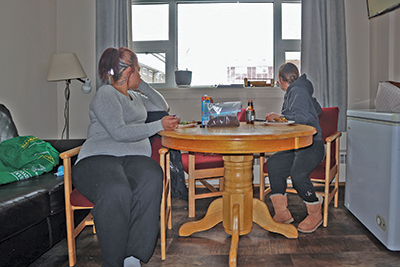 When Tia was one, she was removed by Child Protective Services (CPS) due to a domestic issue with the person Candace was dating. Tia was placed in the care of family for two-and-a-half years until Candace found a safe environment at Kate's Place.
"My head was pretty much in the game. I'd had enough. I wanted to get my daughter back and be a good mom," says Candace. "I've been clean for two years now. I never used once I got to Kate's Place."
Candace regained custody of her daughter on April 25, 2021, a date she recalls proudly. "Kate's Place gave me the tools to stay clean," says Candace. "They were even able to report back to my CPS worker to help me get my daughter back. Tia's the light of my life. She's my best friend."
As with Candace, 60 percent of the women housed at Kate's Place in the last 10 years have regained custody of or visitation with their children.
Candace was able to stay at Kate's Place for 17 months until she completed her drug court program, finished her conditions and was ready to move out.
"I've learned a lot of things from Kate's Place. I've learned how to take care of myself. I've learned rules and responsibility, and how to be a good mom again," she says. "I've had a job since May of last year and I got a promotion. I'm going to continue being a mom and doing what I've been doing for the last 17 months." Candace, as with many women who struggle with addiction and homelessness, needed the support of housing services to get back on her feet. "If you don't have a home, you don't have your basic needs met. How do you succeed?" Candace says. "This program is made for women to succeed."
This story is from: