A Vancouver man has traded in his highway maps for a chef's apron and hat, thanks in large measure to the help he's received from The Salvation Army.
As a child, Paul Wessel dreamed of becoming a gourmet chef. Instead he became a truck driver, and, over the years, his youthful aspirations faded away until he barely gave them any thought.
He was in his 50s before he could finally fulfil his lifelong dream, and his journey hasn't been an easy one.
A Sister's Help
Paul was born in the small town of Kamloops, B.C. He grew up with a mother who was addicted to both alcohol and pills, and a father whose job as a long-haul truck driver kept him away from home for long periods of time.
That gave Paul a great deal of freedom as a teenager. "I partied pretty hard in high school," he admits, "and I was very angry and rebellious."
But it seems that God was tapping him on the shoulder even in the midst of his rebellion. The parents of his high school girlfriend, Melissa, were religious, and her mother tried to help Paul study the Bible and live by its teachings.
"I will be eternally grateful to Melissa's parents for inviting me into their home and trying to steer me away from the wrong path, although they could see I was rough around the edges," Paul says.
But he wasn't ready to change his ways at that point. Instead, he wound up marrying another woman with whom he had two children. His marriage ended after a decade, and Paul's life took a drastic downturn after the divorce.
He became so discouraged that he quit his job as a truck driver, took money out of his pension fund and sat alone drinking, day after day, with no hope in sight.
In desperation one night, he reached out to his older sister, Jacqueline, who encouraged him to seek help.
Finding His Way
Soon after, Paul entered a 12-week program at a treatment centre in Vancouver, where people with addictions can get a safe place to live while undergoing counselling.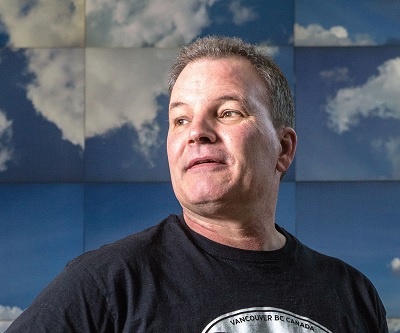 Paul did so well there that, after completing the program, he was recommended for a personal-development program at The Salvation Army's Belkin House in downtown Vancouver.
Belkin House is an eight-storey building that can accommodate 225 men and women who need emergency shelter or transitional housing. "Residents get life-skills training, addiction counselling and other support services," says Les McAusland, director of residential services.
"I was nervous there at first, but the main thing I learned was God's patience," Paul says. "I also found unconditional love.
"I appreciated how The Salvation Army didn't push it on me but patiently let me find my way. I was able to reconnect with God in my own time and in my own way."
Pursuing His Passion
As Paul grew in his faith and became more comfortable living without alcohol, he began to think about his long-forgotten dream of becoming a chef. He wondered if it could still be a possibility for him.
His counsellor, Rafik Daudjee, thought so. He encouraged Paul to apply for a culinary arts program headed by Belkin House food services manager Alvin Chong.
Paul finished the program with flying colours, graduating as a level 1 professional chef. He currently works as a grill cook at Malone's Restaurant in Vancouver and plans to continue his education to professional chef levels 2 and 3.
His ultimate goal is to become a red seal chef, a highly coveted certification of excellence that could open doors to Canada's finest restaurants.
"Paul's story has been a true inspiration to me," says Alvin.
"I admire the way Paul has tackled every challenge he has faced with hope and humility. By the grace of God, He planned for Paul to find community and support at Belkin House. And He has given me the opportunity to help Paul find his passion in cooking and turn that into a new career option late in his life. I'm humbled to have been a part of his journey."
The praise is mutual. "Alvin deserves credit for his excellent culinary instruction and for spiritual guidance along the way," says Paul.
Getting in Touch
Paul now lives at Grace Mansion, another Salvation Army facility in Vancouver that offers transitional housing to people who are recovering from addictions.
Sober for more than three years now, Paul wants to emphasize that he blames himself for the mistakes he made in the past, and that he is grateful for the good relationship he has with his children. He and his father, who is now 80 years old, are also close.
"I've put Dad on a pedestal for never giving up on me," Paul says.
Becoming alcohol-free after years of addiction and realizing his childhood dream are great accomplishments, but Paul says none of it could have happened without the practical and spiritual help he got at Belkin House.
"I didn't get in touch with God until I got in touch with The Salvation Army," Paul concludes.