On June 16, the Canada and Bermuda Territory will commission 16 new lieutenants in the Messengers of the Gospel Session (visit
CommissioningWeekend.ca
for information about events and services). As they prepare for a new chapter in their ministry, these Salvationists reflect on their calling and the meaning of their sessional name. (Photos: Carson Samson)
---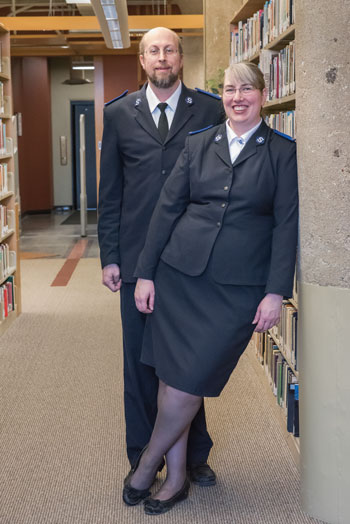 Rick Apperson
I originally came to The Salvation Army as a food bank co-ordinator and later became executive director of the Army's Bulkley Valley Social Services in Smithers, B.C. Over time I felt the Lord saying that this was the place he had called me to do ministry. My placement in Chatham-Kent, Ont., taught me that when a team works together, they can achieve amazing things. Seeing hundreds of hampers put together in mere hours was awe-inspiring. My time in Lethbridge, Alta., was also meaningful—as I saw hearts opened to truth through relationship building, I was reminded that people matter more than programming.
Sarah Apperson
We discovered The Salvation Army about 12 years ago. After exploring the Army's mission and vision, and ministering in northern British Columbia in an Army context, we began to ask the Lord if he was leading us to soldiership. He confirmed this for us and we were enrolled in 2013. Unlike some who have wrestled with their call, we felt officership was a perfect way to live out the calling that had always been on our lives. My experience at CFOT has been a gift. Through the good and challenging times I have learned to look for God at work around me, and to trust his provision and care.
Appointed corps officers, Terrace Corps, B.C.
---
Andrew Benson
My winter assignment in Medicine Hat, Alta., affirmed my call to live and love among the poor. During my time there, I spent one night at the shelter and ate most meals in the food line with everyone else at the centre. We became friends and it was all I could have wanted. At CFOT, I have learned that grace is everything and I need to love others the way God does. I have learned so much from the other cadets and will be forever thankful for their impact on my life. I think I'm still figuring out what it means to be a "messenger of the gospel," but I know this: it's more of a story that we invite others to be part of than it is a story I tell on my own. The gospel is good news; if it isn't good news, it isn't the gospel.
Appointed outreach officer, Downtown Toronto
---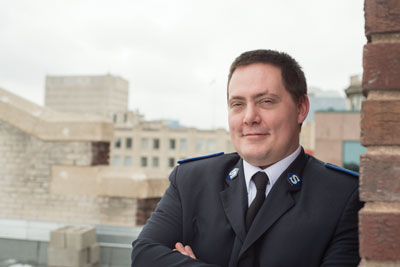 Barry Austin
My calling to officership came out of a time of hardship in my life. I felt like God had abandoned me, but the opposite was true—he was calling me to full-time ministry. My experience at CFOT has been nothing short of amazing. I am now better equipped to listen to and walk with Christ. For me, to be a Messenger of the Gospel is to be bold in my calling and outspoken about the work of the Lord. My dream for The Salvation Army is that we would continue to see and meet the needs of others, and help our people grow so that they are equipped to do ministry and love like Jesus loved.
Appointed corps officer, Point Leamington Corps, N.L.
---
Jesse Byers
As a teenager, I didn't know that officership was open to anyone. I had this idea that only certain people could preach. But God placed a clear desire in my heart to be an officer and faithfully affirmed this calling over and over again. During my summer assignment, I had the privilege of participating in the Hope Café in Saint John, N.B., where I learned what it means to minister over a cup of coffee. The unconditional love and acceptance I felt each day in the café was inspiring. As an officer, my dream is that God will use The Salvation Army, with all of our unique tools, to bring about his will.
Appointed corps officer, Point Leamington Corps, N.L.
---
Carlos Cuellar
Being called to ministry is a great honour and a huge responsibility. After attending Richmond Corps, B.C., for seven years, I was encouraged by the corps officers to embrace the fact that God had been leading me to ministry for a long time and that I was meant to be an officer. Going back to college after many years has been challenging; however, I have enjoyed being around younger cadets and I have learned from them. To be a Messenger of the Gospel is to reflect God in every aspect of my life and remain obedient to his Word. My vision is to reach as many people as I can through The Salvation Army.
Appointed corps officer, Nelson Community Church, B.C.
Jenny Marin
I've always wanted to embark on a life that reflected the love of Christ, and that desire became a reality when my husband, Carlos, told me he felt we were called to be officers. I told him I had been waiting to hear that for years and I was praying God would confirm my call by calling us both to ministry. Through my assignments, I have learned how to love people and be a servant leader. Whether marching through the streets of Panama in 40-degree weather, or getting lost in a blizzard in Moncton, N.B., I have experienced unconditional love from individuals who are now part of my Christian family.
Appointed community and family services officer, Nelson Community Church, B.C.
---
Adriane Cartmell
I have always felt called to serve others and be involved with ministry. While working in government, I started to explore the possibility of full-time church ministry, and as I followed God's leading, I applied for officership as a step of faith and obedience. When I did, I had an overwhelming sense of peace that it was the right step. As a cadet, my experiences with corrections ministry and street ministry out of the Winnipeg Booth Centre have been instrumental in shaping how I view and interact with others, especially in showing me that at the core, as people, we aren't all that different from one another. Everyone is an image-bearer of God. We all deserve dignity and respect.
Appointed corps officer, London Hillcrest Community Church, Ont.
---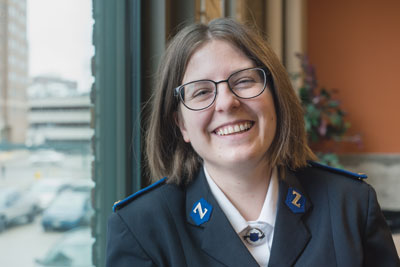 Dominika Domanska
I was introduced to The Salvation Army by my uncle when he invited me to a territorial congress in Germany. I had no idea that this weekend would completely change my life. From the beginning, I felt that the Army was the right place for me. The problem was that there was no Salvation Army in my city—we have only four corps in Poland. I wanted to help spread the Army mission in my country, so I decided to become an officer. At first, I felt some pressure when I learned that I am the first-ever cadet from Poland. But after attending CFOT, I know that I will do my best as an officer and God will guide me in every situation. I hope that I can be an example for other people in Poland who are thinking about officership.
Returning to Germany, Lithuania and Poland Territory
---
Brian Dueck
I have had so many eye-opening experiences during the past 22 months! From Kenya, to Hazelton, B.C., to Yellowknife, I've witnessed some amazing kingdom work. To see people simply being who God has called them to be—even outside "ministry settings"—has taught me to be more attentive to the leading of the Holy Spirit. I envision the global Salvation Army as a community that represents a safe place for all people, regardless of background. I see people finding dignity, not only as people created by God, but as people whom Christ died to redeem. Jesus' message of good news is for those who have known nothing but exclusion and oppression, and he freely offers salvation to all.
Appointed corps officer, Weetamah Corps, Winnipeg, with spouse, Captain Bethany Dueck
---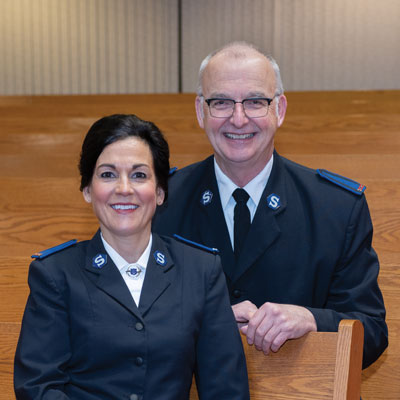 David Haggett
I surrendered my life to the Lord at a youth councils weekend in Truro, N.S., many years ago. Even though I was young, I felt the Lord calling me to be an officer, following in the footsteps of my parents; however, for various reasons, the timing never seemed to be right. I thought that perhaps I had misinterpreted the Lord's calling on my life. Then one day, my wife, Gina, received a call from the divisional youth secretary who asked if we were still interested in officership. We said yes and applied. When we were accepted I was speechless. Both of us feel blessed to be in this position, and we were fortunate to be able to complete our second year as field-based cadets at Agincourt Community Church in Toronto. God is good.
Gina Haggett
As a cadet, I had the opportunity to create a ministry at a hospice house for HIV patients. I would arrive around noon, make them lunch and then facilitate a Bible study and prayer time. I learned a lot about that horrible disease, which keeps its sufferers in solitude because families and friends isolate them out of fear. Through "Soup, Sandwich and Scripture"—as the residents called it—the Lord broke through their stories of loneliness. He dined with us each time. Being a Messenger of the Gospel means living like Jesus. Giving complete control over to him enables the Holy Spirit to use my life in response to the needs of others.
Appointed corps officers, Agincourt Community Church, Toronto
---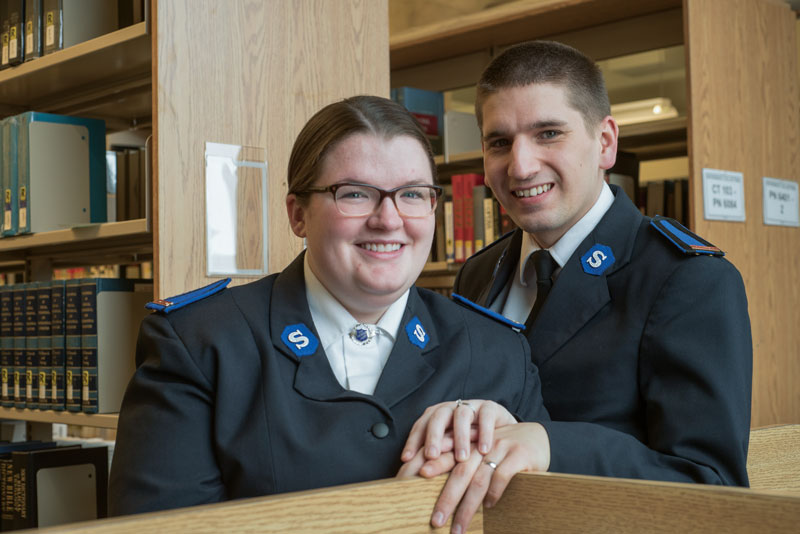 Thomas Marsh
My most memorable placement was at the Grace Hospital in Winnipeg. Sitting at the bedside of people in their final hours taught me that the minor details of life are not important; relationships, love for others, peace and generosity are what matters at the end of the day. In general, my placements showed me that God's people, God's community and God's work are not just in your building. God is at work in the streets, as well as within the church walls. People need to know the love of God right where they are, and people need to see Christ's love through me. I understand that it will be hard, and some people will reject my message, but I also know while I was still a sinner, Christ died for me.
Kristina Marsh
My experience at CFOT has been great. I have learned many things about ministry through our various assignments and field placements and through observing many gifted officers at work. I did a field placement at Golden West Centennial Lodge in Winnipeg. I was able to spend time with a war-bride from Holland and hear her story. She was a lovely, elegant woman who reminded me of my own great-grandmother. Through that experience, I learned that everyone needs someone to love them and listen to their stories.
Appointed corps officers, Rideau Heights Corps, Kingston, Ont.
---
April Ward
I'm a fourth-generation Salvationist who grew up in rural Newfoundland and Labrador. Participating in life at the corps was important to me, and from an early age I knew I was called to be an officer. CFOT has been a great experience, with many stretching moments throughout. Among many things, I have learned the value of spiritual formation, relationships, giving and receiving feedback, and participating in community life. I count it a privilege to be a Messenger of the Gospel. For me, this means journeying with people, contributing to the community and sharing Jesus with those that I meet.
Appointed corps officer, Glovertown Corps, N.L.
---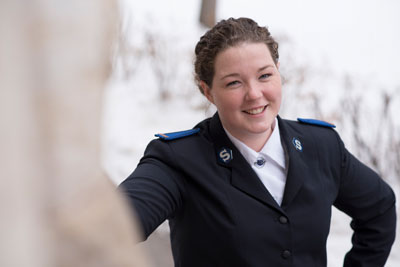 Kaitlyn Young
While at CFOT, I took part in the food truck street ministry that operates out of the Winnipeg Booth Centre. This experience taught me to honour the time it takes to build relationships—unhurried and consistent effort to really engage in people's daily lives. Through that time in the community, I learned that God is constantly working in the hearts of people. Their faith was so honest and beautiful it has profoundly shaped my understanding of who God is. My vision for The Salvation Army is found in Luke 4:18-19: "To proclaim good news to the poor … to proclaim freedom for the prisoners and recovery of sight for the blind, to set the oppressed free" so that all may know God and be saved.
Appointed corps officer, Southridge Corps, Medicine Hat, Alta.
---
Principal's Commendation
On behalf of the College for Officer Training (CFOT), it is my pleasure to introduce you to the cadets from the Messengers of the Gospel Session who will be ordained and commissioned as officers of The Salvation Army this month.
Over the past 22 months of training they have developed a sound framework for mission, including theological studies, pastoral disciplines, administrative capacities and, above all, spiritual discernment. Their calling has been affirmed and their future is secure under God's precious promises.
In the presence of the greater faith community, fellow soldiers and family, they will dedicate their lives in sacred covenant, believing the mission of the gospel is truly worth living for. In keeping with the prophets, we join our voices in song: "How beautiful on the mountains are the feet of those who bring good news, who proclaim peace, who bring good tidings, who proclaim salvation, who say to Zion, 'Your God reigns!' " (Isaiah 52:7).
Brenda and I invite you to support our Messengers of the Gospel, praying for fresh anointing, protection and blessing.
For thy mission make me holy,For thy glory make me thine,Sanctify each moment fully,Fill my life with love divine.
(
SASB
682)
In joyful service,
Major David Allen
Principal, CFOT