At a former Salvation Army church on Broadview Avenue in Toronto, participants in The Salvation Army's Gateway Linens and Disposal Services program work amid the whir and rumble of industrial washing machines and dryers.
Life-Changing Idea
Gateway Linens started in 2007 when the former director of the Gateway Shelter in Toronto, Dion Oxford, overheard a conversation with a shelter resident who asked why The Salvation Army wasn't laundering its own sheets and bedding.
That simple suggestion became something much greater than anyone could imagine. It created a new program that provides jobs, a steady income for those in need and, most importantly, a means to a new life for program participants.
There, sheets, towels, blankets and tablecloths from various community shelters in Toronto are laundered and folded. For shelter residents, something as seemingly insignificant as clean sheets is a bit of normalcy on a path to self-sufficiency.
One of those participants is Jean Lemay, currently in his third stint at Gateway Linens. He didn't know anyone in the city following a move to Toronto, and his acceptance into the program allowed him to meet new people. From his experience in the shelter system, Jean understands the need for stability, and that inspired him to give back to others in the same situation.
"It's way more than doing dirty laundry," Jean states. "It has had a positive impact on me, and I know it has a positive impact on others. I've slept on those sheets, so when I am washing them and folding them, I know where they are going.
"Every sheet I fold goes to someone who really needs it. This may not mean much to most people, but for the homeless or people who are in desperate need, it can be a life-changing experience."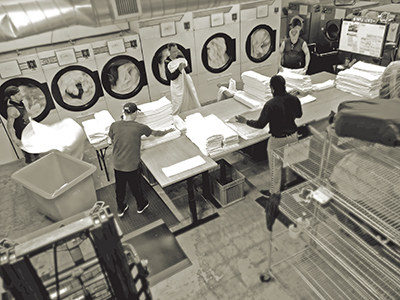 Shelter Synergy
Currently at Gateway Linens, there are 15 program participants working Monday to Saturday, washing items from 30 clients that include other downtown shelters, respite care centres and community health centres.
"We are a social enterprise, but we are also a Salvation Army program that provides employment experience and retraining," explains Stewart King, Gateway Linens' manager. "Individuals that come into the program are trying to stabilize their life situation."
Program participants are compensated with a stipend but, more importantly, they are given the time and support needed to increase their chances of success once they've moved on to other employment opportunities and are living independently in their own home or apartment.
"There is a synergy that exists; we're not an anonymous corporate entity that is doing it just for profit," Stewart says. "We are very much intertwined with the shelter system, and most of the work force comes from there."
Graduating to Success
Gateway is more than just a job; it brings with it responsibility, accountability and the flexibility to work toward achieving even greater goals. Many program participants are given time off to attend support meetings, check in with counsellors or social-service caseworkers, or to work toward meeting educational goals.
Former Gateway participants have landed jobs with other employers, and others have finished undergraduate degrees, enrolled in law school or have become social-service caseworkers, insurance brokers and forklift operators.
"Some have reached their personal goals and we are very fortunate to have helped them along their journey," Stewart says. "Seeing individuals succeed through our program brings a tremendous feeling of accomplishment for all front-line staff here, who are committed to helping our communities' most vulnerable."
A Way Back
The program has been so successful that it has expanded to a satellite location at a hotel in Scarborough, in the east end of Toronto, that is operating as a shelter during the COVID-19 pandemic. It's a unique opportunity extended by the hotel's ownership group and the City of Toronto, reflecting the commitment to excellence of Gateway Linens' operation.
This site launders standard room linens and towels as well as the personal clothing of the shelter participants, and most of the laundry workforce is comprised of program participants who reside in the hotel shelter program.
This expansion gives Gateway Linens the capacity to take on more accounts from hotels, restaurants, fitness clubs, physiotherapy and massage clinics, and other shelters and social-service agencies. It also means more participants can learn essential soft skills.
Stewart says Gateway Linens is always seeking volunteers, and the program would benefit from individuals who could help provide participants with additional life skills in areas such as cooking easy-to-prepare meals using simple ingredients that can be cooked on a hot plate or in a microwave. The Broadview location has a small commercial kitchen that would be perfect for cooking demonstrations and instruction on how to effectively budget for groceries. Access to a tutor to help with math or English concepts would also help make it easier for participants to finish their education.
"Being in the shelter system, there is something valuable for residents to have their own clothing laundered, and it needs to be respected," Stewart says. "A shelter resident knows what the experience is like and they know the importance of having a sense of dignity. We're not just laundering linens; we're providing a service to walk alongside these individuals."
Gateway Linens is about more than simply doing laundry; it is an opportunity for people to find a sense of hope and a way back, one bedsheet at a time.
Chris McGregor is a content marketing specialist for The Salvation Army's Ontario Division.
This story is from: