(Above) The official ribbon cutting. From left, Tim Varughese; Mike Woodland; Mjr Elaine Bridger, executive director; Mjr Margaret McLeod, then DC, Alta. & Northern Ttys Div; Stephen Mandel, former mayor of Edmonton and honourary co-chair, Capital Campaign Committee; and Erin Rutherford, Edmonton city councillor (Photo: Maria Silva)
Grace Village, a groundbreaking new 175-unit, energy-efficient building in Edmonton, celebrated its grand opening in June, marking the exciting end to a decade-long project. Grand opening events included a funding announcement attended by government officials and Army personnel, and a ribbon cutting.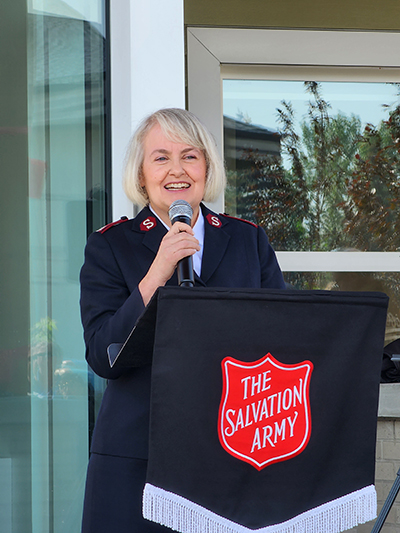 This state-of-the-art complex is powered almost entirely by solar energy—an innovative first for Salvation Army shelters in Canada. With a range of green features, including ground source heating, solar panels, and energy-efficient insulation and windows, Grace Village is net zero ready with balanced greenhouse gas emissions. This environmentally friendly approach not only reduces carbon emissions but also contributes to lower operating costs.
In fact, the building is expected to recoup its initial investment within four years, thanks to the substantial savings achieved through green measures, and is projected to save approximately $240,000 in operational costs each year and a staggering $6 million over its lifespan. These savings can be reinvested into further programs and services to support the community.
"There is always a need for affordable housing," says Vanessa Sim, assistant executive director.
"There is a need for stabilization, whether people are coming out of homelessness, detox or the hospital, and a need for people to find a place to settle so they can move into the next step on their journey."
The complex is divided into three segments: a stabilization unit with 32 beds, transitional housing with 71 beds, and supportive housing with 72 beds available to either men or women.There are also lounges and sitting areas, a rooftop patio, a fitness room, teaching rooms, a community garden and green space for residents to enjoy.
"There is space, which is what we have really needed. When you walk in, it is very open and bright," says Sim. "We have had plenty of positive feedback from residents and the community."
According to Sim, after moving residents into the complex in May, Grace Village has witnessed a decrease in escalated behaviours and a decompression in residents as they enjoy the peace and comfort of their new environment. "We're seeing people hanging out in common spaces together, sitting outside, and we've seen mini communities being built here already," says Sim.
With its energy-efficient design and community-focused approach, Grace Village serves as an example of sustainable housing solutions that are possible through The Salvation Army.