(above) The Persian community at Richmond Hill CC gathers three times a month in "neighbourhood church" led by Aux-Lt Elli Bagheri
"Many people don't know The Salvation Army has an Iranian community," says Aux-Lieutenant Elli Bagheri, ministry assistant at Richmond Hill Community Church, Ont. Originally from Iran, Aux-Lieutenant Bagheri began attending Richmond Hill in 2014 and started officially pastoring at the corps in 2019. As a growing community of Persians connected with The Salvation Army, it created an opportunity for a focused ministry beyond the traditional English-speaking church.
Aux-Lieutenant Bagheri, along with Majors Danny and Lori Pinksen, then corps officers, began hosting Farsi Bible studies, prayer meetings and a Farsi Alpha program to introduce people to Jesus in an environment where they could speak their own language, ask questions and engage in discussion about Christianity.
Now, Richmond Hill has both an English-speaking congregation and a Farsi-speaking congregation. "As a church family, we've embraced this opportunity for ministry," says Major Krista Andrews, who was appointed corps officer in January 2022 together with her husband, Major Tim Andrews. "We're giving space in our worship to our Iranian community and as a Salvation Army church, we can learn a lot from this."
Neighbourhood Church
Richmond Hill is not a typical Salvation Army corps. Though they've operated as a church for more than 20 years, they do not run out of a church building, and having previously rented space in a local school, the church had to explore new ways to worship after pandemic school closures.
"Our full congregation meets once a month in person, then the other weeks we do what we're calling 'neighbourhood church,' where we host church in smaller pods across Richmond Hill. We're sharing the sermon and worship through Facebook," explains Major Krista Andrews. Each neighbourhood church group watches the sermon together, shares coffee and tea, and uses the video as a resource to discuss and ask questions.
Aux-Lieutenant Bagheri hosts an Iranian neighbourhood church, translating the English sermon into Farsi and discussing with Iranian congregants. Once a month, when the corps meets together, they use an earphone translation system.
In the summer months, Richmond Hill introduced "Church in the Park," which brought congregants together next to the corps' community garden. During these services, Aux-Lieutenant Bagheri would do a sentence-by-sentence translation of the sermon.
"We've learned what it means to have space in our worship for our Farsi-speaking family. Aux-Lieutenant Bagheri prays in Farsi after we pray in English. After someone reads Scripture in English, we pause to have someone read Scripture in Farsi. It takes time and planning, but we've seen more Farsi speaking people come to the garden," says Major Andrews.
Love and Freedom
Through community and family services (CFS) in Richmond Hill, The Salvation Army serves many Iranian newcomers to Canada by equipping them with necessities and resources to get them started. "As we provide what we can physically through CFS, we also talk to them about our Iranian congregation and our Iranian pastor," explains Major Andrews. Aux-Lieutenant Bagheri speaks fluent Farsi and often meets with CFS clients, helps translate and offers connection to the Iranian community and ministry at Richmond Hill.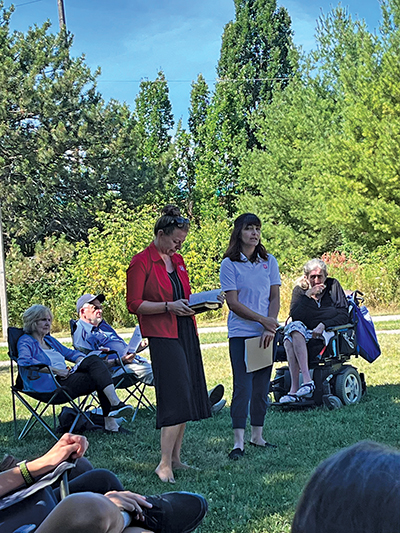 Many of the people who join the Iranian ministry at Richmond Hill have come to Canada under duress. Though some already have a relationship with Jesus, being a Christian in Iran is difficult.
"The law is very harsh, mostly for the women," says Aux-Lieutenant Bagheri, who fled Iran because it was not safe for her to live out her faith as a Christian. "In Iran, we didn't have any Christian church buildings. Many of us worshipped in underground church. The government found out about it once, took the people to prison and closed the church.
"They push you out. They do not want Christians to stay. If you stay, you have to figure out how to meet as a congregation. So, it is normal for Iranians to meet in small groups like neighbourhood church," explains Aux-Lieutenant Bagheri.
"When people come here, they are looking for freedom," she continues. "When they're in Canada, they are free to choose any religion; they are not under force. The Iranians like to be Christian because they hunger for love. They believe Jesus is love. Even as Muslims, they love Jesus Christ as a prophet. So, it is challenging, but their hearts are very open to Jesus. They find freedom and love in Christianity."
With a growing number of families connecting with Richmond Hill Community Church, the ministry team's focus has been hosting a Farsi Alpha program to introduce the Christian faith and teach people about Jesus and what it means to live a Christian life.
"This is one of the most exciting areas of ministry because people are giving their hearts to Jesus in a way that we've never seen before," says Major Andrews. "It is refreshing to be part of a community that is hungry for his Word and hungry to know Jesus. Through our Alpha program, we have had 11 people give their hearts to Jesus."
Like every church, Richmond Hill is evaluating what church looks like in a post-COVID world. And without a building, the corps faces unique challenges when bringing together their English-speaking and Farsi-speaking congregations.
"We have a vision team that is looking at what it means for us to be a church in Richmond Hill," explains Major Andrews. "We have three people on the vision team from our Iranian church that speak into what our church expression looks like going forward. We know that whatever that expression is, it will include our Iranian community and an Iranian church."
This story is from: