Lt.-Col. Jeff Spitzig visited every province in Canada and travelled the world. He was deployed to Bosnia and Afghanistan and the Vancouver Olympics. He served a month in the bush providing security for the dignitaries at the G8 Summit in Alberta and spent five years with the Canadian Special Forces.
"Would I change anything?" asks Jeff. "Absolutely not. It's been an amazing experience. Thirty years ago, I was enrolling as an Air Cadet, and look at me now. Who would have thought that a 14-year-old Air Cadet would one day be the commandant of the Royal Canadian Electrical and Mechanical Engineers (RCEME) School at Canadian Forces Base Borden, Ont.?
"I look back at my successes and trials and I realize God has seen me through all of them. And, yes, there'll be more trials and successes to come, but God will see me through those as well."
Real Life
Though born in Walkerton, Ont., and raised in Hanover, Ont., close to CFB Borden, soldiering was the furthest thing from Jeff's mind when his mother asked, "What would you think about joining the Air Cadets?"
"I somewhat offhandedly said, 'Yeah, sure, I'll give it a shot.' "
Up until that point, hockey, school and hanging out with his friends were Jeff's chief priorities. But something resonated for him and, under the guidance of some mentors, he flourished in the Air Cadet program, eventually obtaining his pilot's licence.
A visit to the Royal Military College (RMC) in Kingston, Ont., whet his appetite for a life in the Canadian Armed Forces.
"I was taken with the military: its structure, the uniforms, the discipline," he says. "I hadn't visited other universities, but RMC clearly stood out in my mind as the place to go. So I worked for that. And through God's grace, I was accepted to RMC as a civil engineer. Four years later, I graduated, and that's when my real life started."
Shared Career
Like so many career soldiers, Jeff's life followed a succession of postings, to CFB Borden for basic training, then to Edmonton and a deployment to Bosnia followed upon return by a transfer to Canadian Forces Base Shilo, Man.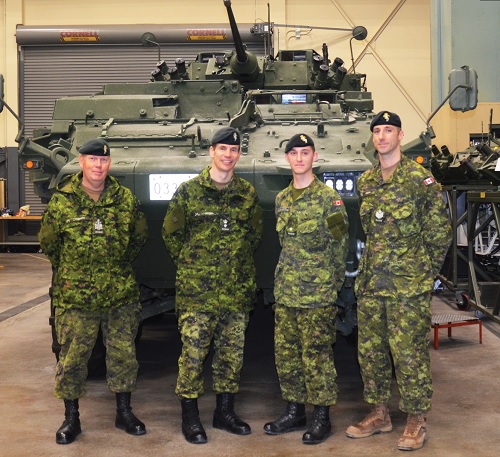 During this time, he met and married his wife, Charity, and the couple had four children.
"We both grew up in Christian households and Charity's father is a pastor," says Jeff.
Throughout his career, Jeff's had cause to reflect on a well-known Bible verse from Jeremiah 29:11: " 'For I know the plans I have for you,' declares the Lord, 'plans to prosper you and not to harm you.' "
"God has hidden plans," believes Jeff. "And we've treated our career with that verse in mind. And I say our career, because it's very much a shared career.
"I couldn't do it without the support from Charity," he continues. "She mans the home front. And it's crucial to have that support there."
In His Hands
Another posting to Bosnia followed his time at CFB Shilo.
"I had no idea what to expect the first time I was there," says Jeff. "Thankfully, it was a peacekeeping tour, so it was fairly calm.
"That second time around, however, I remember feeling God's protection."
Returning from Sarajevo one pitch-black night through the mountains, a civilian driver elected to pass a car on a curve in a switchback.
"The drivers there are not like drivers in Canada," Jeff smiles. "I have no idea how we did it, but we narrowly missed going off a cliff. Then, as a number of times before and since, it struck me,
I'm in His hands.
I really feel that God has been with me throughout my career."
His Presence
Another succession of tours followed, with a return to CFB Shilo, then Edmonton and after that a deployment to Afghanistan.
"That was an eye-opener," says Jeff.
An RCEME mantra is "soldier first, technician always."
"So even as technicians, they are always soldiers first, and they engage in combat," explains Jeff. "They can't be naive to think that the enemy is going to leave them alone while they repair a tank, so they're always soldiers first."
Jeff's close call in Afghanistan occurred when a Taliban mortar shell landed, as he says, "too close for comfort."
"It's precisely in those times that I felt covered by the wings of God," he says. "I felt his presence."
Passing Wisdom Along
In 2007, Jeff was posted to the Canadian Special Forces, where he spent a total of five years. Following his time there, he was transferred to Canadian Forces Base Petawawa, Ont., then to Toronto for a yearlong staff college course. Finally, he was assigned as commandant of the RCEME School at CFB Borden.
"This job's the pinnacle of my career," he says proudly. "It's a privilege to be surrounded by such competence at every level of command, by such excellent people."
Much like the principal or dean of a civilian school, the commandant is responsible for all of the academic courses and the training, both for the soldier students that come from across Canada but also for the training of the staff as well.
"While we're an academic institution, we still have to maintain our soldiers' skills," he says.
During his tenure as commandant, Jeff strove to emulate the mentors who had guided his own career.
"I have always aimed to be present and accessible to everyone under my command, and I hope I have passed along my expertise and skill to the next generation."
The Road Ahead
Jeff's tour at CFB Borden ended this summer. And his next "tactical bound," as the soldiers call that step in their service life?
"For engineers, all roads lead to Ottawa, and I think that may be my final stop."
But will it be?
"From a career perspective, there still is an itch to deploy again," he replies honestly. "I'd like to get back to command one day. A staff appointment may be in my future right now but I do know I've got no plans to retire. I'm 43 and, God willing, I've got a good 10 to 15 years left. I haven't thought about retiring yet."