"In a position where the mental side of the game is more important than anything, Reimer commented early on in his rookie year that he feels his religious background is a big reason why he has been able to cope with the day-to-day stress of playing goal in the NHL."
–James Mirtle,
The Globe and Mail
(April 3, 2011)
More than six years since those words were written, throughout the rollercoaster ride of being a professional athlete, James Reimer remains true to the Christian roots that have always kept him grounded. He keeps reminders from Colossians 3:23 on his hockey stick ("Whatever you do, work at it with all your heart, as working for the Lord") and Matthew 14:31 on his goalie helmet.
"In the latter half of Matthew 14:31, Jesus asked Peter, 'Why did you doubt?' " James comments. "Hockey is a big thing to me and I love it, but obviously it's a lot of pressure. I need to remember that even though I have a huge task ahead of me, I can trust God."
Surreal Encounter

Growing up, James attended a Christian school in his small hometown of Arborg, Man. "I dedicated my life to Jesus at the age of seven and was baptized when I turned 15," he remembers. "My faith continues to grow deeper as I grow older."
It was at the age of 12 that James also decided to dedicate his life to hockey.
"As a kid, I enjoyed soccer, baseball and swimming, but I decided to stick with hockey," he smiles. "We had a little rink in our yard where I could always work on my game, and even though we lived in a small farming community, we had an NHL-sized outdoor rink kept up by the locals. If I wanted to get a bunch of buddies together we could go there and play. I've always felt how great it is just to play alongside your teammates and have a common purpose."
James' favourite hockey team to watch growing up was the Toronto Maple Leafs and his favourite player was their goalie, Ed Belfour.
"It was pretty cool, that when I showed up for development camp that summer, after I was drafted by the Leafs in 2006, his gear was still in the room!" James says. "That was surreal, to be in the same locker room as he had been. I never got to meet him in person, but we did get introduced to each other over the phone once when he was talking to my equipment rep."
City to City

James spent almost five years perfecting his moves in the minor leagues before his NHL debut in December 2010. By March 2011, he'd worked his way to Toronto's starting goalie position.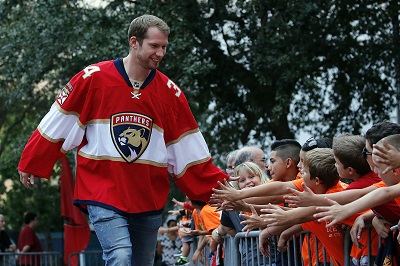 "How Christianity works so well in life and sports, especially in goaltending, is that my faith helps me deal with the extreme highs and lows we all go through," he says. "It definitely helps put things in perspective. God has helped me stay level-headed despite all of the ups and downs. Through my career, I just try to glorify Him and have fun, and the rest will take care of itself."
In February 2016, he was traded to the San Jose Sharks and then signed a five-year contract with the Florida Panthers that summer.

Eternal Gratitude
Going from a hockey-obsessed city such as Toronto to Miami, where football and basketball are the more popular sports, was a culture shock.
"Being a hockey player in Miami is a different experience for sure!" he laughs. "There are pros and cons to each situation. In Toronto, people recognize you on the street and you're always conscious of that. It's great to interact with fans but in Florida, it's mostly just when you are at the rink. Away from the rink, it's nice to be just a normal person and live your life. My wife and I and our baby daughter, Nevaeh, spend the off-season in Kelowna, B.C., where a lot of present and past NHL guys are, so it's just part of the town's makeup."

But no matter what city he's living in, James continues to feel amazed that he gets to play hockey for a living.

James told The Globe and Mail back in 2011, "I'm blessed to be here. Blessed to be playing in the NHL. It's not because of me, that's for sure." It's good to know that some things never change.