When a family in crisis comes to The Salvation Army, they are welcomed with open arms. Food, shelter, clothing, spiritual care—whatever their needs, the Army will provide, to the best of our ability.

But what happens long term—when a family is ready to take the next step, to break the cycle of poverty and chart a new path forward?

With Pathway of Hope (POH), the Canada and Bermuda Territory is providing that link to a new life.

Developed by the U.S.A. Central Territory, POH offers families one-on-one case management, helping them set and achieve goals. It is an integrated mission approach, combining practical and spiritual care, social services and corps resources, to maximize the impact on each family.

"It's walking alongside a family," explains Claire Dunmore, social services consultant. "It's not about a handout; it's a hand up. It's supporting a family with their goals, with the things that they struggle with; it's having conversations and building relationships that will be transformative for each individual family."

That client-centred approach is central to the success of POH.

"We're not imposing our goals on them," emphasizes Julie Whalen, community and family services worker, The Salvation Army Markham Ministries, Ont., which participated in the pilot project. "It's supporting their strengths, ideas and aspirations."

"For a lot of these families, we're the first people that have ever believed in them," says Kyron Newbury, family services worker at Toronto's Cedarbrae Community Church. "They know we're on their side."

The territory officially launches the POH initiative this month, after a successful year-long pilot project at six ministry units in the Greater Toronto Area. During the pilot period, 22 families were enrolled in POH and five families graduated, having achieved their goals.

By building on the Army's existing programs and resources, Dunmore believes POH will help the Army take its ministries to the next level. "The Salvation Army has always been ahead of the game, a leader in the field," she says. "POH is a way that we can be even more impactful."

The territory's goal is to have POH in all nine divisions by 2020.


---
"We Learned That We Were Strong"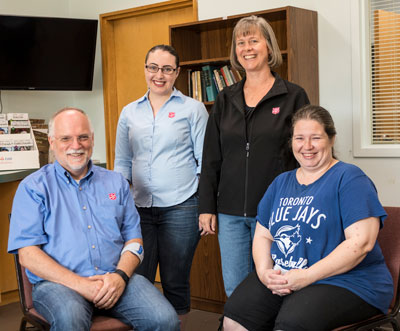 Sherry Glenn and her family were among the earliest participants in Pathway of Hope at Toronto's Scarborough Citadel. A family of five, they first came to the Army after a tragic accident left them in a vulnerable position.

"My husband, Idris, was hit by a recycling truck and nobody would help us," Glenn shares. "I had two babies and a 10-year-old at the time, and I was working, but I had to stop my job and take care of my husband." With help from the Army, they emerged from the crisis, and Glenn began volunteering regularly at the corps.

When the Glenns enrolled in POH last year, a new set of challenges had cropped up and were threatening to overwhelm them.

"Sherry and her family were hopeful and resilient, but they were stuck," says Donald Halsey, Glenn's case manager at Scarborough Citadel. "That's why they were a good fit for POH."

Their primary goal with POH was to find new housing.

"We were having lots of trouble with our landlords," Glenn explains. "They were not fixing things like the heaters, the water, the lights, so we didn't even have the necessities of life."

The situation was so dire, Glenn developed liver failure due to the home's water supply, which was contaminated by salmonella and E. coli.

While the Glenns had wanted to leave for some time, ongoing issues stemming from identity theft made it impossible. "We tried over and over to save money, but it would get stolen, or our bank accounts would get cleaned out," Glenn shares.

The Salvation Army supported the family through the eviction process and their stay at a shelter, and provided leads as the Glenns looked for a new home. "No one would rent to us because of the last place—the landlords gave us a bad reference," she says.

Thankfully, while at the shelter, they received a settlement from Idris' accident and were able to pay a whole year's rent up front—the only way they could secure a new home and achieve their goal.

The Glenns' second goal focused on their son, who was ill and doing poorly in school. After much testing, he was diagnosed with Chiari malformation and sensory processing disorder, but the testing process took a toll on the family.

"His school called children's services because he was missing a lot of school while he was getting tested," Glenn says. "The Salvation Army helped us—they told them that we have lots of support and our children are well taken care of."

With a diagnosis identifying their son's learning difficulties, the Glenns were able to put him in a new school that could meet his special needs. "At the previous school, they told us that he just couldn't learn, but within a year of being in the new school, he's already getting B+s," Glenn shares. "He can read and write, and they say he's very smart."

Along with helping them complete their goals and graduate from POH, Glenn is grateful to the team at Scarborough Citadel for giving her family new confidence about the future.

"We learned that we were strong and we could get through all this," she says. "We didn't think we could; we wanted to give up. But they showed us that we could."

Glenn also credits POH for encouraging them spiritually. "It's definitely increased our belief in God," she says. "At first we thought there can't be one, putting us through all that. But through POH, they showed us that there is mercy, and there's hope."


---
"I Wouldn't Have Survived"
It doesn't matter where Amanda Carto goes—people stop her to compliment her on her nails.

"Grocery stores, restaurants, banks," she laughs, "my nails are spotted and I'm giving out my business cards. I'm not really putting out any advertising—people are asking me for my number!"

A year ago, having her own nail design business would have seemed like an impossible dream for Carto. But with help from The Salvation Army and Pathway of Hope, Carto has made incredible strides toward stability and independence.

Carto moved to Canada from Guyana in 2009, but when she separated from her husband last year, she was left with nothing and no one to support her. Despite the difficulties she faced, she knew it was the right decision for her and her son, Rohamall.

"My environment became very unhealthy and I didn't want that life for my son," she says. "I had to make that change so my son could have a normal childhood."

Carto initially came to Toronto's Cedarbrae Community Church for food bank assistance, and met Kyron Newbury, who recommended POH to her.

"Kyron told me about the program, and I decided to do it because I didn't want to fall back into the same situation that I was in," she explains. "I wanted to make progress and do what's best for Rohamall, and I just needed support."

Carto's first goal was to obtain new identification—her permanent resident card, passport and her son's passport, which she no longer had as a result of her separation—and begin her application for Canadian citizenship.

Her second goal was to get speech therapy for her son who, at four years old, was not yet able to talk. "I didn't know where to start, what programs were available," Carto shares.

Newbury helped Carto find a pediatrician and navigate the process of getting Rohamall into a special program at school.

"One of the hiccups we had working with the school was that they use a lot of jargon," Newbury notes. "A member of our POH team used to be a school teacher, so we were able to translate the jargon for Amanda."

The therapy has been transformative for Rohamall. "To go from being almost non-verbal to asking questions and trying to make sentences on his own, it's just … wow!" says Carto.

As she continues with POH, achieving financial stability is another goal for Carto. Starting her own business was originally part of that, but Carto has decided to donate the money she earns to an orphanage back in Guyana. "I asked myself, 'How can I make a difference in the world?' " she explains, adding that she has also volunteered her services at a nearby women's shelter and at Cedarbrae, where she now attends.

Carto grew up in a Muslim home, but started going to church after she was married. She attended her first service at Cedarbrae in May after talking about the church with Major Tina Mitchell, corps officer.

"She invited me to come and have a conversation with her about it, and I was moved that day," Carto shares. "I thought, Why not try it out? Because without The Salvation Army, I wouldn't have survived."

After a warm welcome from the congregation, she says, "My heart felt light; I felt like I was in the right place."

"When Amanda first came to POH, she was always downcast, she had difficulty making eye contact," remembers Newbury. "And now, every time she comes into my office, it's smiles, and she's talking to everybody."

"It's amazing what God has done," Carto says. "With POH, I wanted to make a change and God gave me the inner strength to do it."


---
" … But I Will Trust You"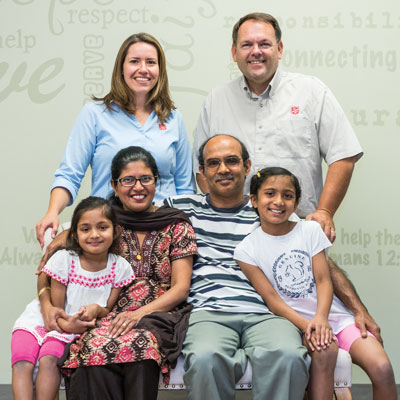 "Before we immigrated to Canada, we heard it was a land of opportunities," says Cheryl Alvares, a Pathway of Hope participant. "My husband, Jason, is a mechanical engineer, and they told us he would get a good job, so we had high expectations.

"We left everything, thinking we'd start a great life. The reality, when we came, was a shock."

Originally from India, Cheryl and Jason moved to Canada in 2004, settling in Markham, Ont. Despite their education—similar to Jason, Cheryl has a master's degree in science—they struggled to find work and support their five children.

"But the biggest struggle I had was loneliness," Cheryl notes. "We don't have any family here."

"And we didn't have anyone to guide us," Jason adds.

After Jason broke his foot in an ice-skating accident in 2015 and couldn't work, Cheryl—who was working part-time from home while looking after the children—went to a food bank for assistance and was encouraged to connect with The Salvation Army. She got involved with cooking classes at the Army's Markham Ministries and developed a relationship with Julie Whalen, who invited them to join POH last year.

"Jason had just lost his job and his dad, so he was going through a grieving process," says Cheryl. "We wanted to come and talk to someone, to be encouraged by people of God."

For Cheryl, her primary goal with POH was to get help with her anxiety. "Julie encouraged me to talk to counsellors and it helped me a lot, to take every thought captive," she says. "Now I do have moments, but I am much better than before."

Jason needed to go back to school to earn a diploma in CNC and MasterCAM technology, so that he could find a new job. He completed the course and is now employed as a handyman for a condominium—a position Whalen found for him through a church connection.

"With POH, they do all the work; we're just there to support them and help them in the right direction," says Whalen.

Having completed their goals, the Alvares family graduated from POH. But as Whalen notes, one of the strengths of POH is that the relationship with the family doesn't end there. "If life throws them a curve ball, they can come back to us at any time and say, 'I want to set this goal. Can you support me in this?' "

The ongoing support is of great value to both Jason and Cheryl. "Julie and Terry have been a source of encouragement in our severe down times," says Jason, referring to Terry Harney, community and family services co-ordinator at Markham Ministries.

"At times, I've said, 'Lord, I cannot take it anymore,' " Cheryl shares, " 'but I will trust you.' And God is faithful. He has used Julie and Terry to help us during this part of our lives; he's used The Salvation Army."

When Cheryl and Jason felt like there was no one in their corner, finding support at the Army has made the difference between hope and despair.

"POH is a good program because, in this society, people often don't have people who will talk to them, listen to them," says Cheryl. "Sometimes you just need a listening ear. A small encouragement can take you through a whole week.

"For us, knowing that people are there for us, praying for us—that's huge."

Photos: Timothy Cheng