Finding employment can be difficult, but for those living with a developmental disability, the barriers to entering the labour market can be next to impossible to overcome. Historically, persons with disabilities have been underrepresented in the workforce, and research has shown that they have the highest unemployment rate.
Just People
To help break these barriers, The Salvation Army has partnered with Community Living Ontario in Pickering, Ajax and Whitby to provide volunteer placement opportunities at The Salvation Army's thrift store in Whitby. Community Living Ontario is a non-profit organization for people with intellectual disabilities. Through their hard work and dedication, individuals from Community Living are proving to their community that they are valuable members of society.
"We have no idea what these individuals go through," says Brenda Hornby, the Salvation Army thrift store manager. "It is a learning curve for us all, but the more we get to know these wonderful people, the more we understand they are just that: people."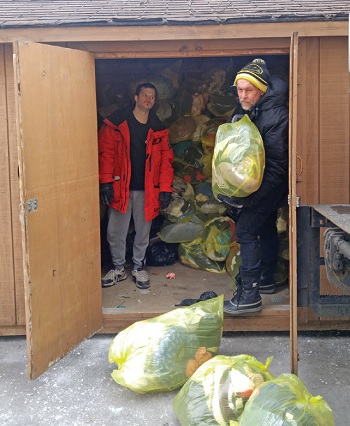 Creating Change
The staff and patrons of the Army's thrift store have observed how compassionate, kind and hardworking these volunteers are.
"Kevin, a Community Living volunteer, is one of the most wonderful people I have ever met," says Brenda. "He's strong, kind, giving and above all loves coming to help here at the store. He is a very hard worker and brings a smile to all our faces when he is here. I am so lucky to have had Kevin come into my life. I am a better person for knowing him."
"It is wonderful to see the growth in each person and the joy they have in their accomplishments at the thrift store," says Betty Eteli, a Community Living support worker. "Opportunities like this help people with barriers to gain employment while also educating the community about the great skills and work ethic they bring to the workplace. These partnerships also help promote our shared vision that we all belong in one inclusive community."
"These are people who work hard, laugh, smile, cry and feel just like the rest of us," continues Brenda. "I feel so blessed they were brought into my life."
When opportunities are opened to individuals regardless of their disabilities, positive change is created. The Salvation Army's partnership does just that.