"The last thing I remember was sitting in the living room at my friend's house," says Major Margaret Burt. "And in 10 minutes time I would have left the house and been driving on the highway. So I'm very thankful that it happened where it did."
On August 9, 2016, Major Burt had a stroke, resulting in the paralysis of the left side of her body. She had just returned to Toronto from a trip to Israel, and had recently settled into a new apartment with her little dog. And on that day, everything changed.
Gifted Teacher
Major Burt has lived at Trillium Manor in Orillia, Ont., since December 2016, but before her stroke, she spent nearly 50 years in active service in The Salvation Army. Though she officially retired in 1999, Major Burt accepted two further appointments, keeping her active into her 70s. "I retired three times, in the end," she says with a laugh.
Commissioned in 1964 as part of the Heroes of the Faith Session, Major Burt spent a few years in corps work before she found her niche in Christian education, both in her home territory and internationally.
"I love teaching, and I feel that's what my gift is," she says. "For me, it was so fulfilling to see people grasp the ideas and grow, and put what they learned into practice."
Most of Major Burt's officership was spent in teaching roles, including nine years in Pakistan where she served as territorial youth secretary, territorial education secretary and education officer for the South Asia region. After Pakistan, Major Burt was appointed to International Headquarters as international training officer, before returning to Canada to take up appointments in personnel, education and pastoral care.
"I had a wonderful officership," she reflects. "At the beginning, it would not have been my choice, but I felt God leading me that way, so I obeyed."
"OK, God"
After a lifetime of teaching roles, Major Burt's two post-retirement appointments were a significant departure for her. Little did she know that both would help prepare her for the ministry that God has given her where she lives now.
Major Burt spent a number of years as liaison and chaplain at a hospital in Windsor, Ont., and as chaplain at P.L.U.S. in Toronto, a program that helps people with disabilities, mental health challenges and special needs learn job skills.
"Those appointments were a good learning experience for me," Major Burt says, "especially my time at Windsor, where I was often ministering to people who were dying. There are people here at Trillium Manor who are facing the end of their lives, and I've had the opportunity to be close with them. Several families have asked me to pray with them before they die."
Her own experience with adjusting to life after having a stroke has also given Major Burt keen insight into the challenges faced by those around her at Trillium.
"Before the stroke, I was a very independent person," she reflects, "and I was constantly on the go. Not only did I take those extra post-retirement appointments, but I also travelled and just had fun.
"And overnight, I went from being independent to totally dependent," she continues. "I couldn't do anything by myself. That was really tough."
Moving into a care facility was a sorrowful event for Major Burt as she mourned the loss of the life she expected to have. "I cried and cried because I didn't want to be here," she says. "But then I knew that I had to just say, 'OK, God, you've got to help me.' "
The Prayer Wall
Despite the difficulty of the transition, Major Burt is grateful for the support of loved ones and the many occasions she has had to be a pastor to her new community.
"My friends and family have been absolutely superb—the people here tease me about how many people come to visit me," she smiles. "And the opportunities for ministry have been fantastic."
Not long after she arrived at Trillium, Major Burt was given the chance to teach a Bible study.
"I enjoyed that. I felt like I was back to the Marg I knew," she says. "With the stroke, I got paralyzed on the left side, but I kept my ability to speak."
She has also spoken at different events at the manor, said grace at mealtimes and recently led a church service.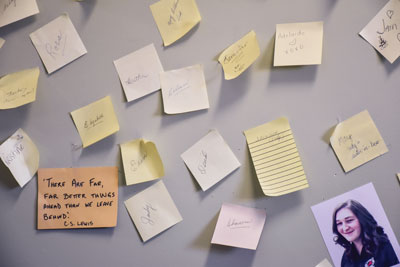 But the place where Major Burt has seen the greatest impact is right in her bedroom, where an entire wall is covered in notes. Each of them represents a person and a prayer.
"The prayer wall has been the biggest opportunity for me," she says. Major Burt got the idea from a friend of hers, who writes the names of the people she prays for on notes and sticks them to the wall in her prayer room. "I thought, That's a wonderful idea—I could do that. Soon, I had staff come in and ask me what it's all about. So I'd tell them and they'd say, 'Can I put my name there, too?' "
The requests are often practical, and in the past year and a half, Major Burt has seen many answers to prayer. A father and son, estranged for many years, reconciled. A childless couple finally able to have a baby. A house sold.
The prayer wall is the perfect opening for Major Burt—its can't-miss size and location invites curiosity and conversation. Requests come from staff, residents and their families; people of Christian faith, other faiths and no faith at all.
"It's been an eye-opener for me that people want us to pray for them," says Major Burt. "They want to know about God."
Whenever she leaves or returns to her room, Major Burt will pause as she passes the wall and pick a person to focus on. "In a situation like mine, I think you need to find that which you can still do," she says. "There are many things I can't do anymore, but I can still pray."
Faithful Intercessor
While ministering to the people of Trillium Manor as a result of a stroke is not the ministry Major Burt would have chosen, she says she is "amazed" that God has used her in this way.
"What I have learned since coming to Trillium is that relationships are what's really important in all of our ministry," she says. "Being in a long-term care facility is hard for everybody. For some people, it's just terrible what they're going through. So to come alongside them and be friends—that's what I've tried to do."
Having been through a life-changing health crisis herself, Major Burt emphasizes how important friendship has been to her own well-being.
"Phone calls, cards, people just being there for me—it's been fantastic," she says. "You have to depend on God, but you have to depend on people, too. You have to let people help you."
As the guest speaker at a recent prayer breakfast at Orillia Corps, Major Burt shared two verses with the congregation: "Do not be anxious about anything, but in every situation, by prayer and petition, with thanksgiving, present your requests to God" (Philippians 4:6); and "Be still in the presence of the Lord, and wait patiently for him to act" (Psalm 37:7 NLT). As an intercessor for her community, these verses have taken on new meaning.
Though Major Burt is retired—for a third and final time—her ministry as a Salvation Army officer is far from over.