It has been called a "once in a century" storm.
Between November 13 and 15, hundreds of millimetres of rain hit southwestern British Columbia, causing catastrophic flooding, mudslides and rockslides across the province. Since the floods hit, The Salvation Army's emergency disaster services (EDS) have been serving British Columbians in multiple communities—from Abbotsford and Chilliwack, to Hope, Merritt and Kamloops—sharing hope amid great hardship.
Abbotsford
When the flooding hit Abbotsford, Ian Pollard, divisional director of EDS for British Columbia, was at the Army's Centre of Hope. Floodwaters were filling the building's lower level, where much of the centre's donations are stored. As he phoned around trying to find a pump to keep the waters at bay, a call came in: could The Salvation Army provide food and hydration for search and rescue workers who were assisting people trapped by the floods?
On Monday, over at the Army's Cascade Community Church, Ian's wife, Carolyn Pollard, community ministries co-ordinator at the corps, was watching the disaster unfold in real time as more and more cars became trapped on Highway 1. The church overlooks the highway and is a short distance from the Whatcom Road exit, which was completely flooded.
"As far as the eye could see, the cars were stuck," Carolyn recalls. "It was the whole afternoon rush."
Given the church's proximity to the flooding, it wasn't long before the evacuation order came through. The church had to close.
With hundreds of residents forced to leave their homes, the city opened a reception centre at the Tradex, and the Army was asked to provide food and hydration. Losing access to the corps and its commercial kitchen was a blow to the Army's EDS capabilities, but the Centre of Hope staff stepped up to the task.
"We've got an amazing cook here so we're giving out great meals," says Rob Studiman, community ministries director at the centre. "People are very happy."
Bill Blokland, an evacuee who was staying at the Tradex, agrees. "The food has been very good, great variety," he says. "The Salvation Army has been really good to us."
Blokland and his wife live at Cascade Court, a retirement community that is attached to the corps. They had just returned from buying groceries and were surprised by news of the evacuation order. "We got back to the building and everyone said, 'You have to evacuate,' " he recalls. "We said, 'What do you mean we have to evacuate? Where are we supposed to go now?' And here we are, homeless people."
A reception centre may not have all the comforts of home, but for Blokland, it was preferable to a hotel. "You can move around, you can do whatever, but if you're in a hotel, you're in your room," he says. "This was the best of a bad situation."
Considering the unimaginable loss many in his community are facing, Blokland is grateful that he and his wife were only displaced.
"We are very fortunate," he says. "It could have been a lot worse. Luckily, the water didn't get as far as the church and the apartment. But you never know, waiting for the next rainstorm to come through."
Serving evacuees such as Blokland is a privilege for EDS volunteers such as Rose and Dave Wood. Seeing the devastation around them, their immediate response was: how can we help?
Since the reception centre opened, they have been regulars at the Tradex. "It's the least I can do," Rose says.
"I like serving and meeting people. It's nice to give back and see the smiles on their faces," she continues. "Everybody that I helped serve here at the Tradex was just so thankful—it made me want to cry."
Cascade Community Church remains under evacuation alert, and the Army continues to feed evacuees at the Tradex. As of December 1, the Army served 4,215 meals, 6,195 snacks and 6,925 drinks at the Tradex, in addition to food and hydration provided to search and rescue crews and fire fighters.
Chilliwack and Hope
About 100 kilometres east of Abbotsford, extreme rainfall wreaked havoc on the community of Hope. Between Saturday and Monday, the community received 252 millimetres of rain, causing flooding, mudslides and rockslides. Three highways converge at the town and all routes were cut off, stranding more than 1,100 travellers in Hope.
On Monday, The Salvation Army received a request for food assistance but faced the challenge of how to actually get the supplies to Hope. The only option was to send the food by helicopter.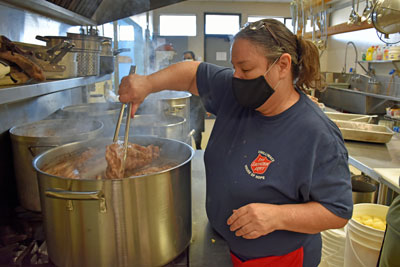 Staff and volunteers in Abbotsford and Chilliwack, which lies between Abbotsford and Hope, sprang into action, quickly preparing sandwiches.
"We had about 20 people here in Chilliwack making sandwiches for people in Hope, and we had about 1,200 made in two hours," says Don Armstrong, food bank supervisor, Chilliwack Community Church. "We couldn't do any of this stuff without volunteers."
Armstrong and EDS volunteer Janice Draheim accompanied the food from Chilliwack to Hope, staying overnight in a school gym with some of the stranded travellers.
"When we arrived in Hope, the situation was pretty dim and dark," Armstrong says. While some people took shelter at the school or with churches, many others spent the night in their cars.
During that difficult time, The Salvation Army was able to bring some hope to Hope.
"When we started to serve the meals, the people were so thankful for all the stuff that they were receiving," says Armstrong. "Sometimes it was just a sandwich and soup but not a negative thing was heard from anyone. People were so appreciative of what we were doing up there."
Armstrong and Draheim returned the following day and started prepping food again. But before they left Hope, they were able to do one more good deed.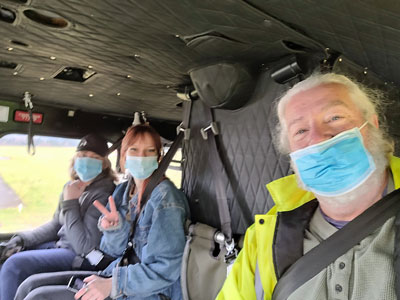 "We had a phone call from a woman from Chilliwack while we were up there," Armstrong shares. "She was missing her daughter. So we tried to track her down, and we did finally track her down, and on the next helicopter back, we brought her home with us."
The Army continued sending food to Hope by helicopter until Thursday, when the roads opened again. During that crucial time, the Army provided 5,203 meals, 7,021 snacks and 9,080 drinks.
Back home in Chilliwack, The Salvation Army has been providing food and hydration for evacuees and those in the local community who are in in need.
Farms in the Yarrow and Sumas areas of Chilliwack were badly flooded, leaving many people without basic necessities such as food and baby supplies. Stepping into this gap to provide support, Salvation Army volunteer Lindsay Armstrong helped organize food deliveries in these hard-hit areas—even delivering by boat where necessary.
"We saw a desperate need," she says. "A lot of people have lost everything."
The Salvation Army provided food and supplies for Lindsay and her volunteers."We set up a little hub and were making hampers and driving them over to people who couldn't access food or fresh produce," she says.
The Army continues to serve evacuees at the local reception centre at Evergreen Hall, serving an average of 100 lunches and dinners each day.
"Once the floods subside and people start to go back into their homes, we'll bring in our trucks and drive around to people and say, 'Here's a meal from us. We're here to support if you need help,' " says Don Armstrong. "I think what the Army does the best is we're there until the very end. We're not quitting halfway through. We're there to support you until you're living again."
Kamloops and Merritt
Living in Merritt, Ewa Olguin is no stranger to evacuations, unfortunately. This is her second evacuation this year, after she was forced to leave her home due to wildfires during the summer.
"You always think you are prepared, but you're never prepared," she reflects.
The flooding in Merritt, a town of 7,000 people about 200 kilometres northeast of Abbotsford, took her by surprise. "On Sunday, everything was good," she says. "It was raining but we never really get that much rain."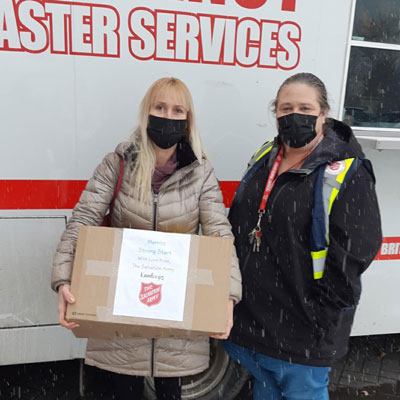 So, on Monday morning, when Olguin, who runs a Strong Start program for the local school district, got a phone call saying the schools would be closed due to the flood, she was in disbelief. "I'm thinking, Which flood?" she recalls. "I started checking with friends and we realized half of the town was under water, and the water was coming our way."
Olguin evacuated to Kamloops, an hour's drive away, where The Salvation Army is providing food, hydration and emotional and spiritual care at the local reception centre.
"We got the call from the city of Kamloops at about 2 p.m., and by 3 p.m., we were here, set up and serving," says Captain Kelly Fifield, corps officer, Kamloops Community Church. "There were people arriving at the reception centre by the busload, so it was a very busy night."
At first, Captain Fifield and her team of volunteers were serving from a community response unit, but quickly realized they needed to adjust their strategy.
"People were in line and they were terrified to leave because, if they left, they'd lose their spot and they wanted to make sure that they got a bed," she says. "So we grabbed some baskets, filled them with snacks and sandwiches and drinks, and started walking the line and chatting with people, making sure they were OK."
As they talked with people, they discovered that many were cold. As providence would have it, the corps had just finished its annual Coats for Folks campaign and had an ample supply available.
"We started bringing coats down and handing them out as people were standing in line because so many just ran out and didn't have time to grab anything, especially those who were showing up on the bus," Captain Fifield says. "We were here until about 11 p.m. trying to get people settled, make sure they had what they needed."
"The Salvation Army is doing an amazing job here in town, doing food and drinks for people," Olguin says. "It's like, wow. Because when you're staying here and you're far away from home, you don't really have money to spend, you're on a budget. I have five kids. Other moms here have three, four kids—they're big families. It really helps what The Salvation Army did for us."
Olguin was given a room at the Thompson Hotel and soon discovered that several families who were regular participants in her Strong Start program were also staying there.
"When the kids saw me, they said, 'Teacher, teacher! Let's play!' " Olguin says. "Well, when they say let's play, we have to play. There are so many children here and I thought we need to do something for them to let them forget."
Olguin started hosting a children's program, similar to the one she runs in Merritt, at the hotel from 9 a.m. to 12 p.m. But she needed supplies, and that's where The Salvation Army came in.
"They provided snacks and books and crafts for my class, and Kelly is always checking on me if I need more," Olguin notes.
As she is finally able to return to her home in Merritt this coming Sunday, Olguin offers thanks to the Army for the support she and others have received these past weeks. "You did so much for people in our community," she says. "We are so grateful."
The Army's EDS vehicle remains on site at the reception centre, handing out food and drinks and providing any other assistance that is needed. As of December 1, the Army has provided 3,114 meals, 6,549 snacks and 4,158 drinks in Kamloops.
***
Two and a half weeks since the response began, The Salvation Army continues to serve evacuees in Abbotsford, Chilliwack and Kamloops, and is now feeding city workers and volunteers as Merritt begins to reopen and rebuild. The Army is also supporting First Nations communities near Lytton, providing planning support and urgent supplies in partnership with Food Banks BC and Helicopters Without Borders.
"The Salvation Army is committed to supporting the people of British Columbia as long as we're needed," concludes Perron Goodyear, territorial director of EDS. As much of the province remains under flood watch, EDS teams are standing by, ready to serve.