Joy! Joy! Joy! There is joy in The Salvation Army. Sing together. Joy! Joy! Joy! In the Army of the Lord.
Mary claps as she sings this song, one she has known since she joined The Salvation Army as a young woman. While her voice may now be frail, the music still stirs something inside her. Bedridden and in her 90s, Mary delights in visitors and is reluctant to see them go without singing a favourite chorus one last time.
The Salvation Army Home for the Aged where Mary lives is tucked away in Virugambakkam, a residential neighbourhood in Chennai, Tamil Nadu, in the India Central Territory. This area offers respite from the city's busy streets, where it's not uncommon to see a three-person family riding on a single motorcycle, hordes of tuk tuks weaving between cars or cows grazing lazily at the side of the road. The Home for the Aged, which doubles as a Salvation Army girls' home, is a haven for vulnerable women and girls and is a unique example of the Army's mission to restore hope and dignity to marginalized people.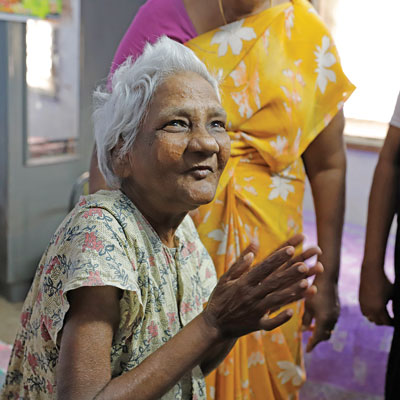 While the building itself is basic, with stone floors and simple furniture, the facility boasts a sizeable backyard where chickens peck for scraps under the shade of mango and coconut trees and a nearby well provides the home's clean water. The elderly women and girls share a living space and meals together at communal tables in the kitchen. As many of the young girls are orphaned or have come from towns and villages far away, they have grown to see the older women as grandmotherly figures to learn from, alongside Majors Ratnasundari, the officers who run the home.
At 3 p.m., 20 girls race home from school, their backpacks and ribboned pigtails swinging. They enter their dorm rooms and put away their schoolbooks in the cubbies that line the wall opposite the row of single beds. The girls are grateful for what they receive here at the home. They study hard, do well in school, help out with chores, and love to read and play together.
Dana, a 14-year-old girl, sits cross-legged on the floor in a red salwar kameez dotted with daises. She wants to be a doctor when she grows up, she says. Before coming to the girls' home, she lived in Chennai with her mother. A single parent, her mother struggled to earn enough to take care of her daughter. She decided to bring Dana to The Salvation Army so she would have a chance to get a quality education and hopefully one day achieve her goal of becoming a doctor.
Dana's friend, Puvanes, comes from a village far from Chennai. Her aunt suggested she come to the girls' home so she could get the best education and care her mother, also a single parent, could afford.
The stories of the other girls are similar—they are orphaned, from families struggling to overcome poverty or are the daughters of single mothers who have been abandoned or widowed. At the Salvation Army girls' home, they receive shelter, education, regular meals, clothes and other basic necessities. Here, they have a chance to go on to higher education and get a good job, with earnings they can use to support their families and break the cycle of poverty.
Likewise, the elderly women receive a bed, meals and loving care, and their families are unburdened from the worries of caring for elderly parents on a limited income. In this way, The Salvation Army affords the elderly dignity in their final days.
By combining care for elderly women and girls, The Salvation Army Home for the Aged and Girls' Home in Chennai is a unique example of the Army's ministry to meet human needs and give hope to the vulnerable. Watching the women and girls learn from and take care of one another is just one of many joys in The Salvation Army.
Ruth Hobbis was the resource media co-ordinator for the world missions department when she wrote this article.

Photos: Mark Yan