The only thing worse than being blind is having sight but no vision.—Helen Keller
These are the words you'll find painted on the walls of The Salvation Army Erin H. Gilmour School for the Blind and Visually Impaired in Nassau, Bahamas. For nearly 50 years, the Army has been a pioneer in aiding the blind and visually impaired in the Bahamas. This school opened its doors in 1971 and continues to be the only school for the blind and visually impaired in the entire country.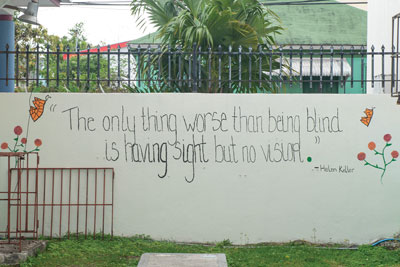 The mission of the school is to provide quality education for children with visual and learning impairments so that they can acquire the skills and knowledge to be productive members of society. In many parts of the world, formal education and employment opportunities for the blind are either scarce or non-existent—this school is a true haven for some of the most vulnerable and marginalized children in the country.
At present, there are three visually impaired and 11 completely blind students attending the school. Many of these children also struggle with learning disabilities, such as borderline autism. With well-trained teachers, individualized teaching, modern equipment and assistive technology devices, the children are being equipped with the tools and resources they need to flourish.
"Individualized teaching helps the students because they receive the attention they need," says Sheralyn Murphy, the acting principal of the school. "All children deserve an education and I see a great future for each and every one these students."
Loren Humes works alongside the principal as the school's braille technician and teachers' aide. He helps to operate and repair the various machines and equipment, translates materials from print to braille, provides training on how to use them, and has a wealth of knowledge on all things braille. He ensures that the children are well-equipped in their classrooms and is a role model for many. Humes works well with the students and knows what their needs are because he attended this school as a child.
"I was blind at birth," says Humes. "When my mom held me in her arms, God told her to look me in the eyes and she knew I was blind."
His mother rushed him to the eye clinic, where she was informed that Humes had cataracts in both eyes. The doctor explained that the clear lenses in his eyes were cloudy, rendering him totally blind. Refusing to give up on her child's future, she enrolled Humes in the Army's school when he was eight years old. It was his only opportunity to receive a formal education.
There are no limitations when it comes to this special school—teachers follow the Ministry of Education curriculum, ensuring that the students are receiving the same educational standards as other schools. Humes was able to learn academic subjects as well as valuable life skills, such as cooking, ironing, laundry and even making his bed.
"In the beginning, being a student was a strange concept to me because I didn't think I'd ever be able to attend a school," he says. "But the teaching made it easy for me to learn."
Miraculously, Humes was eventually able to undergo cataract surgery. The surgery was a complete success and he woke up, for the first time, with vision.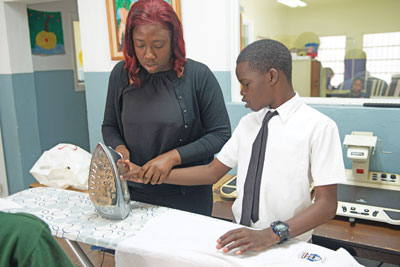 In order to ensure that Humes had the additional skills to find employment, The Salvation Army sent him to Perkins School for the Blind in Watertown, Massachusetts, where he did an intensive two-week training course to receive his braille technician certification. Shortly after becoming certified, Humes' former principal called to inform him she required additional staff at the school. He was hired as a braille technician and has been working at the school ever since. Humes is happy to be working and is grateful for the opportunities he's received at The Salvation Army.
"This school gives children hope, encouragement and support," he says. "They gave me an opportunity to reach heights I didn't know I could ever reach."
The Salvation Army acts as a catalyst of change and a haven of hope in more than 130 countries, empowering thousands of vulnerable individuals to reach their potential. The school for the blind continues to make a lasting impact in Humes' life; he goes to work every day enriching the lives of students who sit in the same classrooms he once learned in. It's a story of triumph. Humes' life is proof that when children are given care, support and resources, their dreams can become reality.
Kathy Nguyen is the resource media co-ordinator in the world missions department.Photos: Joel Johnson