The Salvation Army at Toronto's Scarborough Citadel recently transformed its foyer into a new community café, opening its doors throughout the week to anyone wishing to access programming, visit the food bank or find connection and support.
Recognizing that their building was underutilized throughout the week, Scarborough Citadel applied for an innovation grant in 2022 to reimagine their role in the community and help bring more people into the building. Captain Johnny Valencia, corps officer, connected with local partners such as small businesses, neighbouring churches and the Toronto Transit Commission (TTC) to identify existing programs that could be supported rather than replicated. Scarborough Citadel determined that the community needed a place to go that was free and open to everybody, and that could offer an opportunity for engagement and fellowship for different groups.
After renovating the foyer of the citadel into a gathering place, featuring tables and chairs, sofas and comfortable seating, a fireplace, bookshelves and a Wi-Fi station, Scarborough Citadel began planning dedicated programming for seniors, women, youth, grief support and other groups. "Our focus is not just a group of people from church coming together, but it is a diverse group from all backgrounds," says Captain Valencia. "It doesn't put ministry in a box to say, 'This is who our program is for.' It is for everyone."
On Tuesdays, seniors are invited in for coffee, tea, to read the newspaper and play games. Women from diverse walks of life come together on Wednesdays, while Thursdays offer sessions on setting healthy boundaries and grief support. In addition, the corps has forged a partnership with The Salvation Army's Toronto Harbour Light to offer assistance through its immigration and refugee services. A Harbour Light employee works at the café on Wednesdays to provide guidance to those navigating the immigration system.
According to Captain Valencia, the goal of this project is to bring people into the church however they can. A new digital sign has also been installed outside the café to highlight The Salvation Army's identity, mission and services, and to let people know they are welcome inside.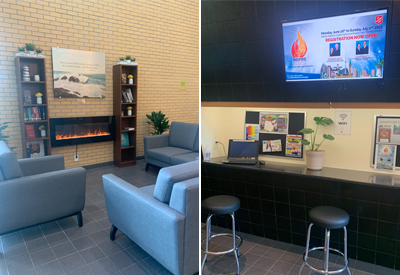 Scarborough Citadel also restructured their food bank system to operate by appointment. When booking a time slot online, three options are given: an appointment for the food bank, one for Pathway of Hope, The Salvation Army's strength-based case-management system, and one for pastoral care. "This is intentional," says Captain Valencia. "We are connecting people to the church and now we are seeing them book these appointments for prayer and guidance."
One former food bank client even began attending the corps on Sundays. After a few months, a job became available and The Salvation Army hired him. "His first contact was through the food bank and now he is employed with us," says Captain Valencia. "When they come into the food bank, they come into the church and the café. We want people to feel like they are not just a number, they are a neighbour."