(Above) From left, Gord Wilson and Caitlyn Cumbers volunteer five days a week during the COVID-19 pandemic
When COVID-19 took the world by storm, the more than 130,000 Salvation Army volunteers continued serving on the front lines to bring necessities and hope to the most vulnerable across the Canada and Bermuda Territory. Amongst the cacophony of voices organizing and executing volunteer efforts across Canada—one offering a warm meal out on the east coast, another serving a hot cup of coffee and words of kindness over on the west coast—we tune in to listen to a few of those voices which represent the many hearts of service within the Army.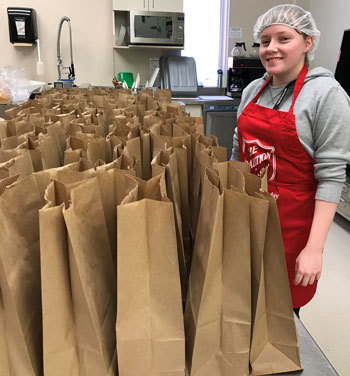 Just an Ordinary Soldier
Salvationist received a letter from Gord Wilson.
I'm nobody special, just an ordinary soldier at The Salvation Army Haven of Hope Community Church in Regina. I am 72 years old and was diagnosed with high blood pressure. Last month, Captain Kristen Gray sent an email asking for emergency disaster services (EDS) volunteers to make and serve bagged lunches to the schools we normally provide school lunches for. I immediately volunteered; it didn't take any thinking at all.

But Wilson is incredibly special. At a time when the entire world is locked down because of a deadly virus, he is risking it all to bring hope and help to others.
Wilson left behind his self-proclaimed comfortable retired life to volunteer five days a week, driving a community response unit to serve bagged lunches and grocery hampers to the community.
To Wilson, the ministry is far beyond just meeting the basic needs of those in need. It's a spiritual mission.
"My constant prayer is that the people I meet on a regular basis will see beyond the food, and catch a glimpse of Jesus," he says. "It is hard, and indeed sometimes uncomfortable work, but it is also a blessing to me."
But Wilson isn't volunteering alone. His 19-year-old granddaughter, Caitlyn Cumbers, followed suit and signed up as well.
Cumbers has been a part of The Salvation Army since birth, and at the young age of 14 enrolled in her first EDS course. After seeing many of her fellow corps members doing EDS work, she was inspired to follow in their footsteps. In the middle of a gap year before pursuing a university education, she jumped at the opportunity to serve alongside her grandfather on the front lines at a time when help was most needed.
"At first it was kind of scary due to the virus," she says, "but it is rewarding to help so many people."
Cumbers helps her corps make the lunches and pack them, then she joins her grandfather in the mobile unit to deliver them each Friday.
Like her grandfather, Cumbers has a wish for the recipients of her generosity.
"I hope that they will see the love that God has for them through our work because that is our ultimate purpose; that we minister not only to the physical needs, but to the spiritual needs as well."
---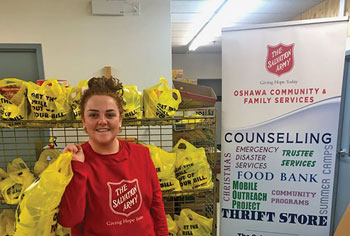 A Feeling of Community
BY LINDA LEIGH

Paige Sharp was in the final semester of her degree when the COVID-19 pandemic hit, forcing schools to close to prevent the spread of the virus. Struggling with anxiety, she found herself grappling with how to respond to the unexpected roadblock.

"There was a lot of fear and confusion when I saw an email to say the school was closed," says Sharp. "I was in class and just stood up and left. I couldn't even clean out my locker. I called my mom and said, 'You need to pick me up—today.' "

As one who thrives on routine and schedules, the uncertainty about her education and future drove her to look for ways to stay connected. That's when she found an opportunity to volunteer with The Salvation Army.

"Volunteering at The Salvation Army's food bank in Oshawa, Ont., keeps me active and gives me structure," Sharp says. "The experience is good for my mental health. I miss my university community and in-person classes. When I see who I am helping, some of that anxiety goes away. And it's a good feeling."

Sharp's volunteer duties include sorting and packing food and practical items and ensuring that they get to the mobile feeding unit for distribution. As with all staff and volunteers, she is taking extra precautions to protect herself and clients.

"People are so grateful," she says. "It's like Christmas morning when they see a bar of soap and a roll of toilet paper. If we weren't here, I don't know what they would do."

---
O Canada
Hashtag #CanadaTogether was an initiative launched by the media company Corus Entertainment to help inspire unity across the nation during the coronavirus pandemic in April. Every Sunday at noon, Canadians were invited to sing O Canada on their front lawns to express gratitude to front-line workers. When Ann Pugh, who attends Mississauga Temple Community Church, Ont., where she works in community and family services and runs the Forever Young Inside seniors' group, caught wind of the initiative, she urged her husband, Chris Pugh, to "go out on the front lawn and play!" As a member of the Mississauga Temple Band, he grabbed his flugelhorn and did just that.

With many isolated because of the virus, the Pughs made it a weekly occurrence to travel to the homes of seniors who were shut in to play music. Often, neighbours would hear the music and come out on their front lawns to listen and clap when the music was over.

"People are enjoying it, immensely," he says. "We're just trying to cheer people up who've been stuck in their rooms since the beginning of COVID-19."

---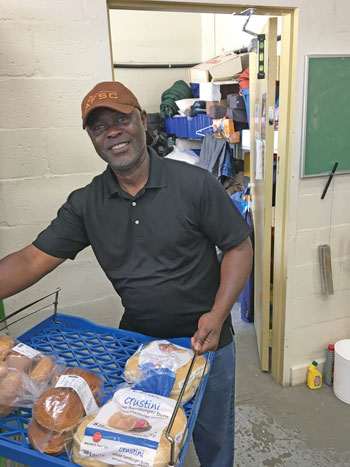 A Heart of Service
When Benny Ogwuegbu set out on a trip for Salmon Arm, B.C., from The Gambia, where he works full time as a social worker, he was unaware of the looming COVID-19 pandemic that would prevent him from returning home.

While grounded, he was walking through his neighbourhood when he came across The Salvation Army's New Hope Community Church. Passing by regularly, Ogwuegbu often stopped to talk with David Byers, the community services director at The Salvation Army's Lighthouse Emergency Shelter in Salmon Arm. During one of those conversations, Byers asked Ogwuegbu if he was interested in volunteering at the shelter. Having been asked if he needed food or shelter from The Salvation Army in the past, although never accepting the offer, he gladly took the opportunity to help others in need.

Weeks after being asked to volunteer, Ogwuegbu continues to serve faithfully every day. He helps wherever he is needed, from buying groceries at the supermarket to sorting food hampers to give out to the vulnerable in the community.

"I am sure that the little contribution I am making here is affecting people's lives on a daily basis, by the special grace of God," says Ogwuegbu. "I've always liked to give back to the community."

Ogwuegbu says volunteering is life-changing. "It's an experience I want every person to go through so they can stand up and say 'I have contributed my quota.' It is something someone will always remember all his life," he says.

---
What's the volunteer engagement like in the Canada and Bermuda Territory?
The Salvation Army is grateful for the volunteers who continue to give so generously of their time. For more than 100 years, the Army has counted on volunteers to be the driving force behind its mission. The more than 130,000 volunteers working in over 400 communities across the territory are truly the army behind the Army.

During the pandemic, there has not been a significant decline in applications from people wanting to volunteer. In fact, in some places the Army has been contacted by more individuals expressing an interest in volunteering than before COVID-19.

How are volunteers overcoming the challenges created by the coronavirus pandemic?
Alice Johansson: In times of crisis, Canadians want to reach out and help others. It's been inspiring to see so many people looking to lend a hand, however they can. At the same time, this isn't like any other crisis we've ever encountered, so it's a learning experience for us all. The pandemic has brought new challenges to volunteering, such as maintaining physical distancing and being mindful of your surroundings in a whole different way.

Our volunteers have been working hard to overcome those challenges and come up with innovative ways to help people. We all know how hard social isolation can be, especially for the elderly, people living alone or those facing physical or mental challenges. Our volunteers have been doing a great job of finding ways to reach out to people in their communities, including by phone, through emails or by checking in on elderly neighbours to make sure they have enough supplies.

If someone is wondering how to make a difference right now, they just need to remember that there are many ways to be there for people, even while socially and physically distancing and keeping safe.

Any tips for someone who is considering volunteering with The Salvation Army?
AJ: Take a moment to consider what they might like to do, and then determine how much time they can realistically commit to volunteering. To apply as a volunteer, they should go to SalvationArmy.ca to fill in a short form and then someone from The Salvation Army will contact them as soon as opportunities become available in their area.

To find out more about volunteering with The Salvation Army, visit salvationarmy.ca/volunteer.