A Salvation Army officer tortured by the demons of his past finds assurance that God's plan reaches even the deepest caverns of darkest England. On the poverty-stricken East London streets of Victorian England two armies line up for battle. The Skeletons fight for the comforts of the present. The Salvationists fight for the hope of tomorrow. Caught in the middle, Charles Jeffries, a charismatic young leader of the Skeleton Army, must decide what side he really is on.
So begins the newest Salvation Army musical,
Skeleton Army
, which premièred off-Broadway on August 29 at the Army-owned Theatre 315 in New York City.
The two-actor show depicts clashes between early-day Salvationists and the notorious Skeleton Army in London's East End. Kyle Higgins stars as Charles Jeffries, leader of the Skeleton Army, and Kathryn Higgins plays three roles: a barmaid in the Blind Beggar pub, the Salvation Army officer at Whitechapel Road who helps set Jeffries on a new path, and Jeffries' wife.
With music and lyrics by Canadian Staff Songster Leader Major Len Ballantine and based on a book by John Copeland, the musical was directed by Brad Cain, produced by Carol Jaudes and originally conceived by Neil Leduke, interim national director of marketing for The Salvation Army in Canada and Bermuda. This team worked in close collaboration with The Salvation Army U.S.A. East Arts Ministries Bureau, headed by Kathyrn Higgins, daughter of Major Ballantine, to bring this true story to life (see review by Colonel Richard Munn below).
Blood and Thunder
When The Salvation Army began in London, England, opposition movements arose among the working class who objected to the Army's teetotaling stance. Originally known as "The Unconverted Army," the Skeletons first arose in Whitechapel in 1881, the setting of the musical. They later spread to Exeter, Weston-super-Mare and other southern towns.
The confrontations between the Skeletons and The Salvation Army often resulted in open rioting. They pelted Salvationists at open-air meetings with flour, dead rats, rotten eggs, stones and brick bats. They shouted down Salvationist preachers and banged pots and pans to drown out the Army brass. As confrontations escalated, many Salvationists were beaten or even killed.
In April 1884, when the owner of an alcohol shop in Worthing, England, raised objections to the Army's marches, a group of more than 4,000 Skeletons assembled to oppose Salvationists. General William Booth requested protection from police, but he was turned down. He told Salvationists to march on Sunday anyway and the Skeletons chased them back to their "barracks" and almost burned it down.
The Skeleton Army mocked the symbolism of The Salvation Army, exchanging "soup, soap and salvation" for "beef, beer and bacca." Skeletons also used banners with skulls and crossbones with the motto "Blood and Thunder" (satirizing The Salvation Army's war cry "Blood and Fire"). They wore red bands on their caps with the moniker "Skeleton Army" and even sold their own copies of a
Skeleton War Cry
.
Transformed at Whitechapel
Charles Jeffries, the musical's main character, at 16 was employed by a tobacconist's firm and was the second-in-command of the Whitechapel Skeleton Army. Jeffries accepted Christ at a watch-night meeting in Whitechapel that he had come to disrupt, became an active soldier and was himself the victim of many attacks by his old colleagues. The musical focuses mainly on these early encounters, but his influence in the wake of his conversion was nearly as dramatic.
After Jeffries became an officer in 1882, he was sent to Penzance, England, where he converted more than 300 people and appeared before the magistrate seven times for preaching in the streets. In 1884, he helped pioneer the Army's work in Australia and was imprisoned in Sydney for seven days for preaching outdoors. He was instrumental in opening 12 new corps, establishing rescue homes and commencing the social work in Adelaide and Melbourne.
Jeffries married Captain Martha Harris and together they had seven children. Returning to England, he was appointed as provincial commander for Wales and North West of England before serving as field secretary, overseeing the appointments of more than 2,000 officers. He also spent a year in China, pioneering the Army's presence there in 1918. As British commissioner from 1931 to 1935, Jeffries was one of the seven leaders involved in the Army's first High Council before being promoted to glory in 1936.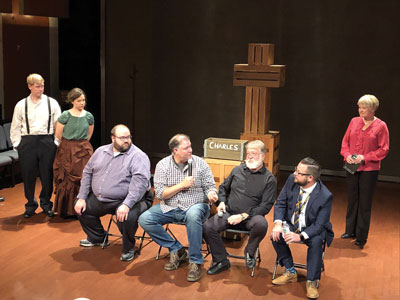 Birth of a Musical
During a Q&A at the musical's première, Leduke recalled stumbling across the story of Charles Jeffries and the Skeleton Army in Salvation Army history books in 2009. "As I did more research, I realized this is a story that needs to be told. It's a powerful story of redemption, of someone's life being completely transformed by God and The Salvation Army."
Composer Major Ballantine noted a unique twist in this transformation story: "It's about the way God uses exactly who you are, the strengths that you have; it shows how God can use all of your past circumstances, even if they are nasty, for his glory if we surrender to him."
Director Brad Cain agreed, noting the symbolism in the box of memories that Charles and Martha Jeffries unpack together over the course of the musical: "Everyone has a different story, but God will use the moments in your life to transform you as well."
"It seemed like an impossible task, to write a show about two gangs, essentially," said Kathryn Higgins. "The thing that we learned in the rehearsal process was that the third actor is the audience. We needed that give-and-take from the crowd, which made it feel like we had another 50 people in the show."
Writer John Copeland recalled how God had put it on his heart to write a musical and it was confirmed the very next day by Kathryn Higgins who called him seeking a performance piece. "I thought of the story of Charles and realized that the change in our lives pre- and post-conversion is just as epic. God will take everything that you bring to him—bad decisions, fears, mistakes—and he will redeem all of that with new life."
Skeleton Army
appeared at The Salvation Army's Theater 315 at the end of August for a limited run.
Skeleton Army
will première in the Canada and Bermuda Territory in Toronto in June 2020. Watch for ticket information in early 2020.
---
Skeleton Army: A Review
by Colonel Richard Munn, director, International Social Justice CommissionSkeleton Army
, an 80-minute one-act production, is the story of swashbuckling Charles Jeffries, onetime thuggish leader of the Skeleton Army and tormentor of early day Salvationists in London's East End, who eventually becomes a pioneer officer to Australia, China and the International Training College.
This is a two-actor show, from beginning to end—Jeffries interacting and interweaving with saucy barmaid, Scarlett, in the notorious Blind Beggar pub and then with the undaunted, unnamed heroic woman officer assigned to Whitechapel Road. Think Bill Sikes and Nancy of the
Oliver
musical mixed with Sky Masterton and Sister Sarah of
Guys and Dolls
.
Stellar husband and wife team Kathryn and Kyle Higgins gripped the audience from beginning to end with flawless performances—poignant, witty, subtle and evocative. You must have a heart of stone not to be moved at their interplay. The actors do a great job of engaging the audience, bringing them into the story as customers at the pub and congregants at Whitechapel.
Scarlett is intrigued by these drum-banging, flag-waving, oddly uniformed enthusiasts. She goes along out of curiosity, and is touched by love. Jeffries is incensed, proving once again that the people often enraged by the gospel eventually become its great heroes.
In the end, Jeffries moves from menacing coiled rage to clean inner strength. The closing song says it well:
Because of these moments,
and thanks to God's grace,
My life has had meaning and
purpose and place.
Because of the hours I've
spent on my knees,
He will lead where he needs
me to be.
Hearty congratulations to the actors, creators and hosts. Here is something extra special that is well worth your time and attention.