Maryanne Oketch laughed when she first read her fan-appointed nickname after becoming winner of Survivor season 42.
"I saw 'Millionaire-y Anne' on Twitter, and I thought, It's so massively wordy that it's hilarious," she comments.
In contrast, her Survivor profile at the outset of the competition revealed a serious, mature determination beyond her 24 years.
"I never go down without a fight," she wrote. "When all hope is lost, I will be searching for idols (pocket-sized talismans that prevent the user from being voted out), talking to people, and convincing them that me staying is best for everyone. I am going on Survivor to win and I will do everything in my power to do so."
And that's just what she did.
Eloquent Defender
As many reality shows continue to cast a wider net to be more racially and internationally inclusive, the previous season of Survivor had two Canadians competing and Maryanne's season had three.
"And even though we are from the same country, we're all completely different people," comments Maryanne, whose hometown is Ajax, Ont., a suburb of Toronto. "We all have different stories, and that shows how big and diverse Canada is. Some of us are immigrants, some of us have immigrant parents, some of us have been living here the whole time. Erika Casupanan won season 41, and as a Canadian, I love that. Toronto representing!"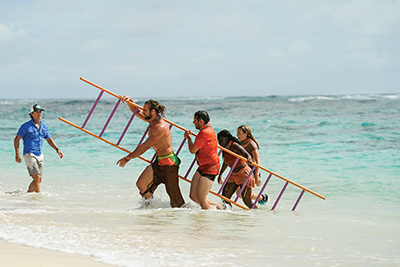 Maryanne had been a dedicated viewer of Survivor, so it was a dream come true to actually be on the show, win or lose. She was awestruck upon meeting host Jeff Probst. She was "a fan who came into her own, made great moves toward the end and defended her game so eloquently," a fellow fan commented on YouTube.
Disgusting!
All Survivor watchers know that although the show's surroundings are picturesque, life there is no beach. The sun is not always shining and the weather is not always balmy.
"I'm someone who hates being wet and cold," she cried during her testimonial in episode 10. "When you can't remember how it feels to be warm, your morale continually goes down. Having the rain just pouring down on us and not being able to start a fire, and all my clothes were drenched in the freezing cold, was one of the hardest days of my life."
Despite the hardships, Maryanne never considered quitting.
"I constantly remembered that what makes the good things good are the lows that come with them, she says. "When it's raining and all you want is to be dry, you just keep playing the game and then you can appreciate when you get a little warm again with your least-soggy clothes on. You need to have resilience because nothing quite happens as planned. Are you going to keep going or crumble to pressure?"
When asked how she tolerated all the creepy crawlies she shared the island with, she laughs again.
"Your standards can drop so quickly!" she insists. "Toward the end, I just said, 'Huh,' when a spider crawled right across my face. The only thing that really bothered me was when we burned a log with maggots in it. Disgusting!"
Likeable Contender
It wasn't only the prize money that made the lows worthwhile. Maryanne has also appreciated connecting with many supporters on social media who can identify with her.
"I have a very eclectic personality," she comments. "Growing up, it was hard to find someone like me on the TV screen. But in my audition tape, I showed the producers that I could be my weird self and still perform on the show. Once I was on Survivor, I found many people reaching out saying they really liked me!"
Maryanne credits her social interaction game and her mental game on the island as her strengths throughout the show, but she also had a spiritual weapon.
"I prayed a lot with fellow contestant Tory Meehan," she says. "My solid rock is my faith. The thing is, people sometimes question whether being cutthroat goes against our beliefs. But we were just playing the game. The true way I express my faith is how I treat people. Whether they feel they are above or below me, I would never demean anyone. Regardless, I treat everyone the same."
After returning home to Toronto, Maryanne completed her master's in seminary studies at Tyndale University. Prior to that, she had earned a degree in biochemistry at McMaster University in Hamilton, Ont.
God's in Control
"I was raised in a godly household and made the decision personally to become a Christian at the age of 10," she says. "I had always felt called to ministry, so I went to seminary to see how my faith could impact my life. Right now, I'm working at my church and I assisted with vacation Bible camps over the summer. But I am also interested in public health and would like to make use of my biochemistry degree in the future."
When asked what her first purchase as a millionaire was, Maryanne replied she gifted her parents a trip for their 30th anniversary late last year.
Her favourite Bible verse is Jeremiah 29:11: " 'For I know the plans I have for you,' declares the Lord, 'plans to prosper you and not to harm you, plans to give you hope and a future.' "
"I feel that's a very good verse for me," she says, "because whatever happens—good or bad—God has control. Knowing that gets you through all the lows."
---
Survival of the Fittest
Originally airing May 31, 2000, Survivor is one of the longest-running reality series on TV. The show places a group of contestants in an isolated location, where they must provide their own food, fire and shelter. They compete in challenges that test their physical and mental abilities for rewards, and immunity from eviction. They are progressively eliminated from the game as they are voted out by their fellow contestants until only one remains and earns the grand prize of $1,000,000.
Jayne Thurber-Smith is a wife, mother of four and freelance writer from Nova Scotia who presently resides in Virginia Beach, Virginia. She enjoys tennis, horseback riding and reading.
Photos: Robert Voets/CBS Entertainment 2021 CBS Broadcasting, Inc. All Rights Reserved
This story is from: