Canadian figure skaters Tessa Virtue and Scott Moir are legends in their sport. With five Olympic medals—including two golds at the 2018 Games in Pyeongchang—and many other titles, they are the most decorated Canadian ice dance team of all time. Yet their path to victory was not always so smooth.
In December, Tessa and Scott headlined two Hope in the City fundraising events for The Salvation Army in Victoria and Vancouver. Staff writer Kristin Ostensen spoke to them in Vancouver about overcoming adversity, supporting The Salvation Army and why, after 21 years, they're still better together.
How does it feel to be back in Vancouver, where you first won Olympic gold in 2010?Tessa:
It never ceases to amaze me how special it feels coming back. We've had so many significant moments here.
Scott:
The city and the country really came together. We were so proud to be Canadian during those two weeks, and during the Paralympics as well, because of the volunteers. They made all the difference. Tessa: In both Sochi and Pyeongchang, there were Canadians donning their blue coats [worn by volunteers at the 2010 Games], still showing their support and so proud to have contributed to that Olympic experience. That's what set the tone for the 2010 Games—the way we welcomed the world and showcased what it means to be Canadian.
Despite your incredible success, you've also faced a lot of adversity—especially, Tessa, dealing with years of debilitating leg injuries, and Scott, losing your best friend in 2016. How did you find hope in those circumstances?Tessa:
We've been fortunate to have been surrounded by a great network of people who always believed in us and offered that safety net. In your lowest lows, you need to rely on others and find hope. That's such a great word. I think it epitomizes what The Salvation Army offers so many people, but it's also something we all need in our daily lives.
Scott:
There are people who are
a lot worse off and don't have the opportunities that we've had, who are dealing with not having human necessities. That's the hope The Salvation Army delivers—shelter, food and so on. So it's hard to talk about our hardships. But leaning on each other is what makes us human. When I was going through the hardest thing in my life—my best friend passing away—I leaned on my other best friend. I relied on Tessa and she carried us through—"Get on my shoulders and here we go." Not literally because that wouldn't work very well. (laughs)
Tessa:
We tried that move. (laughs)
Given the challenges you faced, how did it feel to win gold again in Pyeongchang?Tessa:
That was the goal. But when we got on the plane to Pyeongchang, we felt we had already won because we had done everything in our power to prepare. During the two years leading up to the Games, every moment, every fibre of our beings was focused on winning. And when you invest that much in something and commit yourself fully, that's the rewarding part—the process of it. It's not just that fleeting moment when you stand on the podium and receive your medal. As special as that may be, that's the cherry on the cake.
Do you have any personal experiences with The Salvation Army?Tessa:
Of course, it's synonymous with Christmas. My parents were supporters of The Salvation Army in London, Ont., and the kettle campaign was always something that we made sure to contribute to and be a part of. I think of the enormous impact and the social services that the Army offers in 131 countries—it's phenomenal, the reach. And the tangible difference the Army makes, contributing to people's lives. It's an easy organization to get behind, that's for sure.
Scott:
Like most Canadians, I think of kettles at Christmastime, but the scope is much bigger than that. So these Hope in the City events have been fantastic. In Canada, we're a lot more fortunate than many of the countries The Salvation Army is in. But poverty still exists here. There's still human trafficking happening in our country. These are real issues that we can't turn a blind eye to.
Are there any social justice issues that you're passionate about?Tessa
: I'm always conscious of gender equality, equal rights and empowering women. It's a great time right now because we're using our voices. We can't let off the gas. It's easy to think that many of those issues have been touched on and fixed, but that's something that is important to us, especially as a team.
What are your plans going forward?Tessa:
We've had 21 years of a very positive partnership and we love working together. We're conscientiously choosing projects that we can work on together, on and off the ice.
Scott:
In many ways, this feels like the beginning for us, now that we can spread our wings, and there are so many different directions we can go. A lot of that will be working together, but some of that will be going in different directions. You [Tessa] want to do your MBA, so we'll have to come apart a bit to come back together, and that's exciting as well.
Tessa:
We have such different personalities and interests that it makes sense to navigate those separately, but with the support of one another.
Scott:
We've spent a lot of time together in the last 21 years—in the last 10 years, super intensely. I think we've come to appreciate our relationship that much more, the more we get away from the training and the grind of it all, and all the pressure.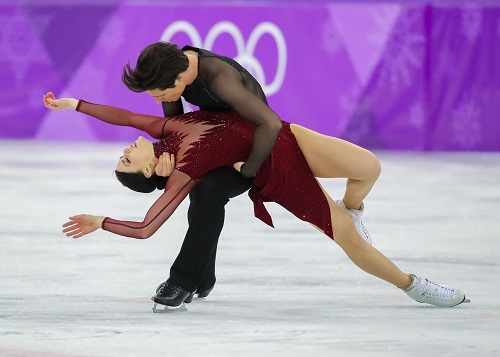 Do you think you'll still be working together in five years?Tessa:
I hope so!
Scott:
You never know where life will take you. But whenever we have a difficult task or question come up, or an interesting project, we don't really know what we think of something until we know what the other person thinks of it. We need to bounce things off each other.
Along with your excellence in skating, how do you hope you'll be remembered?Tessa:
We're passionate people and we love what we do, but it has to extend beyond our skills on the ice. We've always said that we just want to be good people. That's what I hope.