Life is filled with so many experiences. Experiences that shape us. John Dewey, an American philosopher, psychologist and educational reformer in the first half of the 20th century, once said, "We do not learn from experience ... we learn from reflecting on experience." As a territory, we recently shared the experience of 100 Days of Unceasing Prayer and Shared Scripture, with more than a thousand people taking part from January 1 to April 9.
During the final weeks of the 100 Days journey, we extended an invitation to reflect on the experience. What was God saying through his Word as we read selected passages from Genesis to Revelation? What was God saying through his people as we read prayers from 100 different ministry expressions across the territory?
We are grateful to the more than 100 people who took the time to share their reflections on this experience. Together, we are learning from these reflections. In addition to the specific learning shared with us, we are sensing that these 100 Days prepared us for this uncharted time in our world.
The Salvation Army in Canada and Bermuda, through its diverse ministry expressions, is responding to the new reality of a COVID-19 world. Through the 100 Days experience, we have become more informed about how to pray for one another as together we share the love of Jesus, meet human needs and, through the power of God, serve as agents of transforming influence in our communities.
There is much we are all experiencing these days. We encourage you to find quiet moments to reflect on what are we learning about our world, our neighbours, ourselves and our God.
Allow us to share some of the recurring themes from the reflections submitted by those who shared the 100 Days journey. God is speaking, his people are listening and we are all learning. What are you hearing? What are you learning?
One prominent theme was a strong sense of celebration of all that God is doing through The Salvation Army in so many different expressions across the territory. God is at work, as evidenced by lives being transformed. The reflections repeatedly noted an awareness of God's work wherever we are engaged in the community. One participant observed, "We are a missional movement. God is still sending men and women, youth and young people for the purpose of redeeming a lost world. God is still using The Salvation Army on the front lines to serve the most vulnerable and poverty stricken in our communities, but also to engage individuals and families whose need for him is manifested in other ways."
The reflections captured a message of hope and challenge: "The future is bright." Spiritual hunger and renewal were evident: "God appears to be guiding The Salvation Army to consider change to better serve." The message of coming change was deeper than programs and structures; there was an awareness of God calling us to a change of heart, a pursuit of holiness. "Through Scripture, I believe God is calling us to have pure hearts (undivided hearts), so that we can be ready and useful vessels for him. He is calling us to pursue faith, love and peace, and to be patient with one another."
Reflections on the prayer points offered for the communities in which we live and serve included the recurring image of "salt and light." The current COVID-19 pandemic and the restrictions it has placed on all our lives has made an impact on how we do life and ministry. Yet The Salvation Army has found ways to continue connecting, build community and offer Christfollower service to others. As one person noted, "The Army must always continue to be flexible, missional and faithful in living, serving and proclaiming."
As territorial leaders, we express our great appreciation to all who participated in the 100 Days journey and shared their reflections on the experience. What we have learned continues to shape the understanding of the leadership team in this territory.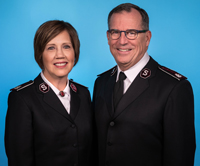 This final thought is an encouragement and a challenge for us all: "As I reflect on the intercessory prayer requests and the Scripture readings, the heart cry of the Army of God is hope for the broken, and for souls to be won for Jesus. This is incredibly encouraging. It says we're keeping the main thing, the main thing."
Commissioners Floyd and Tracey Tidd are the territorial leaders of the Canada and Bermuda Territory.