If you want to go fast, go alone; if you want to go far, go together. Going together is the essence of partnership. The new Canada and Bermuda territorial vision statement begins, "We are an innovative partner…." And our territorial leaders, Commissioners Floyd and Tracey Tidd, have continually emphasized the importance of "partnership in the gospel" (see Philippians 1:3-6).
It's no surprise, then, that another pillar of the territorial strategic plan is to "forge stronger partnerships." What does partnership look like for The Salvation Army? We'll know we are good partners when:
Internal processes support mission
Strategic partnerships serve mission goals
We pursue knowledge and understanding of spiritual and social issues to develop solutions, ideas and thought leadership
Being a good partner means putting aside protectionist and isolationist tendencies, without losing the essence of who we are as a church and social mission agency. Graham Moore, assistant chief secretary for organizational development, notes, "We will advance much further, help more people and be a greater transforming influence when we work together rather than trying to do everything on our own."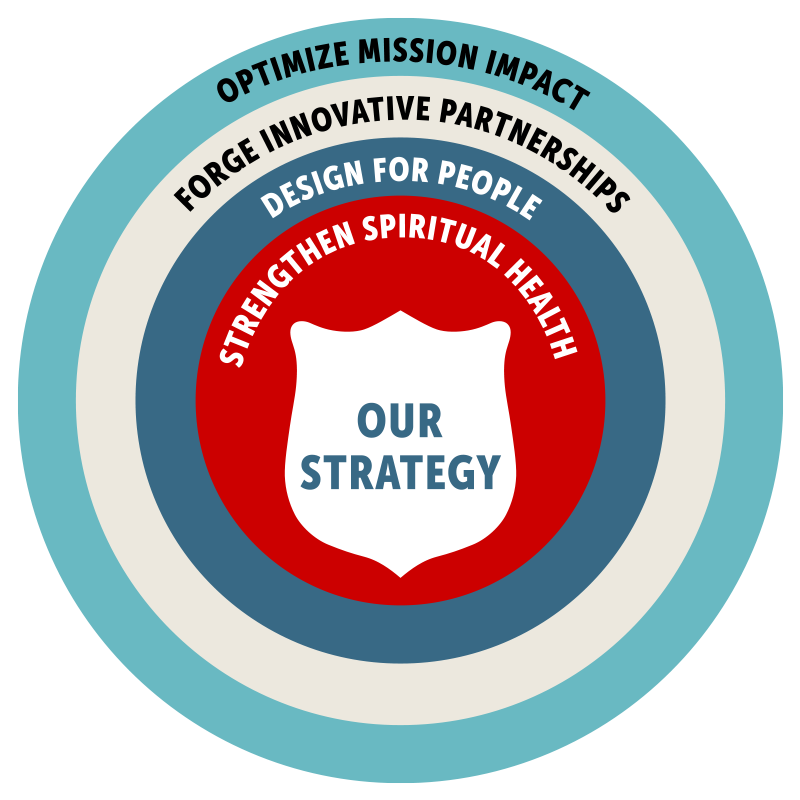 Of course, if we want to partner well externally, we need to be able to partner well internally. Avoiding internal "silos" can help maximize our effectiveness. For this reason, territorial headquarters is creating a formal internal communications function to act as a catalyst to strengthen consistency of messaging and the effective use of communications channels to reach our people. Well coordinated communication leads to better mission outcomes.
Government is also a critical consideration when it comes to partnership. Our goal is to continue building strong, non-partisan relationships at all levels and align ourselves with government objectives where we are experts in the social mission field. The Salvation Army is looking for a seat at the table with government and other funders in order to secure long-term funding for our core programs and to advocate more broadly.
More than 34 percent of The Salvation Army's $1 billion yearly revenue comes from government funding. Dani Shaw, director of public affairs, notes, "Our territorial strategy provides us an opportunity to work together to advance the mission and vision, strengthen existing relationships while building new ones, and engage more intentionally in dialogue about government policies that affect the communities we serve."
In some cases, this new emphasis will mean partnering with other social service providers on projects where we are not the primary service provider but may have shared goals. The ultimate aim is to bring holistic outcomes for people, recognizing that the Army cannot be all things to all people in every circumstance.
"While securing funding for The Salvation Army is still a top priority, our funders don't want to see us always competing with other not-for-profits; they want to see collaboration," notes Lt-Colonel John Murray, territorial secretary for communications. "Governments give more credence to proposals when they are made in partnership with other agencies with their respective specialties."
Lt-Colonel Murray cites a collaboration at the beginning of the school year between The Salvation Army, Joe Fresh and Baffinland Iron Mines that saw 750 students in Igloolik, Nunavut, provided with clothing. When one of the local teachers recognized the need, The Salvation Army reached out to Joe Fresh, a division of Loblaw Companies Ltd., who donated clothing, and Baffinland Iron Mines, who had a presence in Igloolik and offered transportation. "It's only because of that partnership that so many families received assistance," says Lt-Colonel Murray. "We couldn't have done it in isolation."
A final area that is addressed by this pillar is our potential to influence public policy through evidence-based research, while ensuring we retain our Christian voice. As an Army, we want to be seen as "experts" in policy issues that are aligned with the work we do, and where we can contribute to the conversation on broader societal issues. Focusing on what we're best at gives us even more credibility with funders and wider exposure in the public square.
"We need to be intentional about identifying where need is the greatest and how we can be most effective," concludes Commissioner Floyd Tidd. "We want everything we do in partnership to be aligned to our mission and vision. By playing to our strengths, we can ensure we make long-term, sustainable commitments to transforming communities through practical assistance and sharing the love of Jesus."
Illustration: nazarkru/iStock via Getty Images Plus
This story is from: