"Chaplain! Someone is overdosing in the bathroom upstairs!" I headed out of my office, praying under my breath that whoever it was would survive.

This is an increasingly common occurrence at The Salvation Army Vancouver Harbour Light, even though our facility, like others, is meant to be drug- and alcohol-free. But we serve more than 1,000 people a day, through emergency shelters, a drop-in centre, feeding program, detox and other residential programs, in one of the poorest neighbourhoods in Canada.

As a chaplain, I'm not a first-line responder. I exist in a support capacity, ready to pray, offer spiritual counsel, or do whatever needs to be done so that the support workers and paramedics can do their jobs more effectively. Just being a calm presence at a chaotic scene can be beneficial.
This time, the man survived. Our support staff administered the antioverdose drug naloxone, and paramedics arrived to provide the care and attention he needed. Others aren't so lucky.

In 2016, drug overdoses claimed the lives of 935 people in British Columbia—a nearly 80-percent increase from the year before. On April 26, 2017, emergency services responded to 130 overdoses throughout the province, with 62 of those in the Greater Vancouver Area—the most ever in a 24-hour period. Unfortunately, that number doesn't even come close to reflecting the reality of suffering here.

The Last Stop
I have been a full-time chaplain at Harbour Light in the Downtown Eastside (DTES) of Vancouver for two years now, and have lived in the DTES with my young family for five years. We moved here because we felt a need to live alongside our brothers and sisters who are hurting and dying.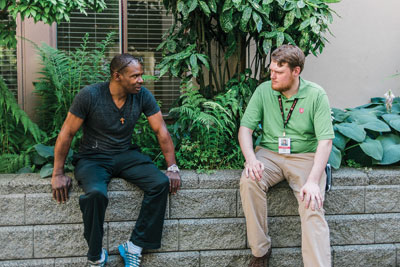 Although I came from a Mennonite background, The Salvation Army was a natural fit, the focus of "Heart to God, Hand to Man" resonating deeply within my soul.

I witnessed my first death shortly after moving into the neighbourhood. Then came another, and another. I'm not talking about walking past someone who died—I'm talking about men I knew. I knew their names and at least part of their stories. In five years I've lost nine people to a combination of mental illness and addiction—two things that go hand in hand all too often.

Six of those men passed away in the past five months, all to overdoses. Men account for four out of five deaths.

A friend remarked the other day, "This isn't new. People have always been dying in this neighbourhood. What's new is the rate at which they're dying." I agree. This is a neighbourhood of survivors. My friends who live in the slum hotels and on the streets have been subject to more abuse than I can imagine. Most have come from broken homes or foster care. The amount of sexual abuse suffered before the onset of addiction is staggering, for both men and women.

People congregate in the DTES largely because they have been neglected and abandoned by everyone who was supposed to support and care for them. In the DTES they find a community that accepts them—addiction, mental illness and all. It's not a healthy community, but when you've never known what "healthy" looks like, you take what you can get. But more and more these days, the DTES is the last stop on a long and painful journey.

Toxic Drug Supply

In the last few years, heroin has been slowly replaced on the street with synthetic opioids such as fentanyl, carfentanil and other extremely potent depressant drugs. Broadly speaking, street drugs can be classified into two groups—stimulants such as crack, cocaine and crystal methamphetamine, commonly called "ups"; and depressants such as heroin, fentanyl, codeine and morphine, known as "downs." Heroin gives a euphoric high at first. I once heard it described as "feeling like I was being hugged for the first time in my life." But if too much of an opioid like heroin is administered, it begins to shut down the central nervous and respiratory systems. The user will fall into a deep sleep and never wake up.

Overdose from heroin has always been a reality, but as heroin is replaced by cheaper and more potent substitutes, it becomes much more likely. Fentanyl, for example, is 100 times as potent as heroin, and carfentanil is hundreds of times more potent than fentanyl. This potency means that drug traffickers can bring in a much smaller amount and still make an enormous profit—one kilogram of fentanyl can make at least 65,000 doses. The people mixing these drugs ("cutting" the drug with inert substances to increase profits) are rarely chemists, and cross-contamination is a real possibility. In fact, it is often not heroin users who are dying, but crack and meth users who have inadvertently gotten fentanyl mixed in with their supply.

Serious but not Hopeless

Harbour Light is doing its part to respond to this crisis. Naloxone kits are available throughout our facility in case of an overdose, and more than 70 percent of our program staff is trained to administer the kit in case of emergency.We make sure our clients and guests are fully informed about the risks involved with street drug use, and we do our best to protect them and other community members.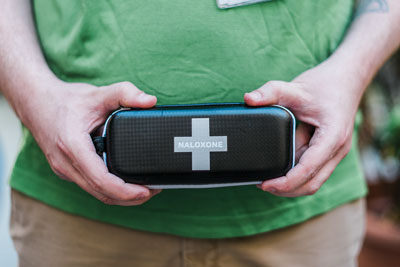 However, the task is huge. We used to see one or two in-house overdoses a year. Last year there were 12, and as many as 10 in a single day in the alley behind our shelters.

As chaplains, we have increased our presence at Harbour Light to seven days a week, and are always available to help individuals—both staff and clients— deal with the spiritual and emotional consequences of the trauma involved in drug use and overdose. Still, the question that most people ask is why? In the face of near-certain death, why do people continue to use?

I asked my friend John this question last week. John is in recovery, and a successful graduate of our recovery program. I asked why he kept using in spite of the risks. John is a graduate of the recovery program at Harbour Light, where he now works in the kitchen[/caption]He thought hard, and then replied, "When I was using, death wasn't a scary thing. I didn't think about it that much. I was more concerned with the quality of my life at the moment—where I was going to sleep, how I was going to get my next fix—than I was with life itself." In this, John was typical of most addicts. Long-term or even mediumterm thinking doesn't enter the equation. All energy and resources are directed to getting the next fix. There's no time to think about anything else.

In the face of such huge issues, it's easy to lose hope and to write off addicts as dead men walking. Is there anything the average person can do? Yes. Although the situation is serious, it's not hopeless.


First, we need to double down on our commitment to treatment. There are simply not enough low-income treatment beds to meet the demand. People are scared and want to quit, but are often faced with a month-long waiting list to get into a low-income treatment centre. The Salvation Army has always been on the front lines, helping the least, the last and the lost—we need to continue to show our commitment by adequately supporting our facilities.

Second, we need to make sure that our churches and corps are welcoming places to the outsider, the hurting and the forgotten. We may be happy to volunteer at a soup kitchen or in a thrift store, but there are those who are reluctant to have a homeless man sitting beside them on Sunday morning. But here's the thing—the answer to addiction is not simply sobriety, it is community and connection. Often, the people who do the best after leaving our treatment centre are those who remain connected to a supportive and welcoming Christian community. Isolation kills, but community can save lives. This means opening our doors to those who don't look like us, even if they smell a little funny.

And finally, we need to remember that people dealing with mental illness and addiction are not monsters—they are human beings, just like you and me. Most people in Canada are one paycheque away from sleeping in a Salvation Army shelter. Many are one car accident or work injury away from an opioid addiction. Most of us know someone with a mental illness or have a family member who drinks a little too much on the weekends. We're all in this together—there is no "us" and "them." None of us would want to see our father or brother or uncle die of an overdose. We need to pull together as a community and an Army and do the same for a stranger as we would for a brother or sister. Let's remember the words of Christ in Matthew 25:40: "Whatever you did for one of the least of these brothers and sisters of mine, you did for me."
Jordan Shaw is a chaplain at The Salvation Army Vancouver Harbour Light.

Feature photo: © The Canadian Press/Darryl Dyck