I grew up in a loving home, with wonderful parents and an older brother and sister, in the suburbs of Toronto.
God wasn't really part of our lives. We attended church at Christmas a few times, my grandmother was a Christian and I heard a Bible message at a weekly afterschool program, but that was about it.
During university, I wanted to become a teacher for the deaf and hard of hearing, so I applied to work at the Bob Rumball Camp of the Deaf in Parry Sound, Ont., to improve my sign language skills. One of the questions on the application form was, "Are you a Christian?" Even though I had no real understanding of who Jesus was or why he died, I didn't hesitate to check "yes." I thought I was a good person.
At camp, I met Andy, and we got married and settled in Acton, Ont.
After our first son was born, I wanted to meet other moms with young children, so I started going to a Baby Song program at The Salvation Army's Georgetown Community Church. Shortly after, I made my first Christian friend, and she has been such a blessing in my life.
A few weeks after our second son was born, we moved to Belleville, Ont., for Andy to start a new job. With a newborn, a two-year-old and a house that needed major renovations, I was exhausted and overwhelmed. We didn't know anyone, and I soon found myself sinking.
I became extremely anxious, obsessed with keeping my two boys safe. Toxic plastic in sippy cups, lead paint on toys, choking hazards—even drinking water safety kept me up at night. We lived out in the country and had a well. What was in our water? I didn't know. I had it tested and retested. Fear took hold of my life.
Then I began to worry that I wasn't the wife Andy deserved, causing me to spiral even further. I realized that if something ever happened to my children or to my marriage, I would have nothing left—they were everything to me. This was no way to live. I needed help.
Andy and I had been attending church in Belleville—for the kids, not for us—but I started to listen to those sermons.
I also joined a home-school mom group where I met more Christian families, who were profoundly different. There was an honesty and a kindness in these people, these Christians, that I just couldn't figure out. I watched them, and their children, closely, for quite a while. God was showing me who he was through them.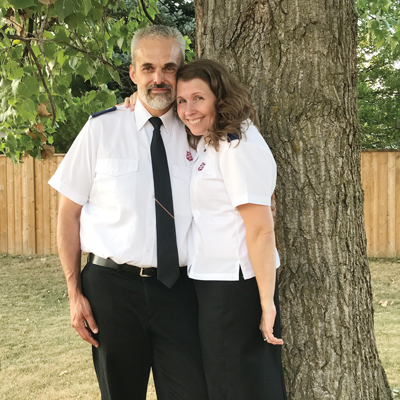 I searched for the Bible that my grandmother had given me when I was young and desperately started to read it. I knew I couldn't do life on my own anymore—I needed a Saviour to lift me out of the pit of hopelessness and despair.
After a week of heartfelt prayer, I was convicted of my sin. I'd been fooling myself into believing I was a good person. I called out to Jesus to save me and felt an immediate sense of peace. A huge weight was off my shoulders. I knew that whatever came my way, I was safe in my Father's arms.
After I gave my life to Christ, everything changed.
What a relief it was as a parent—now with five children—to rest, knowing God was in charge. I didn't need to be in constant control, all I had to do was be faithful and trust in Jesus.
In the fall of 2018, I emailed The Salvation Army's Belleville Citadel to see if they had a youth band. My sons play piano and enjoy music, so I thought it would be fun for them to learn brass instruments. The best part is that they would be playing worship music. The bandmaster welcomed us into the group immediately and we have been participating ever since. We started by playing with the youth band for three services a year, while still attending our other church.
However, after being involved in a few services, we knew we belonged at The Salvation Army. They treated us like family and were so genuine and loving that we knew this is where we belonged. It just made sense to become soldiers.
I'm so thankful for a loving Father who accepted me as his child and gave me the gift of faith to trust him. I lived most of my life in fear and uncertainty and now I know there's another way, even in the middle of a global pandemic. It's to live in freedom.