A trio of Grade 7 students attending Rick Hansen Public School in Aurora, Ont., parlayed a school project into a way of helping their community.
"We had an integrated language program around the concept of privilege—what privilege is and how we can use our privilege to help other people," explains Megan Glanfield, the Grade 7 teacher. "I try to get the class to be community-oriented so we can take our learning outside of the classroom. The class broke into small groups and chose the ways that they wanted to act in the community. They then created a media presentation to show the school how small actions can make a difference."
Twelve-year-olds Santhosh Rajmohan, Kostas Skanderis and Navid Aimaq decided to help their community by requesting donations of clothes for those in need.
"We've seen homeless people and when we compared our lives to theirs, we knew we wanted to help them out," says Santhosh.
"We immediately thought of clothes—pants, hats, T-shirts, winter clothing," says Navid. "Besides shelter and food, clothes are some of the most necessary items."
Plan of Action
But what to do with the clothes that they would collect?
"I did my research," continues Santhosh. "I knew that when we donated to The Salvation Army, they would ensure the items would get to the homeless. I trusted them."
The three teens set themselves an ambitious goal of 50 garbage bags of clothes.
"We knocked on the doors of more than 45 houses in our neighbourhood to hand out flyers we'd created," says Santhosh. "The pamphlets explained why we were asking for donations, what we were looking for, where they would go and when they would be picked up. People liked the idea."
A week later, the three young people, accompanied by their parents, picked up the items and left thank-you notes. They then sorted all the donations by type at Navid's home.
Success
The response surpassed their expectations. By the end of the drive, more than 75 garbage bags had been collected by the students.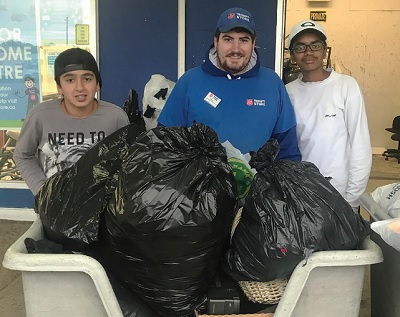 Helped by their parents, the boys dropped the bags off at The Salvation Army's thrift store in Newmarket, Ont.
"We hadn't called beforehand," says Navid, "so when we rolled up with all those bags of clothes, the staff were thrilled. We filled four large bins!"
"The boys did a fantastic job of mobilizing themselves," comments the boys' teacher, Megan. "They thought outside of themselves to help others."
"I would do a clothing drive again," says Santhosh. "It feels good to know we've helped people who struggle to find food, clothing and shelter on a daily basis.
"The Salvation Army understands homelessness and does a lot of work to help people who face those challenges and are living on the streets. When we delivered the bags to the thrift store, they said, 'Oh, thank you so much!' That made me happy."