(Above) Man Phong Voong (centre, sitting), Denh Sieng Phu (second from right) and their family enjoy their first Christmas in Canada with Mjrs Kevin and Mary Rideout, then COs, Woodroffe Temple
In January 1979, Man Phong Voong and Denh Sieng Phu made an impossible decision. Facing great danger—and possibly even death—they left their home in Vietnam, hoping to escape a country in turmoil. Carrying what little possessions they could, they took their two children—at the time, a toddler and an infant—and boarded a boat, aiming for Hong Kong.
For nearly two months, the Voong family drifted through the ocean, unsure if they would ever reach their destination.
More than 13,000 kilometres away, Diane Ford Robinson was watching the refugee crisis unfold from her home in Ottawa, and was moved by the images she saw of the Vietnamese boat people.
"They were fleeing in these little boats, and a lot of them were drowning," she recalls.
A soldier at Woodroffe Temple (now Barrhaven Church), Robinson was a key member of The Salvation Army's refugee sponsorship committee in Ottawa—a joint project of Woodroffe and Ottawa Citadel. "As Christians, we saw the need and thought,
It's a small step, but if we could just help one family …
," she says.
That family was the Voongs.
Dangerous Journey
Before they left, the Voongs were living in Mong Cai, a village on the Vietnam-China border. In December 1978, the villagers received a military order to relocate to the remote interior of Vietnam. The Voongs had heard many horror stories about life there—famine, disease, death. They knew their chances of survival were slim; they needed to get out of Vietnam before it was too late.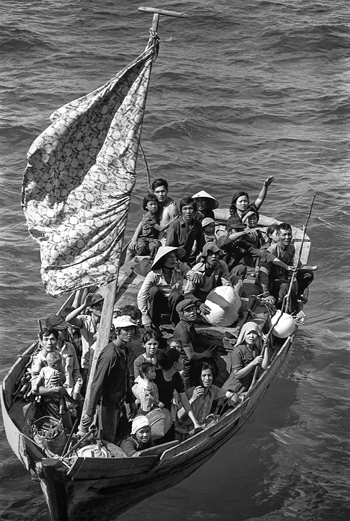 Leaving by boat was their only option.
"It was terrifying," says Randy Ho, Sieng's younger brother, who took a separate boat with their parents. "You don't know where you're going to end up. You're out in the middle of the ocean, you don't have directions—you just try to follow the sun."
There were 109 passengers on the wooden boat that carried the Voongs. At one point in their journey, a powerful storm descended on the 18-metre boat, and a bucket brigade worked desperately to keep them afloat. During those 50 days at sea, they had to dock three times to make repairs, many passengers on the boat were terribly seasick, and one person died.
Many boat people never made it to safety. "Some of our neighbours and friends lost their loved ones because their boats flipped over," Randy shares. "They watched their own children drown because they couldn't get out of the boat. It was very sad."
By the time the refugee crisis ended, it's estimated that between 200,000 and 400,000 boat people perished, succumbing to storms, disease, starvation or pirates.
As the journey dragged on and the Voongs' supplies ran low, they would go ashore and sell their possessions to buy food. Though their children were too young to be aware of what was happening, the voyage took its toll.
"They were always hungry," remembers Sieng. "They would cry and cry."
Warm Welcome
Randy's boat made it to Hong Kong, while the Voongs ended up at a refugee camp in Macau where they lived in barracks-style housing for nearly one year.
At the same time, the City of Ottawa launched Project 4,000—an initiative that aimed to bring 4,000 Vietnamese refugees to the city. Churches were encouraged to get on board, and The Salvation Army did.
Randy and his family received sponsorship first, coming to Ottawa after just a few months in a camp. "Once we were here in Canada, we were able to connect with Sieng—I knew my sister was in Macau," Randy says. "At the camp, they asked my sister if she had any relatives abroad, and so they used us as a reference to come to Ottawa."
But the sponsorship was nearly derailed by a spelling difference. "In Vietnam, our last name should be 'Ho,' but Sieng spelled it 'Phu' because of a different dialect pronunciation," Randy explains.
It took several months for the Canadian government to verify their relation, but finally the Voongs arrived in Canada in February 1980.
"The Salvation Army had a big welcome party for us," Sieng remembers. "We felt lucky to have such a warm welcome from The Salvation Army. It was very touching."
The first Salvationists they met were Larry Ting and his family, members of Woodroffe Temple, who picked up the Voongs at the airport.
"Larry Ting and his family were down to earth, just like family to us," Man says. "It was especially helpful that they spoke our language, given that we didn't speak or understand English. They explained a lot of things to us and helped us settle in."
"Mr. Ting was one of my dad's closest friends," says Kyle Voong, who was a toddler when they first arrived in Canada. "He came over every week, even years later, after I'd gotten older. It was sad when he passed away a couple of years ago. I'll always remember him as part of the family."
Years of Service
With support from the Army, the Voong family quickly set about becoming self-sufficient. A member of the Army's refugee committee helped Man, a carpenter, find work at a door company, while Sieng was offered a position with the Army's recycling centre in Ottawa.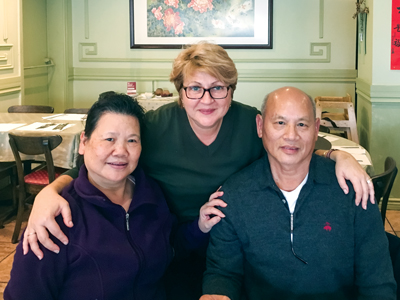 At the end of October last year, Sieng sorted her last donations, retiring from her position at the warehouse after 37 years.
"Sieng was a reliable hard worker," says Carmen Bejancu, retail district manager, Ottawa and Thunder Bay, Ont., who worked with Sieng for 23 years. "It would amaze you, how dedicated she was to her job. She never complained and was always positive."
Sieng was the person the local thrift store managers called when they were running low on stock. She would find what they needed and make sure that the product went to the store as soon as possible.
But more than just a conscientious worker, Sieng was known for her kindness and concern for others. "She was like our mother here, for everybody," Bejancu says. "She would bring us Chinese food and tea. If it was cold, she would give our drivers socks or gloves. That's the kind of person she was."
At her retirement party, Sieng received gifts and a plaque recognizing her years of service. It was a tearful goodbye for everyone. "We miss her every day. Hopefully, she will come visit us once in a while," Bejancu says with a smile.
Looking back, Sieng is grateful to Bejancu and the Army for the positive work environment and the opportunity to support her family financially. Working for the Army has been one way for her to return the help she was given.
"I have to say thank you, Salvation Army, from the bottom of my heart," Sieng says.
Begin Again
It's been nearly four decades since the Voong family stepped off the plane in Ottawa and met The Salvation Army, but the link remains to this day.
"Every year, at Christmastime, we always connect and have a visit," says Robinson. "Often, Sieng will make homemade eggrolls for my family—it is a real Christmas treat."
"The Salvation Army has always been there for our family," says Kyle. "They did a wonderful job of integrating us with the Canadian culture. I couldn't be more thankful for them."
Now that they are both retired, Man and Sieng plan to spend more time with their children, Kyle, Nancy and Jenny, all of whom have attended university and have good jobs.
And over at Barrhaven Church, the sponsorship process has begun again—this time, with a family from Syria. "Sponsoring the Voongs was a wonderful, rewarding experience," says Robinson, a member of the church's refugee committee for a second time. "We had no hesitation in doing it again."