Rather than just celebrating Father's Day last year by relaxing and being waited on by his own kids, Taurean Prince of the Minnesota Timberwolves dropped by The Salvation Army of North Texas to wait on others.
As onlookers stared star-struck, Taurean handed out much-appreciated hygiene products along with autographs, participated in selfies and dished up dinner. His huge presence, big hugs and wide grin lit up the room. At six feet seven inches tall, the basketball star squatted down to lace and unlace sneakers to make sure people in need of shoes got just the right fit.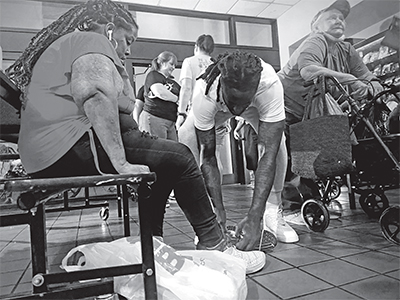 When Taurean left the donations area to help fill food trays, one man came by lamenting that he couldn't find any size 13 shoes. Taurean then took his very own sneakers off and traded them for the man's sandals!
"That's doing the most good for sure!" a Salvation Army bystander laughed in awe, referring to The Salvation Army's slogan in the United States.
"I'm the Example"
"Giving is the number one rule to receiving," the 29-year-old says. "You can't really receive a lot of the blessings you pray for or strive for unless you have that sacrifice of being able to give. I want to return the favours that were done for me."
He recalls a brief time in his youth when he and his father were homeless and found safe refuge at a Salvation Army shelter in San Angelo, Texas. Taurean states that the Army saved his life.
"You never know what would've happened otherwise," he says. "That night when me and my father went to enrol, if they wouldn't have given us a spot? You just never know."
He very much appreciates The Salvation Army's continuing contribution to the community, all these years later.
"It's a great thing to give to those in bad situations, and to be able to supply those in need with shelter and food," he says. "The help they are providing shows what a great organization they are. And a big shout out to the people who donate to allow The Salvation Army to do the things they do."
Taurean recorded an hour of his Salvation Army visit and shared it on his Instagram with the caption "I'm the Example."
"The help they are providing shows what a great organization The Salvation Army is." TAUREAN PRINCE
"Wanting to help others is a part of who I am," he says. "That's all I'm here to do—try and be a blessing for them. I want to share what I went through, my experiences in the past. It gives the kids at the shelter that motivation factor, and the ambition that they can do it as well. I tell them to just keep pushing. I know it's cliché to say, but it's about putting out positivity. You'll receive it back."
"Making It Work"
Part of Taurean's experiences the past few years have included playing for various NBA teams until he landed in Minnesota in 2021. Shortly after his Father's Day visit to The Salvation Army, he signed on with the Timberwolves for another two years.
"Each NBA team is unique in different ways," he comments, "each city, fan base and owners. This team is unique. I like that there are a lot of veterans here. Being able to learn from their experience helps our players out. Everybody gets along with everybody else in the locker room. It's probably one of the few groups I've been in that a lot of us hang out together outside the stadium. There's always chemistry on the court when you get along off the court, which makes playing basketball with each other easy."
The Timberwolves vastly outperformed the public's expectations last season. They clawed their way into the playoffs by defeating the Los Angeles Clippers in the play-in round, then held their own against the favoured Memphis Grizzlies. They took the Grizzlies to six out of a possible seven games, many of which could have gone either way.
"We wanted to capitalize on all opportunities," Taurean comments. "We knew that it was time to go out there and show what we could do. It takes commitment, consistency and having belief in yourself more than anyone else does. We know there are certain teammates who need to get the ball to give us the best chance to win, and we buy into that."
He looks forward to building on what they've already achieved.
"I'm super excited about this season," he says. "Obviously, our goal is to get further than last season, getting into the gym and connecting the dots. Every team is different year to year, and I'm looking forward to being together with the guys and making it work."
While Taurean got off to a great start this season, he unfortunately ran into ankle problems, and when he tried to come back too soon, he found himself back on the injury list, with no indication as to recovery time. As for the Timberwolves, the spring saw them make the playoffs, but they were felled in the first round by the Denver Nuggets.
"I Shouldn't Be Here"
Taurean wears number 12 on the court because he was honoured to be selected the 12th overall pick in the 2016 NBA draft. One of Taurean's Instagram posts tells how unlikely a possibility that seemed when he was a kid on the street.
"I shouldn't be here. How is this possible? It's simple—gratitude. Everything was stacked against me as a kid—poor, homeless, forgotten, there was no clear path. I didn't even start until my junior year of high school. No Division 1 colleges wanted me, and yet here I am. Effort is one hundred times more important than any excuse. I take nothing for granted. I shouldn't be here, but here I am."
Jayne Thurber-Smith is a wife, mother of four and freelance writer from Nova Scotia who presently resides in Virginia Beach, Virginia. She enjoys tennis, horseback riding and reading.
Photo: Courtesy of Minnesota Timberwolves
This story is from: