(Above) Lts Derek and Angela Kerr, corps officers, Suncoast Citadel in Goderich, Ont.


Before COVID-19, people experiencing homelessness had access to traditional services and resources. With the spread of the virus, many of these have closed. In Goderich, Ont., unhoused people were relocated into motel rooms and The Salvation Army is ensuring that they have the food and practical items needed to get them through these particularly challenging times.
In March, when The Salvation Army's Out of the Cold shelter program wound down, COVID-19 ramped up," says Lieutenant Angela Kerr. Before long, the county secured temporary housing in a motel for people experiencing homelessness and approached the Goderich Ministerial to assist with feeding these individuals.
Kerr and her husband Derek know first-hand what it is like to have hunger pains. In 2009, Derek got sick and was unable to work. After his short-term benefits ran out, and mortgage payments still needed to be made, they had to do something. But asking for help was hard.
"It took me a few attempts to go to The Salvation Army's food bank," says Lieutenant Derek. But when I got through the door, the love and support I received on the other side made it worthwhile."
With a passion to help those less fortunate the Kerr's, and their team of volunteers, are providing food hampers, practical items and partnering with local churches to provide daily meals to the residents of the motel.
"The effects of community closures are extreme for people who call the streets home," says Lieutenant Angela. Shelters are full or closed. Common places to find a roof over their heads or a washroom—libraries, the YMCA, restaurants—are closed. Fast food restaurants only serve people in cars. The motel room keeps them safe from COVID, and the food services are keeping them from being hungry.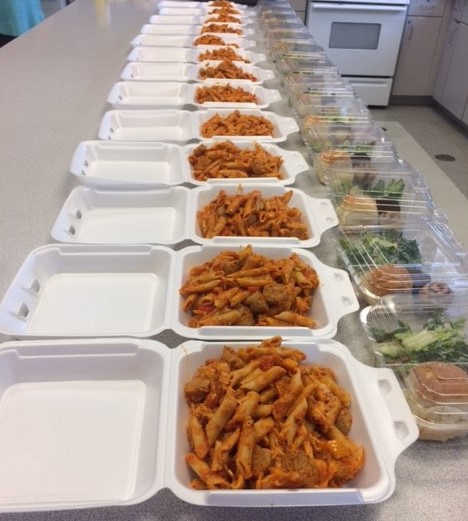 The weekly hampers from the Army's community and family services include nutritional drinks, canned items, cereal, milk, cheese and crackers—items that can be prepared in a limited environment. Every Saturday, as part of the commitment from local churches to provide daily meals, The Salvation Army is cooking up hot meals that include meatballs and rice, ham diner's, salads, deserts and buns.
"We try to make the meals hearty and a substantial amount that can be heated up for lunch the next day," says Lieutenant Angela.
"In the coming days we anticipate the demand on our community and family services will be great," says Lieutenant Derek. "The small business owners who were once our supporters may now be the ones needing our help. Meanwhile, we remain on the front lines assisting where we can."
The Salvation Army continues to provide essential services across Canada throughout the COVID-19 crisis. To donate, visit
SalvationArmy.ca
or call 1-800-SAL-ARMY