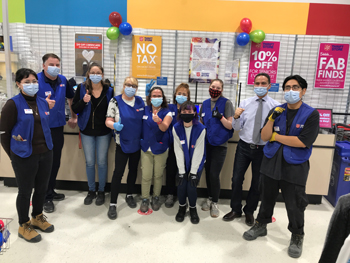 The Salvation Army thrift store in Port Coquitlam, B.C., reopened in a new location in October. The opening day celebration followed all health and safety precautions to keep visitors safe during COVID-19, such as limiting the number of people in the store at one time and following physical distancing guidelines. The new 8,500-square-foot space welcomed more than 273 guests over the course of the day.
The Port Coquitlam thrift store provides gently used items such as clothing, household items and more for families. Shopping there contributes to environmental sustainability through retail recycling and helps support other Salvation Army programs, such as food banks, shelter for people experiencing homelessness and rehabilitation for those struggling with addictions. More than 148 vouchers—valued at $15,000—allowed those in need to shop at the store free of charge last year.
In Calgary, a second thrift store opened in Douglas Square in January. The grand opening celebration looked a little different due to COVID-19, but the store still welcomed more than 200 guests that day. The Douglas Square donor welcome centre accepts donations daily and has an attendant on site to offer donors a coupon for 20 percent off their next purchase.
Overall in Alberta, 3,647 vouchers, valued at a total of more than $350,000, were redeemed in Army thrift stores last year.
This story is from: