Building Blocks of Spiritual Leadership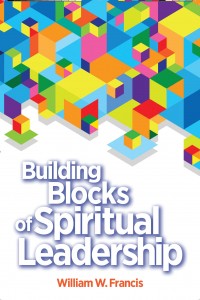 "In this book I attempt to distill the basic building blocks of leadership in general, and the essential elements of servant leadership as described and mandated in the Bible specifically. By no means is this book exhaustive, nor have I attained mastery over any of the aspects of leadership. To the contrary, I have much more to learn, and much more to become, on the journey to being a consistent spiritual leader. My prayer is that this concise volume will serve as a basis for the reader's continued study and modeling of biblically centred spiritual leadership."
— William W. Francis

We need to be spiritually fed and encouraged, and we need to find a way forward for ourselves and those we lead. If you do not see yourself in this book, perhaps you will see the leader you can become.
— Commissioner Susan McMillan, territorial commander, the Canada and Bermuda Territory

Francis tackles leadership challenges with unflinching honesty and gives readers a powerful lesson in how to develop their own leadership style … this book offers concrete, actionable advice on current best practices in leadership.
— Andrew Lennox, chair of The Salvation Army's National Advisory Board

About the Author
Before Commissioner William W. Francis' retirement in 2011, he was territorial commander for the Canada and Bermuda Territory of The Salvation Army. Previously, he served as international secretary for the Americas and Caribbean at International Headquarters of The Salvation Army in London, England. Prior to his London appointment, he was chief secretary for the U.S.A. Eastern Territory. He received a B.A. from Houghton College in 1966 and an M.Div. degree from Asbury Theological Seminary in 1969. Francis was awarded a doctor of divinity degree from Houghton College in 2002. He served as chairman of The Salvation Army's International Doctrine Council for seven years and chaired the Army's five years of annual Conversations with the Vatican. He also served as president of the 2011 High Council and was subsequently nominated for General. Francis is the author of The Stones Cry Out (1993) and Celebrate the Feasts of the Lord (1997).

Building Blocks of Spiritual Leadership is available at store.salvationarmy.ca or amazon.ca.

Click here for a book review of Building Blocks of Spiritual Leadership.