Mobilize Newfoundland and Labrador
Watch the videos for the Mobilize–Newfoundland and Labrador Congress and Commissioning public meetings below.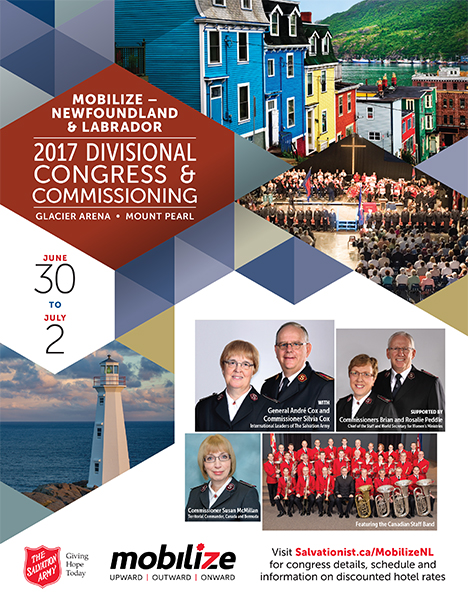 The Salvation Army Newfoundland and Labrador Division hosted congress and commissioning events from June 30 to July 2, 2017.
General André Cox and Commissioner Silvia Cox, international leaders of The Salvation Army, and Commissioners Brian and Rosalie Peddle, Chief of the Staff and World Secretary for Women's Ministries, gave leadership to this exciting weekend.
See below for the weekend's schedule. Promotional materials are available below for download.
Save the dates in your calendar now and plan to attend!
SCHEDULE OF EVENTS:
Friday, June 30
10 a.m. — Officers' Councils
St. John's Citadel, 25 Adams Avenue
7 p.m. — Welcome Meeting • Mobilize—Newfoundland & Labrador
Glacier Arena, 45 Olympic Drive, Mount Pearl
9:30 p.m. — Youth Event
INCO Building, Innovation Hall, Memorial University of Newfoundland, 232 Elizabeth Avenue, St. John's
Saturday, July 1
8 a.m. — Prayer Breakfast (By ticket only) • Mobilize—Upward
Comfort Inn Airport, 106 Airport Road, St. John's
9:30–11:30 a.m. — Remembrance Parade and Service (Beaumont Hamel)
Canadian Staff Band to march in parade • Chief of the Staff to lay wreath at service
Downtown St. John's
10 a.m. — Local Officers' Meet and Greet (By invitation only)
Comfort Inn Airport
12 p.m. — Candidates' Luncheon/Ask the General (By invitation only)
Comfort Inn Airport
1:30–4 p.m. — Canada 150 Celebration with the Canadian Staff Band and Community Festival/Carnival
St. John's Citadel (Parking lot)
7 p.m. — Commissioning and Ordination Service
Glacier Arena
Sunday, July 2
8:45 a.m. — Prayer Meeting
Glacier Arena
10 a.m. — Holiness Meeting • Mobilize—Outward
Glacier Arena
10 a.m. — Kids' Church
Mount Pearl Corps, 106 Ashford Drive, Mount Pearl
1 p.m. — Silver Star Luncheon (By invitation only)
Capital Hotel, 208 Kenmount Road, St. John's
4:30 p.m. — Sending-Out Service • Mobilize—Onward
Glacier Arena
DOWNLOADABLE RESOURCES:
PDF: Mobilize NL Letter Size Poster (8.5in x 11in)
PPT: MobilizeNL PowerPoint Promo (1024px x 768px)