The Salvation Army Emergency Disaster Services (EDS) in Ottawa is helping to care for 277 forest fire evacuees from KingFisher Lake in Northern Ontario.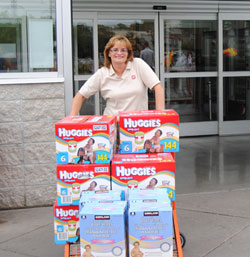 Salvation Army EDS staff and volunteers from the Ottawa Booth Centre and other local agencies were on site to welcome them as they disembarked from planes at Ottawa International Airport. The first plane arrived on the evening of July 20 and three others arrived the following day.

The evacuees, many of whom are women with children, are being housed at Algonquin College until it is safe for them to return to their community. KingFisher Lake is only accessible by plane and many of the evacuees have never been to a city as large as Ottawa.

Theresa Antonietti, co-ordinator for volunteer services, says, "The evacuees seemed a little shy but very appreciative of our help."

Upon arrival, The Salvation Army had hot meals and sandwiches waiting for them.

The college is providing the evacuees with meals for the duration of their stay and The Salvation Army EDS will continue to collect baby clothes and supplies as well as hygiene products as needed. Antonietti says a number of extra-curricular activities are also being organized at the college to make their stay more enjoyable.

"I really feel everyone is trying their best to make it the best situation possible for these people," says Antonietti.

It is not known as this point how long it will be until the evacuees are able to return home but the situation is being monitored carefully.

In the meantime, Salvation Army volunteers and staff will continue to respond to evacuees in communities around Ontario.

"It's exactly where I love to be. It's my ministry and no matter what I do, this work will never leave me," says Antonietti.