Police in British Columbia recently noted that a third of their calls are classed as "nuisance calls," disturbances often caused by people with mental health concerns. This is a figure particularly evident as a result of a major mental health hospital closing down several years ago. Observing the need in the community, The Salvation Army's Centre of Hope, part of Cascade Community Church, Abbotsford, B.C., decided to help.
"We were finding that a lot of our clients demonstrated mental health issues and they'd go from the hospital, to the police, to us and then back around again," says Andy Kwak, director, Centre of Hope. "It's our hope that by having our own psychiatric nurse we can break that circle and deal with some of the issues ourselves."
The
Centre of Hope
offers many services to vulnerable people in the community, such as a meal centre, supportive independent living, emergency shelter, parish nursing and case workers for advocacies and referrals. Keeping in line with their mission to change lives in the community and meet people's needs, Christine Walker, a psychiatric nurse with 13 years of experience in nursing and teaching, was hired in the fall of 2010.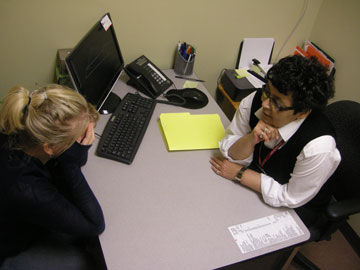 "Eighty to 90 percent of our clients have mental health disorders because they go hand-in-hand with alcohol and substance abuse," says Walker, whose position is half funded by B.C. Housing. "My case load varies from time to time, but generally I see about four or five clients a day. I will refer them to Abbotsford mental health or psychiatrists if needed, while for some it's just a matter of having support to work on issues such as depression or anxiety."
Furthermore, to help counteract a common problem of people refusing to take their anti-psychotic medication, or having it lost or stolen, Walker dispenses medication directly to clients at the centre.
Already the positive effects of these initiatives at the Centre of Hope are being recognized. "Having a psychiatric nurse at the centre enables our staff to deal with many challenges immediately, therefore reducing the potential for the situation to escalate to the point of a crisis. This is in everyone's best interest as it will lessen visits to emergency and result in fewer calls to police. Not only is this in the best interest of the client but it also saves a lot of time, effort, resources and in the long run, tax dollars," says Kwak. "It's also become much easier dealing with the hospital and the Abbotsford police department. In fact, the police wrote an e-mail to us expressing the value they see in The Salvation Army having a psychiatric nurse on staff."
Respite for Seniors
Starting on Thursday, November 10, from 8:30 a.m. to 3:30 p.m., seniors can spend one day a week at the centre as a way to relieve their caregivers. Medication and medical monitoring will be given and participants will engage in therapeutic and cognitive activities, such as woodworking, games, singing and baking under the direction of Walker and another nurse.
"A few years ago, my husband and I were care-giving for ill parents in our home so we were running between house, work, kids, parents and medical appointments and feeling fried," says Deb Lowell, public relations director, Centre of Hope. "This program will not only provide seniors with activities for the day at a low cost and a community of support, but will also offer some respite for the caregivers."
"It's a great program," adds Walker. "We haven't done any advertising and we're already full so we're hoping to be able to do it more than one day a week. My heart goes out to those who don't have. I love working in a place where I can help people."