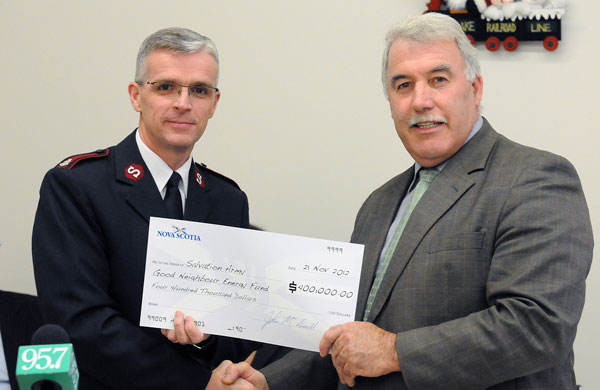 Low-income seniors and families in Nova Scotia will find it easier to heat their homes this winter thanks to a $400,000 donation from the province to The Salvation Army's Good Neighbour Energy Fund.
"No family should have to make the choice between keeping the heat on or putting food on the table," said John MacDonell, Service Nova Scotia and Municipal Relations Minister. "By working together with The Salvation Army and Nova Scotia Power, more low-income seniors and families can feel better knowing that if things get difficult, they have the help needed to keep the heat on and stay warm in their own home this winter."
The Good Neighbour Energy Fund helps with all forms of home heating, including firewood, coal, oil, propane and electricity. The benefit is paid as a credit to an energy supplier's account on behalf of the person receiving fuel. Last winter, more than 2,000 low-income Nova Scotians across the province received home-heating help from the Good Neighbour Energy Fund.
Photo: From left, Mjr Morris Vincent, AC, Maritime Div, receives a cheque for $400,000 for the Good Neighbour Energy Fund from John MacDonell