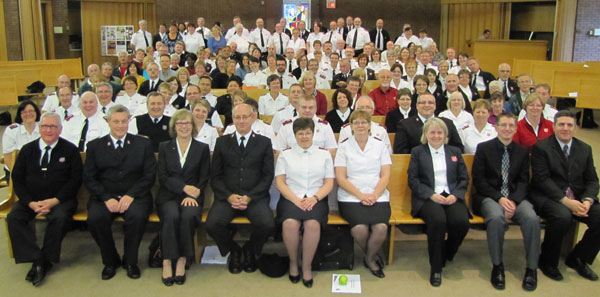 The Ontario Great Lakes Professional Development Conference was held at London Citadel in October. Morning worship was led by Major Bradley Donais, executive director, Hamilton Community Resource Centre, and devotions were conducted by Lt-Colonels Lee and Deborah Graves, divisional leaders, and Majors Stephen and Leslie Wiseman, corps officers, Khi Community Church, Milton, Ont.
On the first day, more than 160 officers and lay leaders attended presentations on integrated mission and integrated ministry by Major Fred Waters, corps ministries secretary, and Mary Ellen Eberlin, social services secretary. Both provided an overview of their departmental structures and the ministry resources that are available at territorial headquarters. Following a lunch break, they led an open forum, responding to questions and comments from the audience.
The theme for the second morning was multicultural ministry with Major Donna Millar, divisional director of women's ministries, Alberta and Northern Territories Division, who has spent many years working in this field and currently serves as the territorial multicultural ministries secretary. Participants had an opportunity to ask specific questions relating to their ministry settings.
Major Gillian Brown, director of world missions, and Lt-Colonel Lee Graves, divisional commander, discussed their recent trip to Indonesia. Photos of their visit, along with stories relating to ministry challenges in Indonesia, provided a glimpse into the work of The Salvation Army in that part of the world.
Throughout the various sessions, Lt-Colonel Lee Graves presented long-service order certificates to officers who have served 25, 30 and 35 years.
The conference concluded with a presentation by Scott Barrett, divisional secretary for business administration, about fiscal strategies and budget preparation for the coming year.
Photo: Officers and lay leaders gather for the Ontario Great Lakes Professional Development Conference