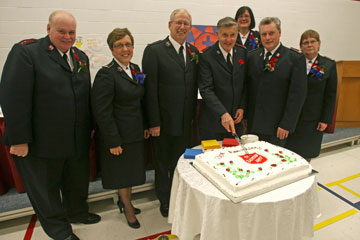 The Salvation Army Chatham Corps, Ont., recently marked its 130th anniversary with a weekend of celebration. Guests for the occasion were Lt-Colonels Lee and Deborah Graves, Ontario Great Lakes divisional leaders, and Commissioners Brian and Rosalie Peddle, territorial leaders, who served as corps officers in Chatham from 1988-1992.
Celebrations commenced on Friday evening with an anniversary dinner attended by soldiers, adherents and friends of the corps, past and present, along with dignitaries from the community, including Mayor Randy Hope, MP Dave Van Kesteren and a representative for MPP Rick Nicholls. The mayor presented a plaque congratulating The Salvation Army on 130 years of dedicated service to the community. Commissioner Rosalie Peddle shared a message during the evening.
Saturday's events began with a men's breakfast where Commissioner Brian Peddle shared a report on the Army's work around the world. That evening, the second annual Christmas with The Salvation Army concert was held with more than 600 in attendance. The Chatham Corps brass band started off the evening with a rousing rendition of "Chatham 130," a special march written for the occasion by Major Ken Smith, assistant territorial music secretary. Following the band, the Chatham Timbrel Brigade delighted the audience with a routine entitled "Christmas Joy."
Also included in the program were several numbers by the Chatham Christian School Junior Choir under the direction of Lynn Tilley, a member of the corps who teaches at the school. Vocal soloist Claudia Davison, a former member of the Chatham Salvation Army, thrilled her listeners with a beautiful rendition of "Silent Night," followed by "My Grown-Up Christmas List." Commissioner Brian Peddle also addressed the audience, encouraging them to welcome the Babe of Bethlehem into their hearts and allow God to become part of the next chapter of their lives.
The corps was filled on Sunday morning for a service of praise and worship under the leadership of the territorial leaders. Commissioner Brian Peddle enrolled three new senior soldiers and urged those present to be real in their faith.