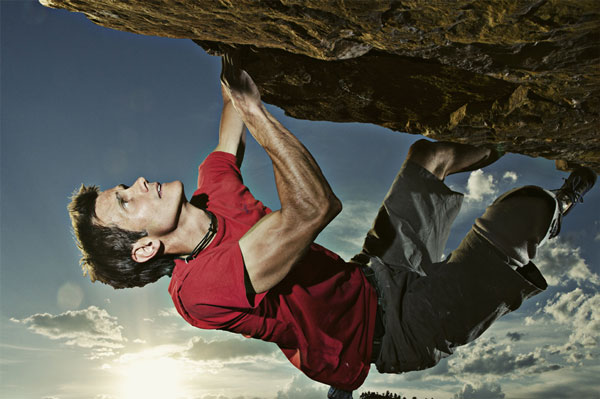 Craig DeMartino was alert and looking up when he hit the ground and his body shattered. Just seconds earlier, he was 30 metres above the base of a cliff at Colorado's Rocky Mountain National Park. It was July 21, 2002, and Craig was pursuing his passion: climbing mountains. Although technically demanding, this particular climb was well within his abilities. But a miscommunication with his climbing partner led him to push off from the rock face, falling unsecured to the ground below.
Blessing in Disguise
While a fall of that magnitude should have killed him instantly, somehow Craig survived. But he'd broken his neck and smashed his spinal column. His broken ribs had torn a hole in his right lung, making it difficult for him to breathe, and he was bleeding badly.
"My feet were so broken, I couldn't even feel them," says Craig. "And with my back, I felt like I was lying on a sharp rock. I kept saying, 'Get me off this!' "
No one expected him to live out the day. When the rescue team arrived, they assessed the seriousness of the situation. One of them, a park ranger and fellow climber, told Craig that they should phone his wife, Cyndy, so he could talk to her.
"I thought that would be a bad idea," says Craig. "I didn't want her to worry. But then he asked me again a few minutes later and I had the presence of mind to wonder why he was doing that."
After being evacuated by helicopter, Craig spent the night in surgery as doctors decompressed his spine (the first few hours were spent just picking debris off his spinal canal), fused his back on four levels, and worked on his feet and neck.
"Because I had broken my neck, they figured I'd be paralyzed," says Craig. "They just didn't know how badly. Thankfully, that didn't happen."
Although scheduled for a double amputation that night, he'd lost too much blood because of a ruptured artery in his right leg, so his feet were just bandaged up instead.
"That ended up being a blessing because of what happened later," he says.
After the Fall
Over the next three months in hospital, Craig underwent multiple procedures, including 11 surgeries on his right foot. Then he went home to continue his recovery.
"There was a huge outpouring of help," says Craig. "It was amazing to hear that I was supported through prayer chains by thousands of people I didn't even know. I think this is when my faith grew the most because it's hard not to appreciate that. I just had a feeling that God was taking care of everything."
Although he regained full use of his left leg, 18 months after the fall, Craig made the difficult decision to have his right leg amputated just below the knee. By doing so, Craig could potentially walk again with the use of an artificial limb and even escape the confines of his injuries.
At the time of the accident, Craig's children, Mayah and Will, were four and two. For nearly two years, their father was either confined to a hospital bed or a wheelchair. But after his right leg was amputated, Craig had the opportunity to be active again. This meant that he could play with his children, take them on hikes, go camping, ride a bike and even resume travelling for his work as a photographer.
It also meant that he could try climbing again.
Focus and Faith
"At first I wasn't sure I wanted to climb anymore," says Craig. "It was a very slow process, but I found that the love I had for it was still there. God kept putting the right people in my path, such as professionals interested in making a climbing prosthetic."
Craig discovered that once he started climbing again, he was able to tackle even the most challenging routes. He made a list of 10 climbs he had completed with both legs that he wanted to repeat as an amputee—he even called it The List. After ticking off the climbs, he's continued to add more of them.
In 2005, he became the first amputee to climb El Capitan in Yosemite National Park in under 24 hours. Later that year, he also competed at the Extremity Games—the X-Games for the disabled—and won double gold medals in bouldering and roped climbing. Since then, he has won multiple times and now helps organize the event and teach new disabled climbers how to climb.
"I always wanted to be a professional climber," says Craig, "but I never imagined it would be as a disabled person.
"I don't think I would take the accident back as I've seen God move in so many ways and through so many different people," he continues. "Before my accident, Cyndy and I were going to church and doing fine, but my relationship with God was fairly superficial. However, when your body is trashed and you've got nothing left, you can't lie or hide anymore because it's all so transparent when you're hurting. All you can do is ask God, 'What the heck is going on?' And I think God wants this honesty and openness from us. It's totally acceptable to say to Him, 'This sucks, I hate this, but I also see that You're in this mix so I'm going to follow You and see what happens.' "
Last year, Craig won third place in the paraclimbing event at the International Federation of Sport Climbing. He was also named exceptional athlete of the year by the Sierra Club. But the highlight of 2012 was when he and two other disabled athletes climbed Zodiac, a 548-metre route up the southeast face of El Capitan in Yosemite National Park.
"When you're climbing, you're exposed on the rock face for long periods of time—sometimes even days," says Craig. "You get a stripped-down view of life. Everything becomes simpler. In moments like this, I reflect on my family and where God is leading me in my life. Climbing is a good cleansing experience because it just clears away all the riffraff and junk in my head and allows me to focus on what's important."