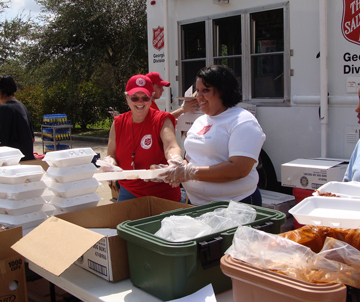 "You're from Canada!"
I was standing in the grand entrance hall of an elegant home in Houston, Texas, surrounded by some of the most affluent women in the city for a special afternoon tea, taken aback by this excited voice that broke through the crowd.
I had been invited to Houston by one of the Salvation Army churches to participate in a number of speaking engagements. My hostess then asked me to attend the Spring Tea and Membership Meeting of The Salvation Army Women's Auxiliary with her and I found myself thoroughly enjoying the fine food and brief glimpse into how "the one percent lives." However, I wasn't just impressed with the refined atmosphere. As I listened to the speeches that formed the formal part of the afternoon, I was amazed by how hard these women worked. They were raising money for various aspects of Salvation Army work, including a safe haven for women called Sally's House, through various projects such as a "chic boutique." They were also rolling up their very expensive sleeves to organize outings for inner city children.
Then came that unexpected exclamation of joy from one of the members who then proceeded to tell me why she was so pleased to see a Canadian Salvationist. She introduced herself as Cheryl and explained that her home, located on the coast, was one of many that had been badly damaged in 2008 by Hurricane Ike. From our conversation, I realized that she must also live in a very affluent neighbourhood.
Cheryl went on to tell me that her husband had been away on business for some length of time and she had been without electricity and running water for several days. Her home had been ravaged by the flood waters—as had many others—and she had no means of getting help or hosing down her house to get rid of the mud.
On the eighth evening post-Hurricane Ike, she heard the sound of a truck on her driveway and out jumped a woman dressed in a Salvation Army uniform. She explained that she was part of a contingent sent by The Salvation Army in Canada to help with relief work.
"I have hot food on board," she said. "Would you like some?"
"No," said Cheryl. "You must give it to someone who needs it more than I do."
But the Canadian persisted. "Do you have any electricity?"
"No."
"Do you have any edible food in your house?"
"No."
"Are you hungry?"
"Yes," Cheryl said sheepishly. It was embarrassing for her to admit this as she wasn't often in this position.
"Well this is the end of our run for this evening," the Canadian said, "and if you don't take it, I will just have to throw it away."
"Then I'll take it," Cheryl said eagerly.
Cheryl shared what that gift of food meant to her, for it not only supplied her physical need—providing her with energy to resume her challenging tasks—but also lifted her spirits enormously.
Ever since, she felt badly that she did not ask for the name of that Canadian Salvationist who had been so helpful to her. It was why she was so glad to meet another Canadian Salvationist to whom she could convey her thanks by proxy!
Perhaps this unnamed angel of mercy will read this and realize how her persistence was appreciated by hurricane victims like Cheryl. And ringing in her ears, she will not only hear Cheryl's thanks, but also the voice of the risen Lord who says, "I was hungry and you fed me… that was me—you did it to me." (Matthew 25:35, 40
MSG
).
Colonel Gwenyth Redhead is a retired Salvation Army Officer who has served in the Canada and Bermuda, the United Kingdom, and the New Zealand, Fiji and Tonga Territories. She is an elocutionist, has written articles, plays and a novel, and has co-authored several musicals with her husband, Robert.