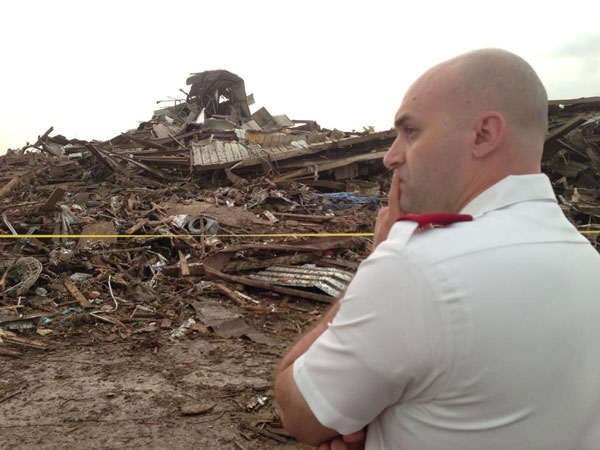 The Salvation Army in Oklahoma is providing practical and spiritual support following a massive tornado which devastated part of the state capital on Monday, May 20. Children are among the tornado's casualties – its 200 mph winds causing severe damage to homes, businesses and schools in the suburbs. President Obama declared the events a "major disaster."
Oklahoma City Salvation Army officer Lieutenant Sharon Autry was at home with her children in the Moore suburb of the city when the tornado struck at about 3pm. It happened with such rapidity and force that the family evacuated without even shoes on the children's feet. "We got in our minivan and outran it. We saw it headed for us as we left the driveway – indescribable!"
Her husband, Lieutenant John Autry, was already serving as part of The Salvation Army's planned tornado response in the city. Bottled water and cooked meals are being provided to emergency workers and residents affected by the disaster. Mobile canteens have been deployed across a wide region, with additional units deployed from neighbouring Arkansas. Other practical help has also been made available, such as distributing household clean-up kits containing brooms, mops, buckets and other cleaning supplies.
Major Steve Morris, The Salvation Army's Divisional Commander for the area, has witnessed the effects of the tornado first-hand. He says "the devastation is far-reaching in human life, property and livestock loss. The Salvation Army is honoured to serve and provide sustenance to first responders involved in search and rescue, coordination efforts and more. And, of course, all survivors will be provided spiritual and emotional care."
He continues: "Many of these impacted communities will take months or even years to recover. The Salvation Army is committed to being there with them throughout and providing aid wherever it's needed. We are calling on everyone to pray for all of those impacted by these devastating tornadoes."
Oklahoma's State Governor Mary Fallin expressed gratitude to Salvation Army officers, volunteers and donors for their effective response. She remarked, "The Salvation Army will be there immediately, on the spot, at a time of need."